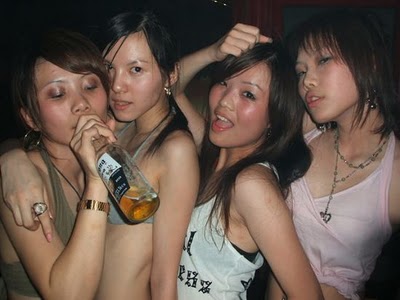 Dusk Till Dawn
The after hours scene is constantly changing in Bangkok.  I remember a few years back when the Tunnel on Luang Suan was very popular, but that nightclub closed down.  One of the main places  for years now has been Spicy on Ron Mueang Soi 1 (off soi 5). It is a large venue that is open till around 6am.  Across the Street is the latest popular after hours nightspot Swing.  It opens late and carries on until midday!  So, it's great for serious party animals. The downside is it's small and can get packed. Furthermore, it can get too smokey.
Other popular late-night clubs include Climax Club on Sukhumvit Soi 11. The entrance is through the car park of the Ambassador Hotel. This club has live bands, which are pretty good. Climax is a popular place to party through the night. Open (usually) until 6am, it gets a number of Thai girls freelancing after the bars close at around 2am. Climax Club is one of those places that you will either love or loathe.
Click for more photos of super sexy Thai babes…
Inside the Windsor Hotel on Sukhumvit  Soi 20 (in the basement) is what is now called Scratch Dog. This is an after hours nightspot mostly for Thais and doesn't get going till after 2am, when clubs like Slim and Route 66 shut down. It's not a pick up joint as such, but if you want to oggle at some HOT Thai babes, you are most likely to find it here. Scratch Dog gets packed on the weekends.
Regarding Bossy Club in Pratunam (tell the taxi driver 'Bossy' they all know it), I would rate this at the bottom of the pile. Not much in the way of talent, whenever I have visited. I found myself outnumbered by other guys, which sadly turns Bossy into a cock fest.
Almost all of the after hours places have a cover charge to get in, which includes at least one free drink. Climax Club (formerly Spice Club) is reasonably priced at 200 baht. It's always a good idea to take photo ID with you. Some clubs insist on seeing your ID even if you clearly look middle-aged. I assume it is an attempt to treat everybody the same.
The Nana Plaza and Soi Cowboy reviews are currently being updated, so please keep checking in regularly.  Toby tells me that another YouTube video is on its way and as always, it features more RED HOT Thai babes.
We hope you enjoy the photo gallery below from our private vault…
[nggallery id=24]
[wp-bannerize group="TNT" random="1″ limit="1″]