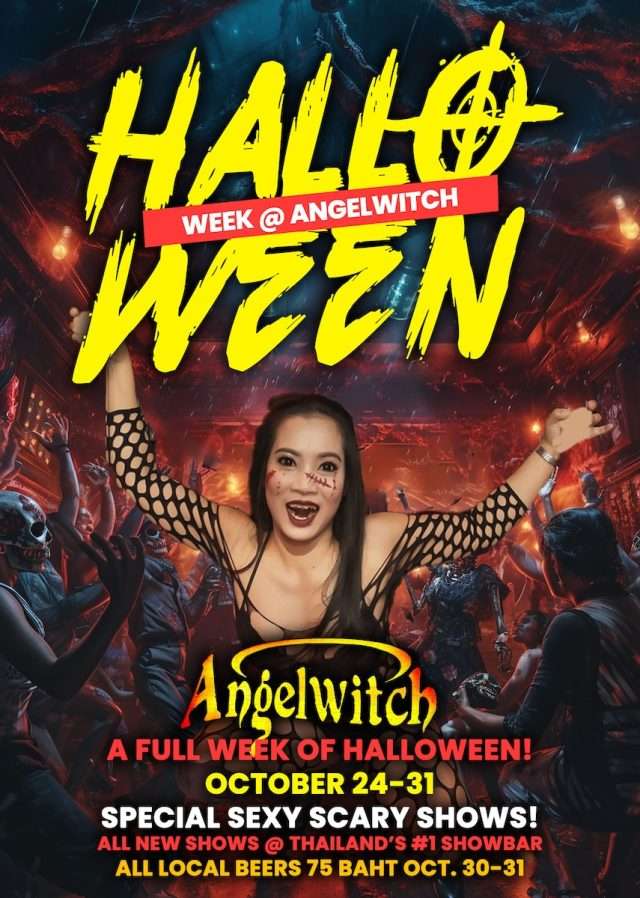 There's no Halloween like an Angelwitch Halloween.
The Nana Plaza go-go bar didn't invent Halloween, but it does it better than anywhere else. Oct. 31 is basically Angelwitch's national holiday. After all, how many go-go bars have a skeleton hanging from the ceiling year-round?
But, this year, All Hallows Eve won't be confined to just one night. Angelwitch Halloween Week starts Oct. 24 and run through the 31st, with sexy, spooky fun every night.
Angelwitch Halloween Shows
Thailand's No. 1 showbar is rolling out a whole new set of special sexy-scary shows for the week. These Angelwitch Halloween shows are a limited-time run, so be sure to get in there next week to see them.
There's also a long-running tradition of the gorgeous Rock Dancers and showgirls getting dressed up and made up to look as, ahem, unattractive as possible! To me, it makes no business sense if you're trying to entice guys to take you away for the night, but the girls have great fun turning themselves into ghouls and zombies.
Some of the costumes and getups you see here from previous years are downright unappealing! But its all in the Angelwitch Halloween spirit!
Guys are also invited to show up at Angelwitch in costume, too. That's probably just for Oct. 31, but no one will mind if you walk into Nana Plaza dressed like Frankenstein any other night!
Of course, the bar will look great for Angelwitch Halloween with great decorations hung for the week. Plus expect "Monster Mash' and some other unique Witches Night tunes from the DJ.
More details about Halloween Week will be announced as it get closer to the date, including the lowdown on special Angelwitch Halloween shots and drink specials.
For sure, all local beers will be just 75 baht until 10 p.m. on Oct. 24-25 and 30-31.