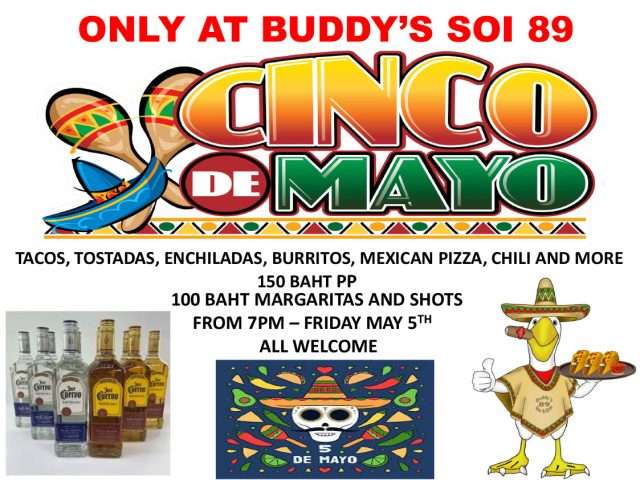 Get ready to fiesta like there's no mañana at Buddy's Bar & Grill's Soi 89 location this Cinco de Mayo.
Embrace the vibrant spirit of Mexican culture as you indulge in a mouth-watering Mexican buffet, featuring an array of tantalizing dishes and unbeatable drink specials.
From 7 p.m. on Friday May 5, join the Buddy's crew for an unforgettable evening of fun, food and festivities, all for just 150 baht a person.
About Buddy's Bar & Grill
Located in the heart of Bangkok, Buddy's Bar & Grill has long been a popular destination for expats and locals alike. Known for its laid-back atmosphere, diverse menu, and live sports broadcasts on big screens, Buddy's has something for everyone.
The menu features a mix of international and local dishes, including burgers, sandwiches, Thai food, and various Western favorites. With a wide selection of beers, wines and cocktails, you're sure to find the perfect drink to complement your meal.
Cinco de Mayo: A Brief History
Cinco de Mayo, celebrated on the May 5 every year, commemorates the Mexican army's victory over French forces at the Battle of Puebla in 1862.
While not a major Mexican holiday, Cinco de Mayo has become widely celebrated, especially in the United States, as a day to honor Mexican culture and heritage.
The victory at the Battle of Puebla was significant because it represented an underdog win for the smaller and less equipped Mexican army, boosting morale and fostering a sense of national unity.
In recent years, Cinco de Mayo has evolved into a global celebration of Mexican-American culture, featuring music, dancing, food and various festivities.
With the growing popularity of Mexican cuisine and culture worldwide, including in Thailand, people from all backgrounds can appreciate and enjoy the vibrant spirit of Cinco de Mayo.
Cinco de Mayo Party and Mexican Buffet at Buddy's Soi 89
Buddy's Bar & Grill is proud to bring the excitement of Cinco de Mayo to Bangkok with an incredible party and Mexican buffet at their Soi 89 location.
For just 150 baht per person, you can savor an array of authentic Mexican dishes, including tacos, tostadas, enchiladas, burritos, Mexican pizza, chili and more.
Each dish is carefully crafted to provide a true taste of Mexico, allowing you to experience the rich flavors and unique culinary traditions of this celebrated cuisine.
To enhance your Cinco de Mayo experience, Buddy's is also offering 100 baht margaritas and shots throughout the evening. These refreshing beverages are the perfect accompaniment to your Mexican feast, adding an extra layer of fun and festivity to the night.
Why Celebrate Cinco de Mayo in Thailand?
As Mexican cuisine and culture continue to gain popularity in Thailand, celebrating Cinco de Mayo offers a unique opportunity for people to embrace the lively spirit of Mexican heritage.
The holiday provides a chance for both expats and locals to come together and share in the joy of Mexican food, music, and traditions.
Whether you're a long-time fan of Mexican culture or simply looking to try something new, the Cinco de Mayo party and buffet at Buddy's Bar & Grill Bangkok's Soi 89 is an event you won't want to miss.
Don't miss out on the fun and flavors of Cinco de Mayo at Buddy's Bar & Grill Soi 89. With delicious Mexican cuisine, unbeatable drink specials, and a vibrant atmosphere, this is one party you'll be talking about long after.