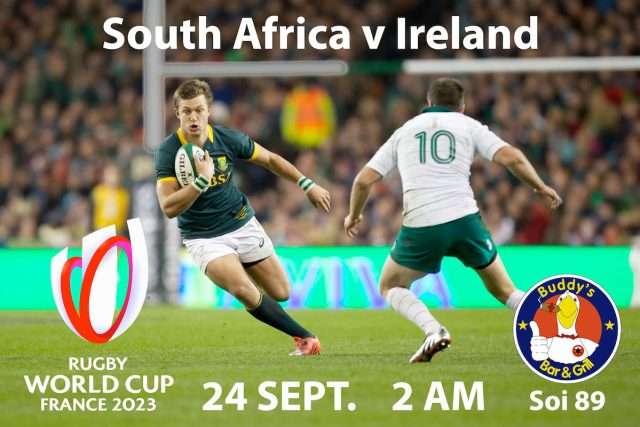 It's burritos and breakdowns as Buddy's Soi 89 this weekend as the popular On Nut expat hangout hosts a Mexican fiesta and stays open late for the Rugby World Cup.
Mexican Fiesta Friday
Buddy's Bar & Grill is famous for large buffets at small prices and the Mexican Fiesta Friday is no exception. The sombrero-sized spread includes tacos, burritos, tostadas, nachos, chili, Mexican pizza and Buddy's Bloody Mary Shrimp Special. It's a mountain of food for just 250 baht.
As if that deal wasn't great enough, you can also enjoy free margaritas from 8-10 p.m. The buffet begins at the same time.
Rugby World Cup Sunday
Saturday night (Sunday morning, really) will be another special night at Buddy's Soi 89 as the pub stays open beyond its normal midnight closing time to show the historic Rugby World Cup group stage match between South Africa and Ireland.
Despite both countries's rugby teams first facing each other in a test match more than 114 years ago, the two have never faced off at the Rugby World Cup. So Sunday's 2 a.m. kickoff really is historic.
It's also big as Ireland is favored to win this year's Rugby World Cup over South Africa, a perennial favorite.
Buddy's Soi 89
Buddy's Soi 89 is one of five locations in Bangkok but the only one outside of downtown. Conveniently located between the On Nut and Bang Chak Skytrain BTS stations, it's a place for expats more than tourists, all of whom are friendly and welcoming.
Buddy's Soi 89 doubled in size last year, expanding into an adjacent shophouse to allow for a game room with darts and a pool table. And, upstairs in the extension, Buddy's Soi 89 has its Hong Kong Room, a place for private groups, parties and meetings.
Learn more about Buddy's Soi 89 on their website.