Cambodia Nightlife April 2019
*Currently Being Updated*
Phnom Penh
The capital of Cambodia has always been a bit of a wild town.  Things have changed considerably over the past ten years however and lot of the grubbiness has been cleaned up.  There is now a smart  promenade  along the river,  and  most of the old dirt and pot-holed roads have been filled in and  sealed. There is a lot more sophistication about the place than there was even just 10 years ago. There is now a mass of news hotels, restaurants, bars and nightclubs to choose from.  The seedy image of a 'den of iniquity' is gradually being transformed.
The Nightlife
Phnom Penh is regarded by many 'Old Hands' as having some of the best nightlife in Asia, not for its sophistication but more for its friendliness, cheap booze and good time factor.  People compare Phnom Penh to Bangkok twenty years ago and there does seem to be some truth in that.  Millions of tourists inevitably change a place and Phnom Penh has not suffered from the same deluge of visitors as Thailand has (although that is now starting to change) this makes for a more friendly atmosphere, much as it used to be in Bangkok many years ago.
Phnom Penh does not have Go Go bars like Bangkok.  There are lots of small bars which employ a handful of girls to entertain customers. There are also a couple of nightlife areas which have lots of bars packed side by side.  It's really a question of hopping from bar to bar to find the ones you like. Some of these bars are quiet and laid back while others are loud and raucous with girls  dancing on the bar.  There are also a number of late night clubs which are popular.
One of the major plusses of Phnom Phen's nightlife  is the cost of drinking.  Draft beer can be had in many bars for under a dollar a glass. Ladies drinks are often a dollar or two dollars compared with five or six in Bangkok. Also, alcohol is  cheap to buy. This makes getting 'tanked up' a lot cheaper than elsewhere in Asia.
The Nightlife List:
Obviously, I cannot include all the nightlife in PP at the moment, the list would be too long. I have focused on the places I recommend divided into the three main areas; Street 104,  Street 136 and the Central area (near central market). I will expand and update the list each month as I do with my other pages.
The Central Area
 The Walkabout Hotel

A longtime favourite and Open 24hrs this is one of the most well-known pubs in PP. It always seems to be busy. Drinks are reasonably priced and the food is also good.  They have a couple of pool tables and competitions every Tuesday night. The Walkabout is located at 109 street 51 which is in the central part of town. (tel 023 211 715  www.walkabouthotel.com  )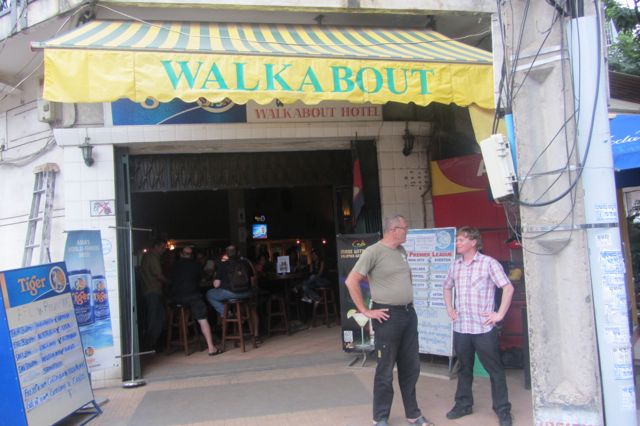 The Black Cat
Not far from the Walkabout on 94 and the corner of 51 and 172  is the Black Cat bar and restaurant. Also open 24hrs there are some attractive hostesses in this pub and a live band on Mondays and Thursdays.  They also have some free BBQ snacks. It tends to be more lively  later in the night. The Black Cat is located opposite the Shanghai and near the popular Nightclub  Pontoon.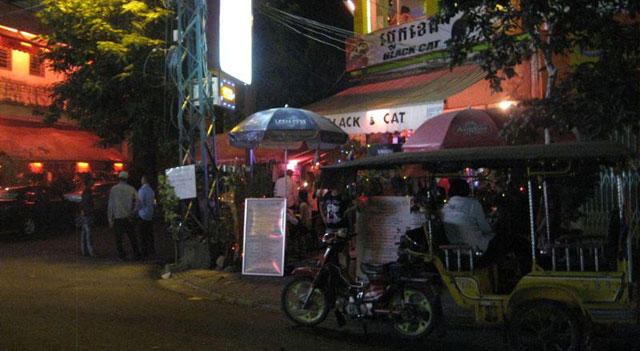 The Shanghai
Directly across the street from the Black Cat on the corner of Streets 51 & 172 is  the Shanghai –  open 3.30 PM till 2:00 AM. This is a cosy bar with some very attractive, friendly hostesses. Beers are cold and the atmosphere is relaxed.
There are several other bars and clubs in this central area and there are two of Phnom Penh's most famous nightclubs located here.  Pontoon (probably the most popular place at the moment) and The well-known Heart of Darkness.

Pontoon has a ladies night every Wednesday with half-price drinks for women. It is a sleek new modern club with foreign DJ's.  Heart of Darkness has a legendary reputation – popular with locals and expats it can get very busy on the weekends. The new look place is well worth checking out.
Street 104 Area 
Street 104 is a small street off Sisowath Quay, which is the main road running alongside the river.  Its a sort of darker, low key version of Soi Cowboy, with lots of small bars side by side on a narrow street.  These bars are small, cosy and friendly with many offering free  snacks.   There are several to chose from – I have picked my favourites.
Top rated in my opinion are three Bars;  Zanzibar, Claudia and Air Force.  All are on the right-hand side of the street with Claudia Being at the river end, Zanzibar in the middle and Airforce near the bottom end.  All the bars are lively and have a lot of friendly hostesses inside.  Be careful the drinks seem cheap but the bills soon starts to grow as some of these girls are experts at getting customers to buy them drinks.  If you are looking for a  friendly,  lively drinking spot with lots of attractive hostesses then this the place for you.
Street 136 Area
This street also runs from Sisowath Quay (the main promenade).  At the river end, there are many small bars on 136 and the surrounding adjacent streets. The bars are generally small and have just a few girls. In some cases, the bars are very quiet.  Some of the more well known include the Candy Bar, Dream Bar, Bar 69, The Oasis, Claudia 2, Barbados, DV8. I recommend The Candy Bar, which is a bit dingy but still a classic, DV8 and the Oasis are also good.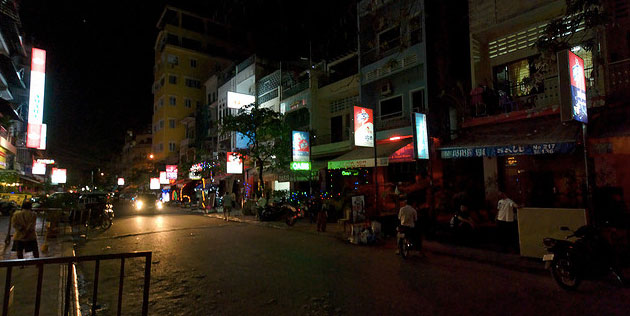 Enduring Classics
No list of Phnom Penh's nightlife would be complete without a mention of two of its most famous bars, Martinis and Sharky's.  Martinis now located at No.45 Street 95. This and Sharky date back to the early 1990's when I remember PP was dark, dangerous and druggy. Its nice to see these bars still going. Martinis has changed location. (see their website).
Martinis is open 7pm to 3am and has usually has a lot of girls around later on. Sharky classes itself as a Rock and Roll bar (the longest running in South East Asia) and often has well know local  bands playing they also do shows and  theme nights.  They class their clientele as; local sweethearts, tourists, ex-pats, and old Asia hands. That pretty much has everyone covered!
Bars & Clubs Listing
The Walkabout   109 Street 51  Tel: 023 211 715 (open 24 hrs)
The Black Cat   94 corner streets 51 and 172  Tel: 012 941 941 (open 24 hrs)
The Shanghai 21 street 51  Tel: 012 539 138 (3.30 pm – 2.00am)
Pontoon 80 street 172  Tel: 010 300 400
Heart of Darkness 38 street 51  Tel:023 222 415
Zanzibar 15E street 104  Tel:017 589 079
Claudia 13 street 104  Tel: 012 352  320
Air Force  29 street 104  Tel: 089 525 226
Candy Bar  24-25 street 136  Tel: 015 691 969
Dream Bar  38 Corner of 118 and 5  Tel 023 991 369
Oasis 35 street 136   Tel: 092 409 177
Bar 69  15 street 136
Claudia 2  40 street 130 Tel: 012 352 320
Barbados  42 street 130  Tel: 017 417 776
DV8 17 street 148  Tel: 012 776 885 228045
Sharky  126 street 130  Tel: 012 228 045
Martini  45 street 95  Tel: 011 874 416
Daves Raves – I do my best to keep information unto date and accurate but situations change. If I have got anything wrong please let me know. As always feel free to add your own comments and share. Cheers!