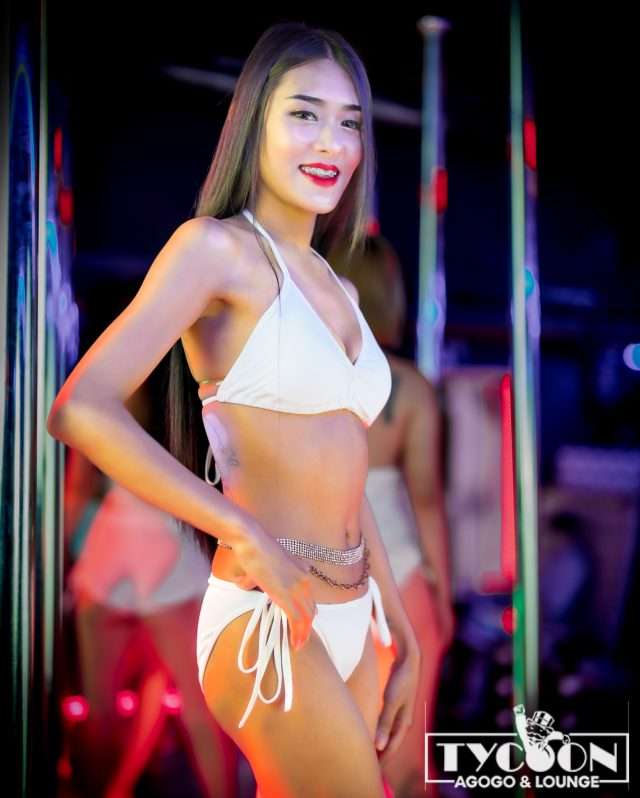 Somebody really missed the boat when it came to naming Tycoon Agogo & Lounge in Nana Plaza. Even I, back in England, realized it should have been called THAIcoon.
Having said that, Tycoon had defied expectations and while sister bar Whiskey & GoGo is struggling more than ever, Tycoon is thriving. Located in the old Erotica location on the stairs leading to the top floor, Tycoon collected all the girls Whiskey cast off in a recent public bungle and, over the weekend for manager Rudy's birthday, the place was absolutely bursting with women, many of them hot.
It's hard to say any girl on stage at Thaicoon, oh, sorry, Tycoon, is a longtime employee – the bar will celebrate its first anniversary in August – but this lady is one of the original. Her shiny makeup is gaudy and horrific under flash photography, but she's got a slender bod and a bubbly personality.
Dolly of the Day photos are shot by Digital-a-Go-Go, Bangkok's No. 1 photography and marketing agency for the nightlife industry. Follow them on Facebook, Twitter & Instagram.
And, remember, you can get photos of Dave's Dolly of the Day on Instagram. Just follow the image stream here.