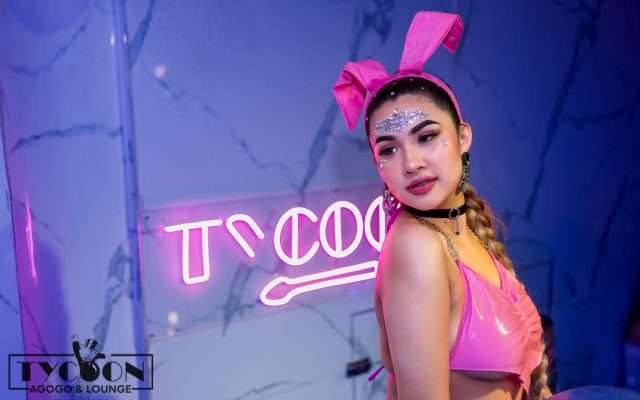 Tycoon aGoGo & Lounge in Nana Plaza on Saturday celebrated its first anniversary, which is quite a feat given the challenges the world threw at it.
Recall this time last year Thailand was still reopening and tourist numbers were still small. It also was taking over a spot that had been bad for a long time – Taxi a-Go-Go and the old Erotica – and suffered for months and months with a lack of ladies on stage. But this spring the bar started to draw girls and, with it, customers.
There are now about three dozen women on staff and Tycoon has hit its stride.
All the girls were dolled up in costumes of their own choosing for the party. This lady stopped on the Stairway to Heaven outside Tycoon to pose for Digital-a-Go-Go.
Dolly of the Day photos like this of the Shark PR girls are shot by Digital-a-Go-Go, Bangkok's No. 1 photography and marketing agency for the nightlife industry. Follow them on Facebook, Twitter & Instagram.
And, remember, you can get photos of Dave's Dolly of the Day on Instagram. Just follow the image stream here.