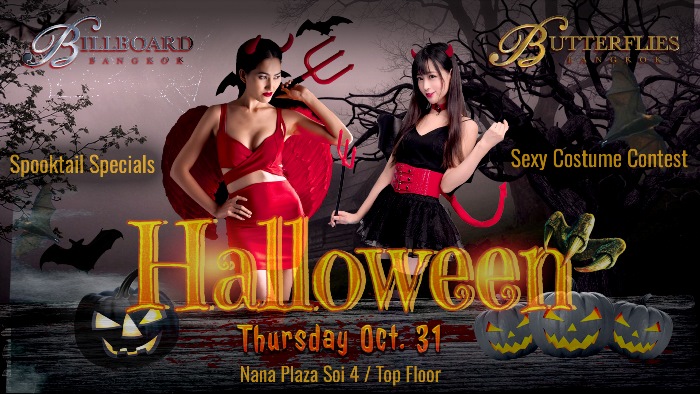 Once again, it's that time of year when all of the ghosts and ghouls come out to play. Here in Thailand, the grown-up boys and girls can enjoy a Spooktacular Halloween like no other nation!
Stumble Inn Bar located near the entrance to Nana Plaza will be enjoying a Nightmare On Nana Street with Free Witches Brew, Hellfire Chilli Burgers and The Nowhere Man Band will rock the house from 9:00 pm till late. There will be one HELL of a lot of spooky fun 'n' frolics throughout the night. 
Billboard and Butterflies (Top Floor Nana Plaza) are hosting a Special Halloween Party on October 31st. The 'showghouls' will battle it out for prizes to find out who becomes The Ghost With The Most. You can enjoy Spooktails and Scary Shots for a one night only one-off price! 
Spanky's Bar (Middle Floor Nana Plaza) will be putting a spell on you, with some funny 'n' freaky stage shows. There's no doubt Tricky Nicky will be handing out some Spooky Shots for the 'irregular' guys! You naughty guys need to get spanked so go along and enjoy the fun. 
Down in Sin City, the Spooktacular Party Night continues at Sapphire Club located on Soi 15 Walking Street, Pattaya. 
Daves Raves – Check out the cool posters below. Enjoy!