MAYWEATHER VS McGREGOR
The burning question this weekend is who will win the WBC Super Welterweight Title Fight? Will it be Super Slick Floyd Mayweather, or Mad Irishman Conor McGregor?
Dubbed 'The Money Fight' these two fighters are set for an enormous pay day on Sunday, August 27th. In fact, it's such HUGE money that it's extremely obscene!
For the multitudes of fight fans around the world, we want to see an action-packed World Title Fight, this is what matters to us.
So, where do you watch Mayweather vs McGregor in Bangkok? Well, I suggest Stumble Inn Bar (Sukhumvit Soi 4), Chequers Pub (Sukhumvit Soi 4), The Kiwi Pub (Sukhumvit Soi 8), The Australian (Sukhumvit Soi 11), or last but by no means least The Game (Sukhumvit Soi 9). There's five good choices, so pick what you prefer. All of these Bangkok bars, are great theme pubs in their own right.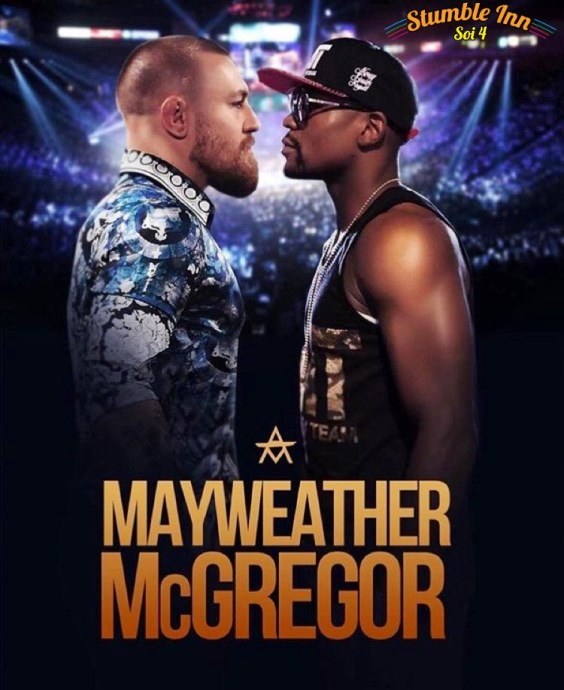 They state when their pub doors open, but the Mayweather vs McGregor fight will not start before 10:00 AM. It's expected to start between 10:00-11:00 AM. Don't get up at the crack of dawn, unless you are determined to get the best ringside seat!
I am looking forward to the Big Fight and I think this will be an exciting encounter of two great fighters. Will Mayweather box too clever, or will McGregor knock him out?