Nana Plaza 2020 Updates!
Nana Plaza has claimed the crown to become the undisputed King Of Naughty Nightlife out of Bangkok's red-light districts. Elaborate renovations include a huge roof that covers the whole of the three-storey atrium. The go-go bar bosses have replaced old signs with modern neon, it has a professional security team at the entrance, and management ensures it is kept as clean and tidy as possible.
The Master Lease for Nana Entertainment Plaza was renewed which dispels the myth that Nana Plaza would be knocked down. This is bullshit, it's just stupid fake news! This totally squashes all the false rumours about Nana Plaza circulating for the past couple of decades. Nana Plaza was given a big face-lift with a serious cash injection for a thorough renovation job. Closing time is 02:00 to 03:00 am nightly.
January 2020 Update! Note that closing times vary from bar to bar in Nana Plaza. While some bars choose to close at 02:00 am, there are other go-go bars that stay open until 03:00 am. Now you know!

NANA PLAZA GO-GO BARS (GROUND LEVEL)
BIG DOG'S BAR
The "Big Dog" of Soi Nana sits right on the left-hand corner at the entrance to Nana Plaza. It has the best location for observing the comings and goings in both Nana Plaza and along Soi Nana. It comes as little surprise that Big Dog's Bar draws a reasonably busy crowd from early evening until closing time. Big Dogs Bar operates with two shifts of bar girls. Still remains the most popular beer bar in Nana Plaza. The friendly Canadian Walter is doing a good job of running Big Dog's Bar with his Thai team. Big Dogs Bar has two plasma TV screens, which show major sports events. They stock a good range of bottled beers and spirits. Friendly bargirls are an added bonus, although Big Dog's has less attractive bar girls than previously. In fact, I must say the standard of the bar girls has dropped considerably. But, for most guys, Big Dogs is either a meeting point or a good location for people watching. Big Dog's still draws a crowd from afternoon until closing time.
2020 Update! Refurbished with the same style as Nana Plaza Beer Garden. Still the best people-watching spot on Soi Nana.
LOLLIPOP GOGO BAR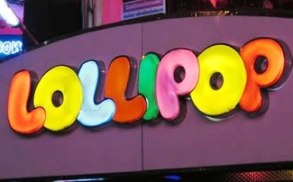 Lollipop is the first go-go bar on the left-hand side as you enter Nana Plaza. Walk past Big Dog's Bar and you will see Lollipop Go-Go Bar sitting right next to the concrete staircase. The Crown Group also owns Lollipop. The outside bar area is usually more popular than the go-go bar inside. Unfortunately, an outrageous katoey (lady-boy) barks out across the room on the microphone.
Currently, Lollipop has a replenished line-up of cute go-go girls. Some of the dolly birds are farang friendly. This place can get quite lively and the outside bar is another good people-watching spot. Lollipop is yet another go-go bar owned by the Nana Group.
LONDON CALLING GO-GO BAR
Situated next to Rainbow 2 and Play Skool, this is a mixed go-go bar, with both go-go girls and ladyboys. London Calling features stage shows in addition to go-go dancers. Worth visiting for those seeking something rather different to the norm.
LUCKY LUKE'S BAR
Historically the oldest beer bar in Nana Plaza and old Lucky Luke's is still going strong. It does not usually draw that much of a crowd, but it does have a slow, but steady flow of customers. Lucky Luke's Bar is another good spot to watch the comings and goings inside Nana Plaza. Not surprisingly, Lucky Lukes can draw a good crowd on occasions.
Still continues to draw a decent crowd and it is a great viewpoint for the comings and goings in Nana Plaza. The Thai girls here are farang friendly. A good observation post for watching the bargirl parade, as the multitudes of dolly birds enter and exit like a busy train station.
PLAY SKOOL GOGO BAR
Situated on the right-hand side as you enter Nana Plaza, Play Skool Go-Go Bar sits in-between London Calling Bar and Rainbow 1 Go-Go Bar. For many years Play Skool has always been something of an institution in Nana Plaza. The go-go dancers are friendly enough and half the line-up comprises of very hot Thai girls.
2020 Update! Yet again under new ownership, Play Skool has replenished its line-up and more changes are underway. Also, Play Skool was renovated last year by the owner but he has since sold it.
TRUE OBSESSION GO-GO BAR
When the Nana Group took over Obsession Go-Go Bar it was renamed True Obsession. This all ladyboy bar is located next to Rainbow 2 Go-Go Bar in the far right corner on the ground level. Said to have the most attractive ladyboys in Nana Plaza, if not Bangkok.
TWISTER BKK GO-GO BAR
Located on the left-hand side as you enter Nana Plaza, the new Twister BKK Go-Go Bar is the next go-go bar down from Lollipop. Back in the 1990s, Pretty Lady was classed by many people as one of the very best go-go bars in Bangkok. Since then, Pretty Lady became Spellbound, then became Bunnies and now the new owners have renamed it Twister BKK.
RAINBOW 1 GO-GO BAR
Rainbow 1 GoGo Bar is the first gogo bar on the right-hand side on the ground level, as you enter Nana Plaza. Rainbow 1 is nestled between Play Skool GoGo Bar and Short Time Bar. With the advantage of prime location, Rainbow 1 GoGo Bar usually draws the masses on a nightly basis. Several years ago, Rainbow 1 was fully refurbished, which was a welcomed improvement. The current format is continuous gogo dancing in black bikinis. There are no shows in Rainbow 1 GoGo Bar. However, quite a few people would dispute the fact that having so many HOT gogo dancers, is a great show itself. Rainbow 1 is quite a small gogo bar when you compare it to some bars like Rainbow 4. However, the Q Factor, or "quantity of quality" is normally very high.
WHAT'S HOT — There are so many attractive gogo dancers in Rainbow 1 that it puts most rival gogo bars to shame. It is worth visiting just for the awesome eye candy!
WHAT'S NOT — It can get very crowded and with it partly being a 'Jap Trap' there is the over-generous Japanese clientele to contend with. Some of the gogo dancers prefer to entertain Japanese customers and their prices reflect that. Remember Dave The Rave's "Famous Fours Factor" — Four-inch dick, Four minutes sex, Four thousand baht!
BUTT OUT BUDDY! Rainbow 1 has introduced a strict "NO SMOKING" policy, which will make a HUGE difference to everybody's health. It is much more comfortable now that the Japanese are not blowing up a storm.
RAINBOW 2 GO-GO BAR
When entering Nana Plaza, you will find Rainbow 2 GoGo Bar in the far right corner. Rainbow 2 sits in-between Obsession GoGo Bar on the left and London Calling on the right. Rainbow 2 GoGo Bar was the first offspring of the four Rainbow sisters. It is a medium-sized go-go bar, which is mostly populated by a Japanese clientele. Westerners should be aware of this fact because the majority of Rainbow 2 go-go dancers do prefer Japanese men.
BUTT OUT BUDDY! Rainbow 2 has introduced a strict "NO SMOKING" policy, which will make a HUGE difference to everybody's health. It is much more comfortable now that the smokers are not blowing up a storm.
Rainbow 1 and Rainbow 4 remain more popular, but Rainbow 2 still attracts quite a good crowd.  It possibly remains Rainbow Groups biggest 'Jap Trap' out of the four Rainbow GoGo Bars.  This means that prices and preferences are steered toward Japanese customers.  Some Westerners do take girls from Rainbow 2 but you do have to know what you are getting into. One of the problems that Rainbow 2 faces are that it lives in the shadow of big brother, namely Rainbow 4.
NANA PLAZA GO-GO BARS (MIDDLE LEVEL)
ANGELWITCH ROCK DANCERS
The former co-owners of Angelwitch are the pioneers of the most professionally choreographed go-go bar stage shows in Thailand. Internet columnist 'Baron Bonk' rated the Angelwitch stage shows equally as good as Crazy Horse in Paris. As proof of the popularity, Angelwitch GoGo Bar was voted 'Best GoGo Bar In Bangkok' for 3 consecutive years. In addition, Angelwitch attracts a good crowd at Showtime and has done for almost a decade. This is one gogo bar that remains consistently busy all year round. It is quite simply a gogo bar for all seasons; come rain or shine Angelwitch attracts the crowds. During the past few months, Angelwitch has taken on a number of new gogo dancers. Also, there are some new faces among the Showgirls, which will help to embellish the stage shows. Currently, Showtime starts at 10:00 PM and runs for at least 3 hours nightly.
Despite a drop in bar trade across Thailand, Angelwitch GoGo Bar remains popular at Showtime (10:00 PM until late). Angelwitch has taken on a considerable amount of new gogo dancers. The dance format is mono bikinis. Nowadays, there is certainly more to see in Angelwitch. Some more new shows have appeared amid the Bangkok Broadway repertoire.
Several new faces have refreshed the line-up of the Angelwitch Showgirls. A number of resident Showgirls are present every week. Several Showgirls have stopped working, but the new faces are refreshing replacements. Recently, some new shows have been added to the repertoire to spice it up. A number of wives and girlfriends accompany their men because Angelwitch will 'tease' rather than 'sleaze' the audience. Angelwitch is the best choice in Thailand if you want to see professionally produced stage shows.
CASANOVA GO-GO BAR
This is a classic "Dude looks like a lady" gogo bar. There are some of the tallest katoeys in Bangkok in this small gogo bar. Be aware that whatever your mates tell you, they are ALL ladyboys, and bloody big buggers they are too! Whatever you may think, they all have the full landing gear down below!
LADYBOY ALERT – The katoeys in Casanova can be very hands-on. Be warned!
CHILI GO-GO BAR
Formerly Mercury GoGo Bar, this quiet gogo bar was sold to the owners of Erotica GoGo Bar. The new owners have renovated it and renamed it Chili Bar. Is the chilli hot enough for you?
2020 Update! Chili Bar remains an all ladyboy go-go bar.
DC-10 GO-GO BAR 
This is a tiny gogo bar that sits in-between Sexy Night GoGo Bar and Casanova GoGo Bar. DC-10 GoGo Bar is not known for very glamorous gogo dancers, but the DJ plays some classic rock music. The DC-10 gogo girls get down and dirty, with a particularly 'hands-on' approach!
 2020 Update! After momentarily switching the format to go-go girls, DC-10 is now a ladyboy go-go bar again.
DIAMONDS GO-GO BAR
Located next to Temptations Go-Go Bar on the right-hand side on the middle level is Diamonds. Formerly Hot Lips Bar this is a cosy little go-go bar, with quite a good lineup of go-go dancers.  

MANDARIN GO-GO BAR
Located directly ahead of you, as you step off the escalator. Mandarin GoGo Bar has ownership connections with Mandarin Table Dance and Shark GoGo Bar in Soi Cowboy. Although Mandarin is a small go-go bar, it is split into two levels. Mandarin stopped its popular Happy Hour, but it still has some lovely gogo dancers. The gogo girls in Mandarin tend to be more attractive and younger than most of the gogo bars in Nana Plaza. Check it out!
The top-level of Mandarin is not operational because Mandarin doesn't have enough gogo girls to operate both levels. However, they do have a good line-up of enthusiastic young dolly birds. Well worth checking out, especially when the 'students' are dancing. Currently has a very good line-up of sexy hot babes. Among the most attractive gogo dancers in Nana Plaza can be found here. Well worth a visit for babe hunters!
Update 2020 – Now operates with a mixture of go-go dancers and coyote dancers with differently priced bar fines.
MANDARIN TABLE DANCE BAR
Mandarin Table Dance is under the same ownership as Mandarin GoGo Bar and Shark GoGo Bar in Soi Cowboy. With the table dance format, this little gogo bar does make a bit of a change to the norm. On a good night, Mandarin Table is a fun place with lively dolly birds doing the tabletop bop!
Has a bunch of sexy, young gogo girls. If you don't like crowds and customer competition, this place is ideal. One of the more underrated gogo bars in terms of Thai girl talent.
MERCURY GOGO BAR
Until it was sold several years ago, Mercury used to be situated on the left-hand side of the middle level. This has since become Erotica Chili Bar. New owners of Mercury GoGo Bar relocated it next to Mandarin Table Dance. The new Mercury was expended and a shower unit installed. This small gogo bar is making a comeback and has become more popular recently. It now operates with a mixture of gogo dancers and coyote dancers.
Update 2020 – Changed format to a ladyboy go-go bar. Worth a visit for ladyboy lovers.
RAINBOW 3 GOGO BAR
Rainbow 3 GoGo Bar is located next to Straps Bar on the left-hand side as you walk to the top of the concrete staircase. Rainbow 3 is the least popular of the four Rainbow GoGo Bars.
Rainbow 3 usually has a fairly good line-up and a number of the gogo dancers are farang friendly. Worth a visit for the babe hunters, as it is not so much of a Jap Trap.
TWISTER GO-GO BAR 
The mighty Rainbow 4 GoGo Bar is located in the far right corner on the middle level in Nana Plaza. Rainbow 4 is situated between Candy Land and Temptations GoGo Bar. Following a buyout, Rainbow 4 took over the space occupied by Woodstock Bar and Rosemarie Bar. Therefore, this is a BIG gogo bar. Inside there are two gogo stages, which houses one of the largest numbers of gogo dancers inside four walls in Thailand. In terms of the Dave The Rave Q Factor (a quantity of quality), Rainbow 4 GoGo Bar is a "must-see" whenever you explore Bangkok's naughty nightlife. It is the ultimate "analysis paralysis" go-go bar experience! Rainbow 4 GoGo Bar is deemed by many, as the best gogo bar in Thailand. In terms of eye candy, Rainbow 4 is truly awesome!
WHAT'S HOT — What could not be HOT about two gogo stages packed with dancing dolls? At its peak, Rainbow 4 has to have no less than FOUR shifts of gogo girls. This is incredible in itself when you consider that most gogo bars have only two shifts of gogo dancers. The sheer amount of eye candy on display makes it a most impressive pleasure palace. Many guys consider rainbow 4, as more "farang friendly" than the other three Rainbow GoGo Bars. A number of the gogo dancers will go with Westerners.
WHAT'S NOT — The design layout looks like a blind man created it. Unfortunately, there is nowhere to view both gogo stages fully. You can sit in the aisle between the two gogo stages and turn your head from side to side as if you are at a tennis match. Or, you can pay your bar bill and move around the bar with a drink in hand.
Update 2020 – Changed name from Rainbow 4 to Twister but still going strong with a lot of gogo dancers on the books. There are slightly less Japanese customers, so Twister is also popular with Western guys. Some of the gogo girls wear full bikinis, others wear mono bikinis. Twister is still high in quantity with two stages packed with go-go dancers. The Bangkok babe hunters say Twister has dropped a bit in terms of quality but remains high in quantity.
SEXY NIGHT GOGO BAR
This very small, but lively gogo bar sits in-between Angelwitch GoGo Bar (left) and DC-10 GoGo Bar (right). The DJ plays some excellent classic rock music. A real treat if you like classic tracks from previous decades. Sexy Night tends to resemble a single mothers club, but the gogo dancers are very farang friendly.
Occasionally has a few attractive gogo girls, but it is hit, or miss in terms of Thai girl talent. Sexy Night does have a following and generally a more mature clientele. The rock music makes a refreshing change to the techno trash!
SPANKYS GOGO BAR
Spankys GoGo Bar is situated on the left-hand side next to Angelwitch GoGo Bar. Although small in comparison to some gogo bars, Spankys has brought fun 'n' frolics back to Nana Plaza. It also features sexotic shows on a  nightly basis. Spankys was refurbished a while ago, with more comfortable sofa seats and a purpose-built shower unit.
Update 2019 – Spankys has loaded up with go-go girls and are doing a brisk trade. Upon entering, be prepared to get a spanking Spankys style! Still very busy on a nightly basis. The standard of girls and stage shows have improved. A bunch of new shows were recently added. Renowned for its pulsating music, sexotic shows and a go-go stage packed with go-go dancers wearing mono bikinis.
NANA PLAZA GO-GO BARS (TOP LEVEL)
BILLBOARD GO-GO BAR 
An exciting new addition to Nana Plaza that is drawing large crowds, especially on the weekends. Formerly known as Hollywood Carousel, this newly renovated and reopened go-go bar still has the famous rotating go-go stage, with an overhead shower unit. Another unique feature to the go-go bar scene is the only Jacuzzi in Bangkok. Billboard features young sexy Thai girls in their birthday suits in the ultimate bird bath! The music is an upbeat dance style and the atmosphere is somewhat reminiscent of the Pattaya go-go bar scene.
Billboard now has a noticeably improved line-up of go-go girls, plus some of the hottest showgirls in town. The bubble bath babes are a big hit and the installation of the Jacuzzi was a masterstroke.
Update 2020 – Still classed by many as having the hottest go-go girls in Bangkok. Renowned for having a large number of hot babes every night.
BUTTERFLIES GO-GO BAR 
Butterflies Bar is a large go-go bar located opposite Billboard Bar.
CHARADES GO-GO BAR
Formerly known as Cascade GoGo Bar this is was popular ladyboy go-go bar. The newly named Charades GoGo Bar boasts a big line-up of ladyboys that come in all styles, shapes and sizes. Charades GoGo Bar is located in the right-hand corner.
Update 2020 – Reopened as Geisha Go-Go Bar with a switch to female go-go dancers. Now under new ownership.
ENTER GO-GO BAR
Located next to Billboard on the top level of Nana Plaza. Previously this was known as Hollywood Strip (Hollywood 2) and was closed down for several years. Previous owners the Nana Group brought the old Hollywood Strip Go-Go Bar back to life. Renamed Las Vegas with Vega style decor made this one of the best looking go-go bars in Thailand. In addition, it featured all the glitz 'n' glam of Las Vegas, with professionally choreographed show routines.
Update 2020 – The Thai owned Enter Bar has ownership connections with Twister Go-Go Bar. It now has a Jacuzzi installed. Enter is one of the smallest go-go bars in Nana Plaza.
EROTICA GO-GO BAR
Erotica GoGo Bar is located on the left-hand side of the stairs that lead onto the top floor. Erotica Go-Go Bar has two levels and also "bonking booths," or short time rooms as they are commonly called. Recently Erotica has taken on some very polite and efficient service girls from Mandarin Go-Go Bar. Other girls including some go-go dancers from Mandarin have also joined Erotica. Currently, Erotica has a replenished line-up and there are a few very attractive dolly birds to be found. Erotica still runs a Happy Hour up until 9:00 pm, where standard drinks are only 80 Baht. Erotica appears to be operating on one level, which does help to enhance the atmosphere. If a go-go bar is struggling to operate on two levels, because of a shortage of go-go dancers, it makes sense to combine the girls onto one stage.
Erotica has had a thorough renovation and does still have some lovely dolly birds. However, it can be hit, or miss depending on when you visit.
---
Dave The Rave is a unique Thailand Nightlife Guru with professional experience in the Bangkok bar business since 1999. Dave remains closely connected to Bangkok's nightlife industry and remains popular worldwide.
---
QUICK CLICK  –  NANA PLAZA REVIEW 1
QUICK CLICK  –  SOI COWBOY REVIEWS
QUICK CLICK  –  BANGKOK NIGHTCLUBS