During the past several months, Nana Plaza has seen some changes and therefore, here are those updates for you.
At the entrance to Nana Plaza, you will notice that Big Dogs Bar received a facelift. It now has a new bar counter at the far end and the old toilets have been removed.
New tables styled the same as in Nana Plaza Beer Garden have replaced the old ones. The new design gives Big Dogs Bar a more modern feel and the seating area is more comfortable and spacious.  
Menus attached to the walls remind us that food is available from Stumble Inn Bar next door. If you are feeling peckish, then simply order from the staff at Big Dogs and your pub grub will be delivered to your table.
Big Dogs Bar remains an ideal people-watching spot at the crossroads of the comings and goings along Soi Nana. You can also see the parade in and out of Nana Plaza. 
Nana Plaza's biggest go-go bar Bangkok Bunnies was bought by Thai owners and renamed Twister BKK. A temporary sign was hastily attached to replace the old Bangkok Bunnies sign.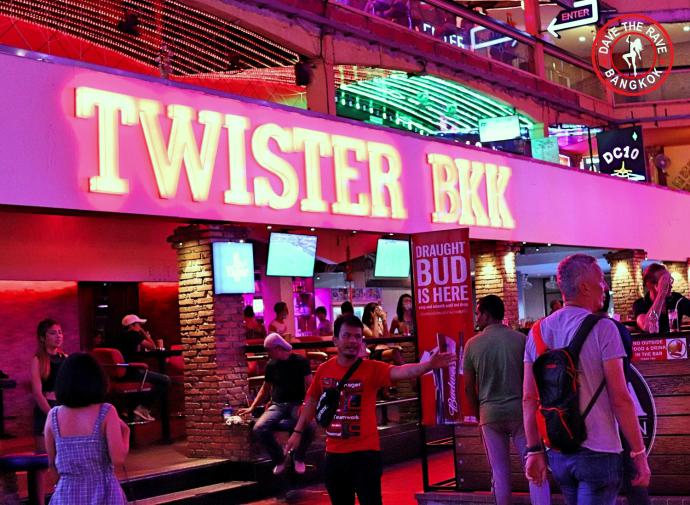 It will be interesting to see what the new guys do with Twister BKK. Already, two pool tables have appeared at the outside bar area. Let us hope they separate Twister into two bar areas, as it is excessively big to fill as one go-go bar. Will they give it a new twist?
Playskool is now under new ownership and already the horrendous trashy techno music is banned. This is a smart move because so many of us hate that audio atrocities those naïve DJs play. They have the audacity to call that music! So far so good at Playskool, as the new Belgian owner builds up his lineup of dancing dolls.
Next door at Rainbow 1 they renovated the outside bar area and erected a vibrant neon sign. Maintaining a lineup of attractive go-go dancers, Rainbow 1 is still ticking over nicely.
Formerly known as Monster Ink and as Short Time Bar, the small beer bar next to Rainbow  1 was recently renovated. In fact, the renovation job was so recent that a new sign is yet to be put up.
The Beer Garden in the middle of the Ground Floor is doing well and it has transformed that whole area. Previously, those mobile beer bars were horrible contraptions, but they did serve their purpose.
However, the new Nana Beer Garden nowadays has a very aesthetic and modern look. Beer drinkers will be pleased to know that a few brands are now available on tap in draught form. In addition, Stowford Press Cider, brewed in Hereford, England is also now available.
On the Middle Floor next to Rainbow 3 is the Chili Bar. If you are unaware, it is a ladyboy go-go bar. For ladyboy lovers, Chili Bar is a good addition, but for those who do not like ladyboys, it is another go-go bar to avoid.
Charades Go-Go Bar on the Top Floor of Nana Plaza has been sold to a Korean owner. Charades is currently closed for renovations.
When Charades reopens its doors it will operate with go-go girls rather than ladyboys. This is a significant change in format, much to the relief of those who do not like Thai ladyboy bars.  
The Thai owners of Enter Go-Go Bar next to Billboard Bar have installed a Jacuzzi and a shower booth. Let's hope the new strategy encourages more guys to Enter!   
Daves Raves! Full Nana Plaza Reviews – Nana Plaza 2 and Nana Plaza 1
New Blog Post Schedule – You can now enjoy daily blog posts but in addition, there will be two main blog posts per week. The main blog posts comprise of a minimum of 500 words, posted at noon (Thai time), every Monday and Friday. Cheers!