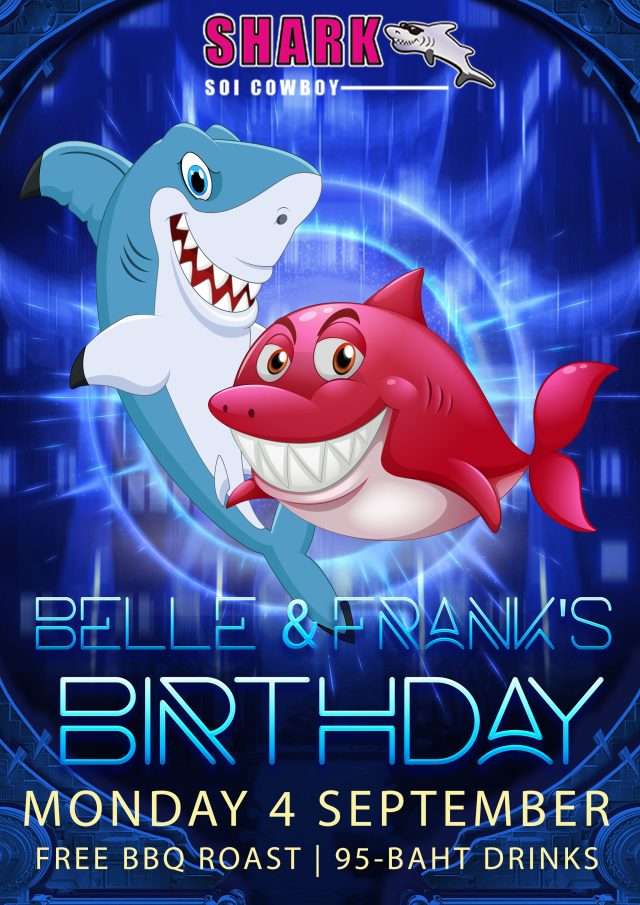 Fresh off its Full Moon Party, Shark Club on Soi Cowboy will celebrate the double birthday of bosses Frank and Belle with a big barbecue Monday.
Frank, who piloted Shark for years as well as being a partner in the now-defunct Lighthouse a-Go-Go, has stepped back from day-to-day running of the go-go bars, leaving that (and the group's other Bangkok and Pattaya bars) to his brother and his wife Belle. But the man many affectionately called "Gandalf" when he had his long hair and beard, can still be found frequently at Shark.
Belle, meanwhile, has been managing Shark since the departure of the former French manager Greg. She has steered Shark to success not seen since years before Covid-19.
It turns out that Belle and Frank were only born a day apart — well, a day and many years apart. Her birthday is Sept. 4 while Frank's is the third. A double birthday party was a natural.
As such, the party will be big. A pig will be sacrificed and roasted for the occasion and all drinks will be just 95 baht until 9:30 p.m. during Shark's nightly Happy Hour. Draft beer at Shark is 95 baht all night.
There also will be birthday partying at Red Dragon and Mandarin in Nana Plaza, but it will strictly drinking; no grilling.
Double Birthday 2nd Party in 4 Days
The double birthday bash comes only four days after Shark's monthly Full Moon Party. 
Rain and clouds blocked any view of the last blue supermoon for 14 years, but, as they say, the show must go on and it did. Being the last day of the month, there was a full stable of girls, even with the rain, as both bars hold their mandatory monthly staff meetings, and they were all there early (for once).
As such, the parties were big successes, even with a rain-dampened lighter crowd.