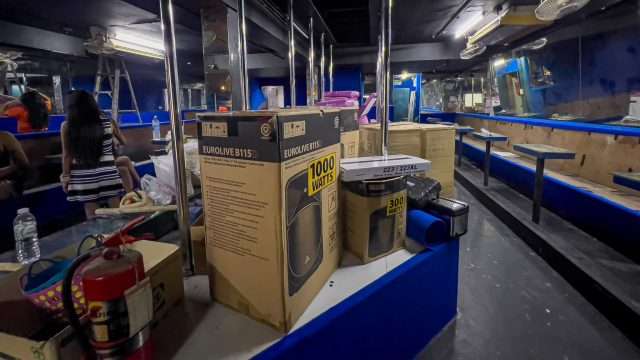 Can sharks climb stairs? We're about to find out as the Shark upstairs bars prepares to reopen on Soi Cowboy for the first time in five years.
Having catapulted back to the top of Soi Cowboy's go-go leaderboard earlier this year. The 21-year-old club is rapidly turning its disused upper-floor bar into showcase space again. The Shark upstairs renovation is expected to take about a week more.
Throughout the past decade, Shark largely has been a one-floor go-go bar. The upstairs was there, but except for a couple of years around 2017-18, the upper floor was left for use as storage and a dancer's breakroom.
Shark Upstairs: Dust Bunnies!
The dust piled up high during the Covid-19 years. Shark was closed until September of last year and upstairs was relegated to the memory file.
But Shark underwent a metamorphosis in June with a change in management (not ownership) and the import of dozens of new ladies. With its total renovation downstairs, Shark became fresh and exciting again and quickly surged back to its prepandemic popularity.
With the best happy hour on Soi Cowboy – all drinks 95 baht until 9:30 p.m. – the club is busy every day and is a must-visit for everyone hitting the Neon Alley.
Now it's time for Act II in this "Upstairs, Downstairs" tale. Smokers finally will have a go-go space to enjoy and the more-intimate setting will make spending time with the Sexy Sharks even more fun.
Pop in and see the all-new Shark and expect to see a new batch of photos from Digital a-Go-Go taken in the upstairs space next month.