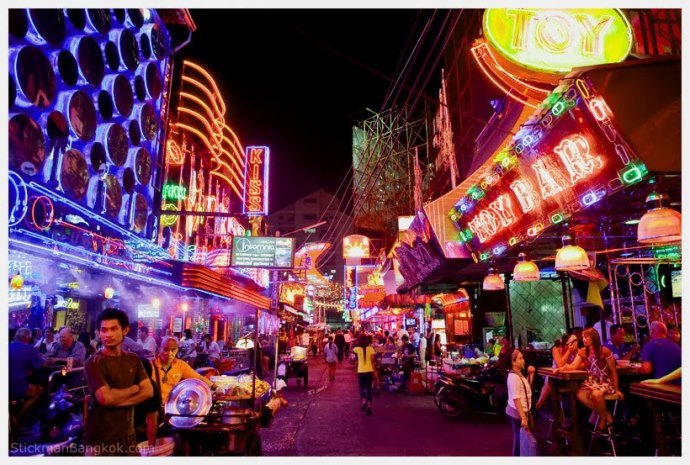 Soi Cowboy Updates 2020
---
Daves Raves — My publishing schedule is Sundays, Tuesdays & Thursdays. 
Dave The Rave is a unique Thailand Nightlife Guru with vast professional experience in Bangkok nightlife since 1999. Dave is still closely connected to Thailand's nightlife and his blog remains popular worldwide. 
---
What's Hot And What's Not? – Similar to other bar areas, the popular go-go bars in Soi Cowboy continue to do well, whereas a number of the other bars remain quiet in comparison. Soi Cowboy is often packed on Fridays and Saturdays, especially with tourists taking photos of the neon lights and taking selfies. However, it can be much quieter during the week. If you want to avoid the crowds, then visit after the weekend. Soi Cowboy is not as busy from Sunday through until around Wednesday or Thursday and therefore, there is much less customer competition.
Unfortunately, I am hearing more and more complaints about price hiking and extremely mercenary attitudes in certain go-go bars. This especially applies to bars such as Baccara, which largely remains a 'Jap Trap' for gullible guys with more money than sense! Personally, I like Baccara Bar but don't let the bar girls control you. Make no mistakes, Baccara is a money making machine! However, it is never wise to get aggressive, so if you feel you are being treated unfairly, then simply vote with your feet and go to another bar. Now in saying that you might want to try some of the smaller bars in Soi Cowboy. You probably won't find any stunning Thai girls in the small bars, but it will at least be a more farang-friendly encounter. Remember to go out with the right attitude and you are much more likely to have a fun time.
Price Hike Warning!  Several go-go bars in Soi Cowboy have hiked their prices right up. Standard beers and spirits are as much as 200 baht and lady drinks for coyote dancers and mamasans are very expensive at 200-300 baht each. If you are not sure, it is best to ask before you order any drinks. The most expensive go-go bars in question are – Baccara – Deja Vu – Kiss – Midnite – Rio – Sahara – Spice Girls – Cowboy 2.

Coyote Dancers  –  In theory, this looks like a great idea. The coyote girls are often very attractive and they are usually lovely girls to meet and chat with. However, either the coyote dancers cannot be bought out, or the bar fine is an extortionate price, so it can be a cock tease. Remember that coyote dancers dress differently to go-go dancers and they do not show any flesh. This makes them easy to spot and a lady drink Tequila is very expensive at anywhere from 2oo to 300 baht. Always check prices first before you order. If you want to chat or flirt with a sexy Thai girl, the coyote dancers are ideal. You might be a smooth operator and able to arrange a date outside of a coyote girl's working hours. Where there's a will there is a way!
Closing Times – The bars in Soi Cowboy are usually the later closing time of 03:00 am. However, earlier closing is enforced from time to time but not too frequently.
HAPPY HOUR – Although drink prices have risen in Soi Cowboy's go-go bars, it still remains good value for money in certain places.  Most of the bars still offer a Happy Hour, which even the Cheap Charlie Clan can't complain about.  Because of the Happy Hours and the fact that the bars open early, Soi Cowboy remains an excellent choice to start your evening.
Update 2020 – Both Dollhouse and Lighthouse have very good bang-for-baht Happy Hours. These Happy Hours make it well worth visiting earlier in the evening. Cheers to the cheap beers!
Soi Cowboy – Little Las Vegas 2019
Upon entering Soi Cowboy, you are immediately hit by a kaleidoscope of bright colours.  The amount of neon on display per square metre is like being in a small corner of Las Vegas.  These days I think Soi Cowboy proudly displays the most impressive array of colourful neon signs in the whole of Bangkok's naughty nightlife.  There are so many neon lights making this little street glow so predominantly, that the neon lights have become a tourist attraction.  As you take a leisurely stroll down Cowboy Street, you cannot help but get a buzz from this most exciting visual carnival.
Soi Cowboy has raised in stature with an improvement in the way the bar girls, or in some cases, 'bare girls' treat the customers.  Soi Cowboy was always a fun place to hang out and the popular bars are still relatively friendly. In recent years, more attractive girls have become very evident in the top go-go bars such as Dollhouse Bar, Shark Bar, Lighthouse, Baccara Bar, Long Gun and to some degree a few other go-go bars too.
Having a stroll through 'Little Las Vegas' is never a dull experience for me personally. I think that the Q Factor (quantity of quality) has risen considerably in some go-go bars in Soi Cowboy. Combined with the BIG advantage of "showing", Soi Cowboy has emerged as a more popular nightspot than previously. This especially applies to farang residents who like to frequent Soi Cowboy, Nana Plaza and the many good pubs and theme bars that Bangkok offers in abundance. Soi Cowboy remains a popular choice for farang expats and tourists alike, and with what is on offer, it's not surprising!
Almost every bar has a Happy Hour in Soi Cowboy.  The average price is very cheap for house beers and spirits.  The amount of 'showing' in Soi Cowboy is still more than both Nana Plaza and Patpong.  Some people underestimate what a tremendous advantage 'showing' is.  Also, the closing times are generally a bit more relaxed than Nana Plaza.
Alphabetical Soi Cowboy Reviews 2020
AFTER SKOOL BAR 
Naughty nubiles dressed as schoolgirls provide 'hands-on' service.  The 'Naughty Boys Corner' is rather naughty to say the very least!  The 'students' here are proficient in manual work and oral examinations.  A favourite pit stop for those needing some human plumbing.  Both the beers and the babes are reasonably priced.
BACCARA GO-GO BAR 
The mighty Baccara Go-Go Bar is located at the Sukhumvit Soi 23 end of Soi Cowboy directly opposite Rio Go-Go Bar.  Baccara Bar has been remodelled and is bigger and better than before.  Baccara is a large go-go bar split over three levels.  The top floor is nicely furnished and well worth visiting. To some degree Baccara is infamous for being a 'Jap Trap' but there are a large number of attractive go-go girls here.  Downstairs the go-go dancers are dressed in full bikinis and are certainly not the most revealing of the Baccara bunch.  On the top level, you can discover some very cute dolly birds. Upstairs the 'students' conveniently lose items of clothing. Baccara is the biggest moneymaker in Soi Cowboy and in monetary terms, it is vastly superior to all the other Bangkok go-go bars.
The introduction of 'NO SMOKING' makes the downstairs area much more comfortable.  It is a relief that the Japanese chain-smokers are not blowing up a storm.  Baccara probably still has the most go-go dancers in Soi Cowboy.  Well worth a visit, but it does remain a 'Jap Trap' because smoking is allowed upstairs.  Non-smokers need to be aware of that.  However, despite that Baccara Go-Go Bar is brimming with go-go dancers. Nightclub style dance music encourages the go-go dancers to move to the groove. A lot of guys class Baccara as a must-see when visiting Soi Cowboy.
CACTUS GO-GO BAR 
Cactus Bar is a small go-go bar that is rather rough and ready, but kind of homely. There are a few attractive gogo girls among what is generally mediocre, but a very friendly bunch of Thai girls.  The go-go dancer's attire is birthday suits and currently, smoking is still permitted.  Cactus Go-Go Bar stocks the widest range of Belgian Beers in Thailand.
Sadly John has departed from Cactus Bar and therefore, there is no more of his delicious Homestyle American cuisine. Cactus Bar has ownership connections with Long Gun Go-Go Bar.
COCKATOO GOGO BAR
Cockatoo Bar was the first ladyboy gogo bar in Soi Cowboy. It is located directly opposite Bacarra GoGo Bar. This is the one and only ladyboy go-go bar in Soi Cowboy.
Update 2020 – Renowned to have the most stunning ladyboys in Bangkok, if not all of Thailand. A fun and friendly place for ladyboy lovers.
CORNER BAR 
A popular addition to Soi Cowboy located opposite Country Road on the Asoke side.  This is a live music venue and I have listened to the resident bands who are not bad at all.  We requested U2 which is not easy vocals, but they performed 'With Or Without You' quite well. Drinks are reasonably priced and the staff are farang friendly.  Worth a pit stop even if it is to escape the go-go bars for a while.
2020 Update! Corner Bar can and does get packed at weekends, so it is best to avoid Corner Bar. If you do not like crowded and/or noisy bars, this place is definitely not for the claustrophobic folks!
COUNTRY ROAD 
American style roadhouse with live entertainment and an adjacent pool bar.  Something of an institution in Bangkok that gives Soi Cowboy a diverse choice of venues.  Country Road is still popular after all these years.  A place to chill out if you are into country and western music.
Still retains its rustic charm and there are funny moments when the band will drop the odd bum note!  Also, some of the vocals leave quite a lot to be desired.  Country Road reminds me of the working men's clubs in England… Rough 'n' ready but nice 'n' steady! Thai Elvis still performs and he draws a reasonable audience.
Update 2020 – Country Road has been remodelled and now looks fantastic! Great bands will rock you through the night. The excellent renovation job is a BIG improvement on the old rundown venue.
COWBOY 2 GO-GO BAR
Yet another coyote style go-go bar owned by the Man From Iran. Some say this is the best of his go-go bars but I will let you be the judge of that.
CRAZY CAT
Update 2020 – Formerly known as Cocktail Club
CRAZY HOUSE
This is a relatively new addition to the Soi Cowboy gogo bars scene and the first gogo bar to be located directly on Soi 23 next to The Old Dutch. The format is currently younger gogo dancers in birthday suits, with the action split over two levels. The owners are obviously well connected and Crazy House is currently the talk of the town among a number of resident expats.
Update 2020 – The owners of Crazy House have now opened another go-go bar right next door called Kazy Kozy.
DEJA VU GO-GO BAR
Sister go-go bar to Spice Girls, Midnite, Rio, Kiss and Sahara.  Currently, Deja Vu has one of the best line-ups out of its sisters. However, drinks are very expensive with local beers and spirits at 180 baht. A tequila lady drink is a stinger at 200 baht. Forewarned is forearmed!
DOLLHOUSE GO-GO BAR 
The Dollhouse has remained a popular go-go bar from when it first emerged in Clinton Plaza.  Dollhouse has always had a reputation for attractive go-go dancers.  WARNING!  This place is a 'booby trap' with buxom bar girls busting out all over the place! Dollhouse runs a 'Crazy Hour' at 21:30 – 22:30 with Sierra Gold Tequila Shots for ONLY 50 baht!  With Dollhouse it is best to get in earlier rather than later.  Later on, many of the best go-go dancers have been taken and also, Crazy Hour and Happy Hour has ended. This is a high energy go-go bar with new Super Sexy Stage Shows and therefore, it is easily one of the very best go-go bars in Soi Cowboy.
The format remains mono bikinis, plus some upskirt action, which is always a bonus. UPSTAIRS you will see dolly birds in birthday suits!
Update 2020 – Happy Hour runs until 9:30 PM with a wide range of drinks at discounted prices. Cheers!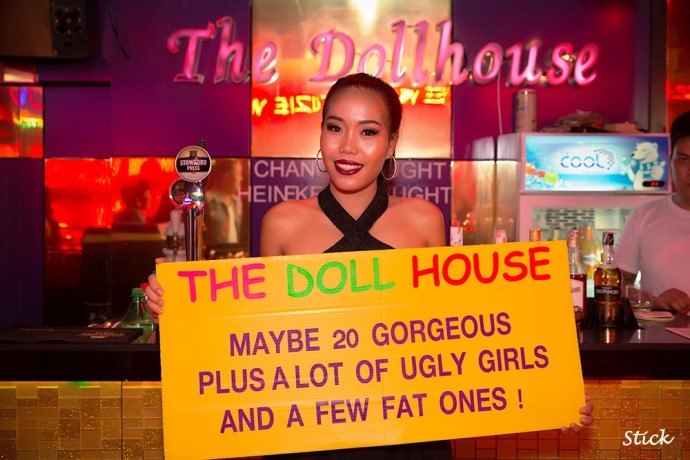 DUNDEE BAR
A friendly enough small bar, but it has a very average bunch of mature bar girls.
FANNY'S BAR 
A naughty but nice den of inequity.  Short time rooms are available upstairs at a reasonable price.  The bar girls here are certainly not the most glamorous, but very farang friendly.  Fanny's show music videos on the TV screen and you can make your own selections.
FIVE STAR BAR 
The only go-go bar in Bangkok to feature a live band.  The vocal skills leave a bit to be desired (at times), but the lead guitarist is absolutely superb.  A great place to hang out and again, this shows how diverse the entertainment is in Soi Cowboy.  Well worth a visit for live music fans.
Some farang musicians play and sing here from time to time. The Finnish Flying Fender and Crazy Horse are two that I know personally. Check it out!
JUNGLE JIM'S BAR 
Operates as a regular bar format.  Old Jungle Jim's is something of a Soi Cowboy institution.  However, these days its rough & ready and certainly showing its age.  However, the bar girls are friendly enough bunch and the customer care can be very hands-on!
KAZY KOZY
This is a new go-go bar that replaces The Old Dutch and it is split over two levels. Same ownership as Crazy House so you can expect more birthday suits!
KISS GOGO BAR 
Formerly named Black & White Go-Go Bar, it was sold and renamed 'Kiss.' This relatively new addition to Soi Cowboy is a sister bar to Midnite, Spice Girls, Deja Vu, Rio, Sahara and now also Raw Hide. Again, be warned that drinks here are the most expensive in Soi Cowboy.
LIGHTHOUSE GOGO BAR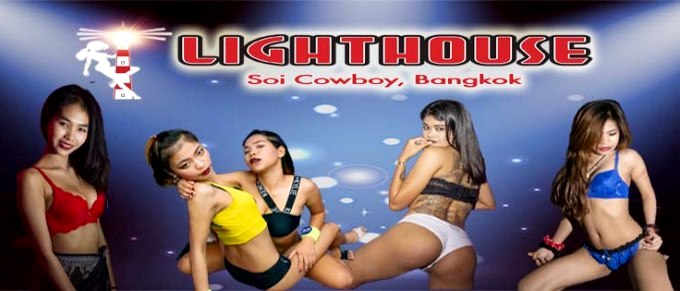 This was previously Shebas GoGo Bar which has since been renamed Lighthouse GoGo Bar by the new owners.
Lighthouse is a lively go-go bar, brimming with coyote dancers. Same co-owners of the popular Shark Go-Go Bar.
Update 2020 – Best Happy Hours in Soi Cowboy, especially Wild Wednesday – All Drinks All Night Only 100 Baht!
LONG GUN GOGO BAR 
Still going strong after several decades.  Deemed by veterans as an institution in Soi Cowboy and also in Bangkok's naughty nightlife scene. The 'magic pussy shows' are a complete turn off for some people, but they do have some lovely dolly birds.  Long Gun did look about 100 years old, but it has been thoroughly renovated. Long Gun still draws a good crowd on a nightly basis.  I try to avoid the 'genital gymnastics' but I really enjoy the Rock Show.  The Rock Show consists of a string of classic rock songs, where the showgirls perform some fantastic acrobatic acts. One downside is that drink prices have risen considerably.
MIDNITE GO-GO BAR 
One of the more popular bars owned by 'The Man From Iran'.  This go-go bar does employ katoeys or lady-boys, so make sure that girl you are looking really is a woman! Again, be warned that drinks are the most expensive in Soi Cowboy.
MOONSHINE BAR
Operates to a format similar to Jungle Jim's. Still remains for the best part quiet and unassuming.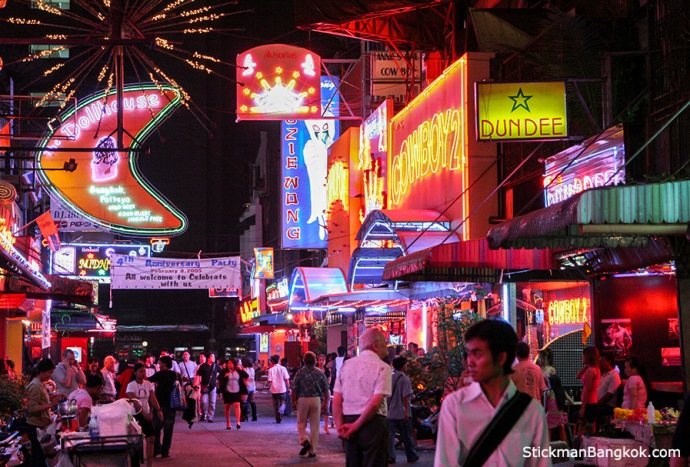 PENNY BLACK 
Late-night pool and chillax bar.  Same ownership as Long Gun and Rawhide. Often open until as late as 5:00 AM.
RAWHIDE GO-GO BAR 
Located just down from Long Gun.  Formerly the best show bar in Soi Cowboy.
Raw Hide really has some lovely young go-go girls.  The difference for me is not the shows, but the sexy Showgirls.  I prefer the Showgirls in Raw Hide to Long Gun, where they are generally older, less attractive and more hardcore.
UPDATE 2020 – Raw Hide will become a mainstream pub-style venue. Currently undergoing renovations.
RIO GOGO BAR
Located opposite Bacarra GoGo Bar this is yet another gogo bar owned by 'The Man From Iran.' It operates with coyote dancers and both drinks and bar fines are the most expensive in Soi Cowboy.
SAMS 2000 BAR & RESTAURANT 
Located next to Tilac Go-Go Bar.  Good Thai food at reasonable prices.  Another bonus is farang friendly service girls.  Apart from that Sams 2000 is a great people-watching spot. Booze prices have risen, but the food is still good value for money.
SHADOW SPORTS BAR 
Shadow has had a complete remodel and is now a modern sports bar.  Very modern and plush design with several TV screens to view a variety of live sports.  Carlsberg Draught is now available at Shadow.
SHARK GO-GO BAR 
Renowned for having a collection of among the most attractive go-go dancers in Bangkok.
With a large number of glamorous go-go girls, this is one of the best gogo bars for eye candy in the whole of Bangkok.  At times the techno music leaves a lot to be desired, but I suppose you can't have everything. Not as many Thai girls as previously, but the overall talent level remains very high. Shark is now split into two levels, but the downstairs is far better. Well worth a visit on your go-go bar rounds.
SPICE GIRLS GO-GO BAR
The drinks are very expensive and the coyote dancers are not on the menu for a Thai takeaway. Another go-go bar owned by 'The Man From Iran'.
SUZIE WONGS 
Suzie Wongs has ownership connections with Baccara Bar. It still features sexotic stage shows nightly, but some may find them too hardcore. Some of the go-go girls are not the most glamorous, but there are some cute Thai girls to be found in Suzie Wong. The go-go dance attire is revealing! Suzie Wongs has greatly increased the number of go-go dancers. They got a lot of girls when Shebas was sold.
Top Tip! Keep an eye on your bill and watch what you order.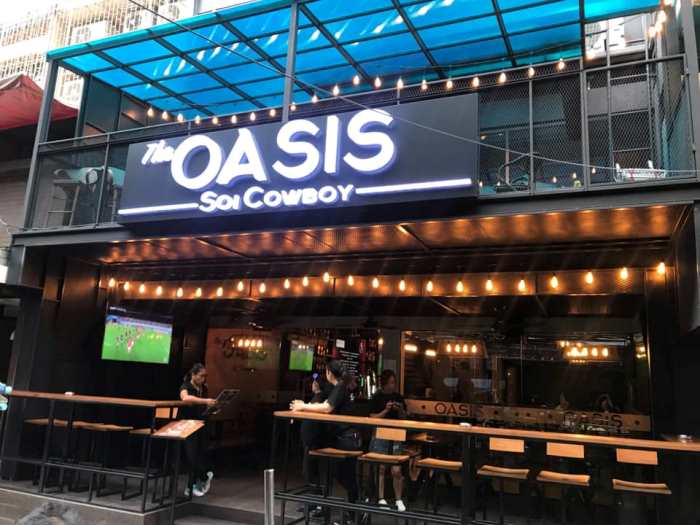 THE OASIS
New British-Thai owned pub with a modern design and a plush interior. Same ownership as the popular Stumble Inn Bar on Soi Nana.  The Oasis is a great place to play pool, watch live sports, enjoy Western and Thai pub grub and chillax amid the mayhem of the neon jungle. The Oasis replaces the old defunct Sahara Go-Go Bar.
TILAC GO-GO BAR 
Consistently one of the most popular go-go bars in Cowboy Street.  A large gogo bar that is packed with go-go dancers.  Coyote dancers feature from 10:00 pm until closing on Fridays and Saturdays.  Good prices and a good atmosphere are guaranteed.  Live sports feature on large screens.
Update 2020 – Not as popular as it was previously but Tilac is still worth a visit as it has a large open-plan interior design. Features a good Happy Hour nightly and the outside seating area remains a popular hot spot.
TOY BAR
Small bar with a format of the 'hands-on' variety. Features farang friendly Thai bar girls.
---
Dave The Rave is a unique Thailand Nightlife Guru with vast professional experience in Bangkok nightlife since 1999. Dave is still closely connected to Thailand's nightlife and his blog remains popular worldwide. 
Daves Raves

— My publishing schedule is Sundays, Tuesdays & Thursdays.
---
QUICK CLICK  –  NANA PLAZA REVIEW 1
QUICK CLICK –  NANA PLAZA REVIEW 2
QUICK CLICK –  BANGKOK NIGHTCLUBS