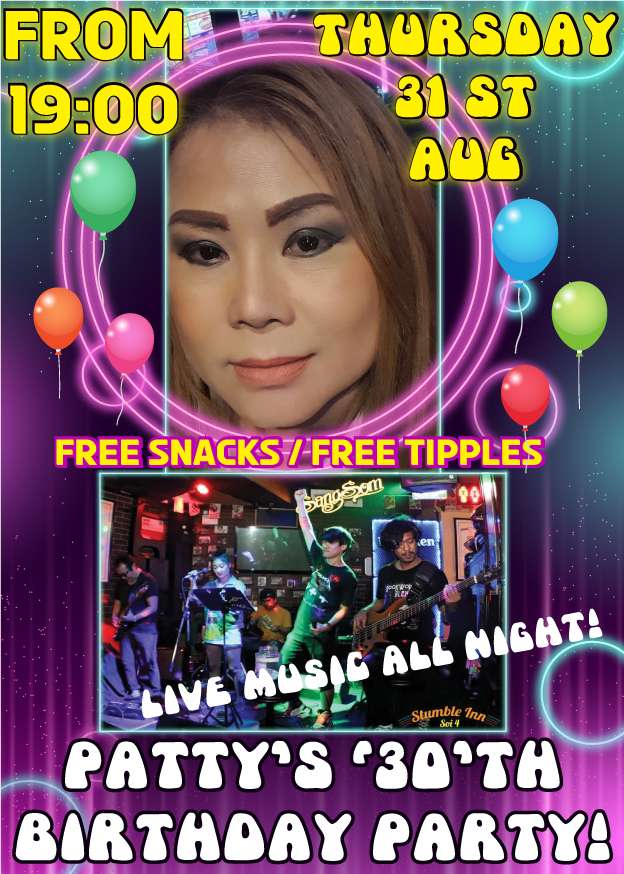 Clear your schedule tonight because it's Patty's birthday at Stumble Inn.
Aug. 31 Stumble is throwing an epic birthday bash for the vibrant and much-loved manager who has been with at the Nana Plaza pub through thick and thin.
A Walk Down Memory Lane
Stumble Inn is such an iconic venue. Nestled at the front of the Nana Plaza entertainment complex, in the electrifying Sukhumvit Soi 4 area, Stumble Inn has been the go-to spot for night revelers since its inception, it has been a home away from home for expats and tourists alike. Stumble Inn has blossomed into a bar that welcomes everyone—locals, tourists, celebrities and sports enthusiasts alike.
Over the years, Stumble Inn has remained committed to its roots while embracing change. A renovation in 2012 gave the space a modern facelift but kept the spirit intact – the friendly atmosphere, fantastic food and live music that has charmed its patrons for decades.
Whether you want to catch a game, groove to live music or just kick back with friends over a pint, Stumble Inn has you covered. Did we mention that football legend David Beckham and pop icon Justin Bieber have been spotted here? Yeah, it's that cool.
When and What to Expect at Stumble Inn
Mark your timing well, because the festivities kick off at 7:30 p.m. You don't want to be fashionably late and miss out on any of the fun. And if you're wondering about the culinary offerings, here's something to tease your taste buds: They'll serving a plethora of free food after 8 p.m., including delectable Thai delicacies and Western-style snacks like wings and pork strips.
To keep the spirits high, Stumble also be doling out free tipples throughout the evening, though the exact menu remains a secret; just to keep you intrigued!
The Lady of the Hour: Patty
Now, let's talk about the star of our upcoming event, Patty. As the manager of Stumble Inn, Patty is the heart and soul of this buzzing joint. Known for her warm hospitality and an eye for ensuring that every visitor has a memorable experience, she's more than deserving of a birthday bash that matches her vibrant personality.
An Evening Not to Be Missed
On Aug. 31 Stumble Inn is pulling out all the stops to make this birthday bash a night to remember. With live music to keep you dancing all night, this is the ultimate way to experience Bangkok nightlife.
The big screens will still be up and running, so you won't miss out on any of the sports action. And music lovers, the live band will be churning out tunes that range from classic rock to contemporary hits.
As a bar that's regularly featured in esteemed publications like Lonely Planet and The Guardian, and a sponsor of local events such as the Bangkok International Rugby Sevens, Stumble Inn is more than just a bar; it's a community. This birthday bash will serve as a celebration of not just Patty but the incredible family we've built around this wonderful place.
Let's Make This a Birthday for the Books
So, what are you waiting for? Clear your schedule and head down to Stumble Inn on Sukhumvit Soi 4 tonight to celebrate Patty's birthday.
It's not just a party; it's a testament to the incredible journey of Stumble Inn and the people who make it the heart of Bangkok's nightlife. With an array of free food and drinks on offer, it's guarantee to be a night to remember.