What started out as a single-shophouse beer bar around the turn of the century soon will be Nana Plaza's with a Stumble Inn expansion to take over Big Dogs.
Both bars, of course, are owned by the Stumble Group, so the wall being knocked down is their own. The Stumble Inn expansion plan is to have one large Stumble Inn-branded pub that overlooks both Soi 4 and the entrance to Nana Plaza by the start of high season.
Stumble Inn Expansion Bad News
For fans of Big Dogs, the "perv perch" in Nana for decades, the move is head-scratching. Big Dogs is an established brand among whoremongers who want to guzzle the cheapest draft on special at any particular hour while watching bargirls (and ladyboys) enter the Plaza in the evening.
Big Dogs also maintained different drink promotions to differentiate itself from Stumble Inn and some, like the cheap Magners cider – not available at Stumble – were reason to go there. Will there be more promos available at "Stumble Dogs"? That remains to be seen.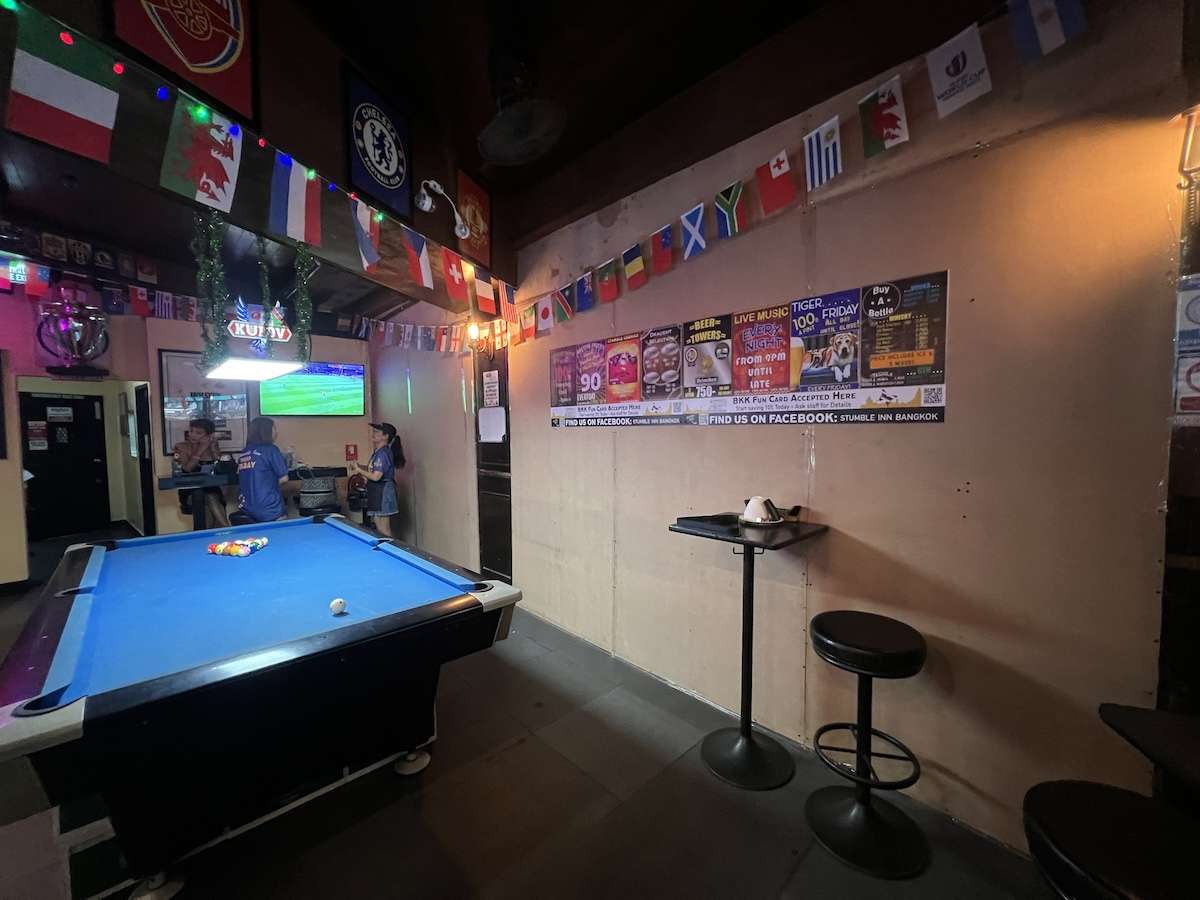 Stumble Inn Expansion Good News
For Stumble fans, the merger is good news, as it will open up the right-side of the bar (as you enter) and provide much needed extra seating away from the headbanger-loud music on the left side. The air conditioning also ought to improve with Big Dogs added.
Currently both bars remain open and, at the moment at least, dust is at a minimum as the work zone is walled or baggied off during evening hours. Once the wall comes down, a refit of both sides needs done to merge the two pubs' styles.
Stumble Inn is an iconic venue at Nana Plaza that began humbly and continues to grow. It started on in the space that is now the left side of the bar as a single-shophouse. In 2012 it doubled in size to the right. It now will absorb the third shophouse to the right (Big Dogs) and be the largest pub in the Nana complex.
Stumble Inn has been the go-to spot for night revelers since its inception, it has been a home away from home for expats and tourists alike.