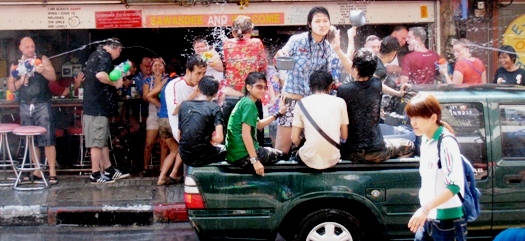 This Thai New Year the 'water wars' are as crazy as ever. As we speak, Songkran is well under way in Khao San Road, Soi Cowboy and Soi Nana. Also, there is no escaping the madness and mayhem, along Beach Road down in Pattaya. The water wars in Pattaya continue for another week!
Newcomers to Thailand look a bit bemused by it all, but some tourists decide that if you cannot beat them, then join them.
Hey, throw buckets of water at bystanders, plaster faces with powder paste, or shoot a whole group of guys with a water canon – you can be a kid again!
As with every Songkran, there is a mass exodus of resident expats, who wisely want to escape the water wars. A number fly out of Thailand, whilst others lock themselves indoors for a few days.
There are a number of farangs who do not mind the Songkran Festival for a day, but it goes on and on. After 4 days of water wars, some guys are ready to smash somebody in the face!
Some farang guys that I know have a special celebration at the end of Songkran. This is because they have lived here for decades and witnessed the insanity more times, than they care to remember. But, soon it will all be over for another year. Thank funk for that!
Thailand could well be classed as 'The Land Of Excess', but it is their country and they are entitled to celebrate Thai New Year. I hope it is a good Thai New Year and that Thailand remains peaceful and prosperous. All that remains is to wish you a Happy Thai New Year – Sawatdee Pee Mai Thai Kap!
[wp-bannerize group="Dem" random="1″ limit="1″]