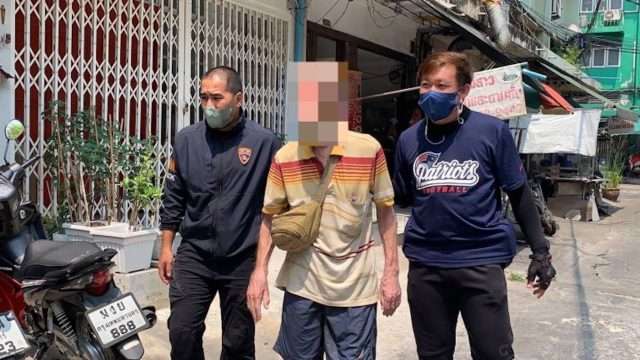 Foreigners in Thailand on dodgy visa stamps, overstays and repeated tourist visas beware: The immigration crackdown is real.
Following an immigration crackdown order from Thailand's deputy police chief for all law-enforcement departments to crack down on foreigners in Thailand, a national "X-ray" is being directed toward Bangkok, Pattaya and Phuket where foreigners tend to gravitate. News headlines over the past two weeks have been full of farangs caught out and banged up.
On March 30, Bangkok police backed by up army soldiers investigated a tip that British and Singaporean nationals were living in Phra Khanong and Bangmod districts on expired visas.
Joseph Taylor, 76, was apprehended and found to have overstayed his visa by 4,142 days – that's 11.3 years. His permit to stay ended Nov. 26, 2011.
Also arrested that day was Singaporean Ng Wing Oon, 62, who had overstayed his visa 1,373 days, or nearly four years.
The Immigration crackdown also saw cops in Pattaya also are busy. On March 27, an unemployed Iraqi man was arrested for overstaying his visa for eight years.
Khalid Majeed Ali, 52, was taken into custody on the front steps of his house on Soi Nernplubwan in East Pattaya by Chonburi Immigration Police March 27. The distressed man fainted when officers arrived.
Police said Ali had been keeping a low profile in the Mabyailia Community for years. He didn't work and didn't socialize with neighbors.
Ali arrived in Thailand in November 2014 with a tourist visa and just 60 days allowed for his stay. His total overstay is 2,993 days.
Meanwhile, in Phuket, the immigration crackdown saw two Dutch nationals were nabbed separately on March 28 at Phuket International Airport and charged with illegal entry into the kingdom.
Jozua Josafat, 61, actually was caught while the departure lounge – he was leaving – at the Phuket airport. He missed his flight when he was hauled into the Sakhu Police Station.
His arrest came hours after an unidentified 28-year-old Dutch woman was arrested at the airport and charged with entering and staying in Thailand without a visa. No one explained exactly how she got into the country.
Immigration Crackdown Directive
The new immigration crackdown came after Pol. Maj. Gen. Surachate "Big Joke" Hakparn, a former immigration commissioner, directed regular, tourist and immigration police in Chonburi, Bangkok, Pattaya and Phuket to "X-ray" and trace foreigners who illegally live, "hide" and overstay their visas.
All police must be strict with all nationalities to prevent the destruction of Thailand's tourism image, "Big Joke" said the Royal Thai Police will not allow foreigners to commit crimes in Thailand repeatedly and the superintendents of local police stations must take responsibility for other criminal cases.
Surachate said all police divisions must strictly perform their duties. For example, Immigration police have authority to access Immigration Act. Tourist police are in charge of taking care of tourists. From now, immigration and tourist police of all police stations in Chonburi must X-ray foreigners illegally living in Chonburi, hiding in the city and overstaying, he said.
Police must be strict with not only Chinese people, but also tourists from all nationalities to prevent the destruction of tourism image and all kinds of crimes.
All the foreigners will be banned from Thailand for 10 years.