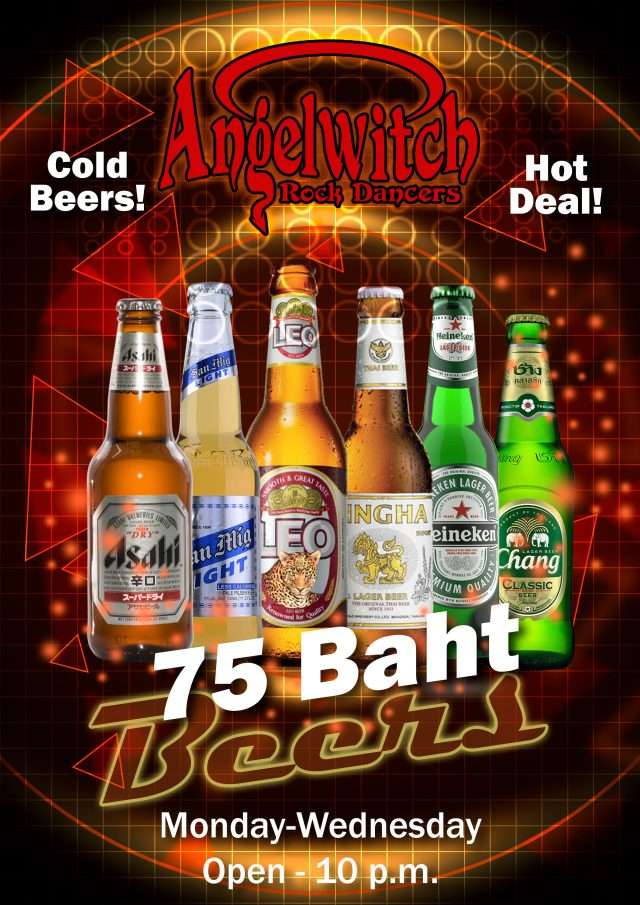 It's "Back to the Future" at the Angelwitch Happy Hour when, like the movie released 38 years ago this week, beer prices dropped to a level not seen in more than a decade.
The new early-week Angelwitch happy hour unveiled July 5 has bottles of locally brewed beer – Leo, Singha, Chang, Heineken, San Miguel Light and Asahi – for just 75 baht until 10 p.m. Mondays, Tuesdays and Wednesdays.
Looking back through my archive, I couldn't find a single-bottle price as low as the Angelwitch happy hour since Nana Liquid did it back in 2012!
Angelwitch Happy Hour Tradition
There's a long tradition of great deals over the years. Most recently a bucket of beers was offered early week at great prices, but even that didn't compare to 75 baht a bottle.
And if you think starting drinking at the Angelwitch at 7:30 p.m. is too early, you're wrong. Unlike a lot of go-go bars, Angelwitch gets rocking right when the doors open.
The famous Rock Dancers start moving to the sounds of AC-DC, the Rolling Stones, Nirvana, Foo Fighters, Linkin Park, Imagine Dragons and more right away. And, shortly after, Angelwitch's famous shows start. No more waiting until 10 p.m., it's showtime all night!
The Angelwitch happy hour is a great way to fuel up on the cheap. You can get your drink on and a good buzz before 10 p.m. before heading out to other Nana Plaza bars and easing up on the gas (and the wallet) amid all their higher prices.
So pop on down to Nana Plaza Monday to Wedesday from 7:30-10 p.m. for the Angelwitch Happy Hour!