DEADLY GRENADE ATTACK ON SKYTRAIN STATION
TRAVEL WARNINGS 23/04/2010 – Several countries have issued Thailand Travel Warnings.  However, Germany advises that visitors to Bangkok should avoid Silom district and any groups of anti-government protesters.  At this stage, I agree with Germany.  Meanwhile, America, Britain and Australia continue to send out 'broken record' Travel Warnings.  No matter where the actual problem areas are located, they constantly send out Thailand Travel Warnings.  This makes it a very difficult task for foreigners to evaluate the situation. 
BANGKOK UPDATE 23/04/2010 – All BTS Skytrain Stations across Bangkok are closed from 6:00 PM tonight.  The MRT Underground is most likely to be closed as well.
BANGKOK BOMB ATTACK 22/04/2010 – A series of bomb blasts in Bangkok on Thursday evening has killed at least one Thai and injured over 80 others.  Several of those wounded remain in a serious condition.  Among the injured it is reported there are three wounded foreigners.  Tension has been mounting between the anti-government red-shirt protesters and the opposing multicoloured-shirt  pro-government group.  The blasts tonight were from M-79 grenades that were fired at Sala Daeng Skytrain Station.  Several BTS Skytrain and MRT Underground Stations were closed on 22/04/2010 as a precaution.  Thousands of heavily armed Thai Army troops and Thai Police in full riot gear have been deployed to the Silom district in downtown Bangkok. 
BANGKOK 23/04/2010 – Meanwhile, the Silom area remains tense, with the red-shirts protesters and the opposing multi-coloured shirts trading both insults and projectiles.  The standoff on Friday between Thai Police and the red-shirt protesters remains tense.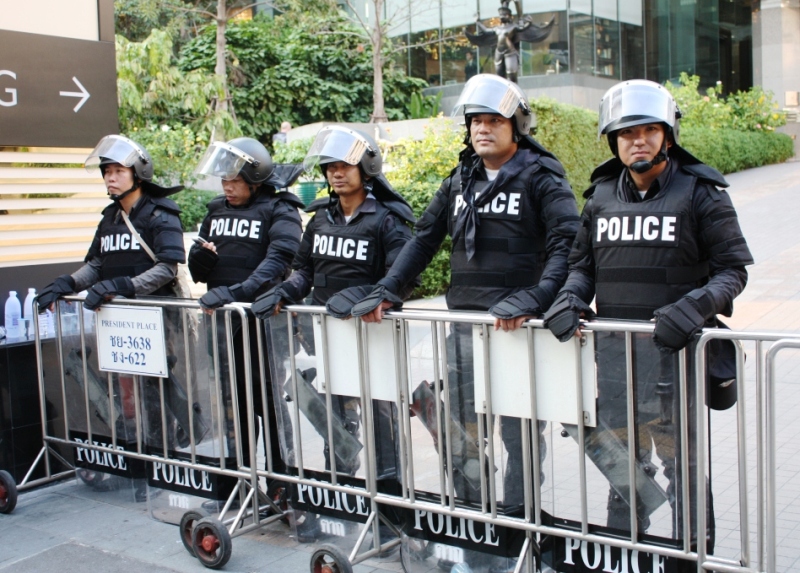 THURSDAY NIGHT 22/04/2010 – last night I went for a meal with three Thai girls.  We had a most enjoyable Mexican feast at Sunrise Tacos Mexican Grill, which is located between Sukhumvit 12 and 14.  I had persuaded my entourage to go to Silom for a change.  But, on the way Miss Daeng received an urgent call from her Japanese boyfriend.  Suddenly, the atmosphere went tense and serious.  Daeng's boyfriend had just informed us that four bombs exploded close to his company office.  There was some panic, but then relief when we discovered that he was not injured, or in danger.  However, Thai Police told him to stay exactly where he was.  All three Thai girls told me to forget about going to Silom and go home.  I accepted their decision, but the die-hard 'Only Mad Dogs And Englishmen' inbred in me still wanted to go.  I must be nuts! 
A TWIST OF FATE – Knowing me I would want a good vantage point to take photos and I would be perched up against the Sala Daeng Skytrain Station railings.  The girls were running late as usual and so, we were setting off later than I had intended.  If they had been on time, I worked it out that I could well of been there when the bombs exploded.  On this occasion I am pleased that Thai girls are rarely ever on time.  If it were not for a twist of fate, ole Dave The Rave might not be here to tell the tale. 
TRAVEL WARNING UPDATE 23/04/2010 – It is advisable to avoid Silom and other areas with large groups of red-shirt anti-government protesters, but at this stage it is NOT necessary to cancel your trip to Thailand. 
Here is a link to an on-the-scene report by STICKMAN  
Here is a link to a video from Bangkok by BBC WORLD NEWS
Here is a link to a report from Bangkok by REUTERS NEWS