Thai Police and Building Safety Inspectors have declared Santika Nightclub a 'death trap' following the tragedy on New Year's Day. This comes as no surprise to many people, who know that fire safety and building regulations are rarely enforced in nightclubs in South East Asia. A fire broke out during New Year's celebrations – flames and smoke rapidly enfulfed the building. Tragically, the fire killed 64 people and injured over 200 others.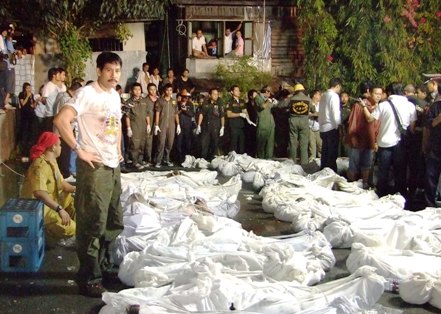 Santika Nightclub had no heat or smoke detection systems, no fire alarm, no emergency light system, no fire exit signs, no automatic fire extinguishing system and an inadequate amount of hand-held fire extinguishers. Furthermore, Building Safety Inspectors stated that there was no evidence of any fire or building safety regulations. Similar to so many nightclubs in Thailand, it was a disaster waiting to happen. The Thai government have stated that they will be investigating fire and building safety regulations throughout Thailand. Thai Police said that those responsible for causing the fire will be brought to justice. The Thai Police investigation continues. 
Thai officials have held a merit-making ceremony for the 'spirits' of those killed in the fire. There were 500 Thai officials in attendance, plus relatives of those killed and survivors of the inferno. Meanwhile, hundreds of Thai teenagers have camped outside Santika Club at night. Rather than praying, they were looking for ghosts.
(Many Thai people believe that 'pee lok' or ghosts do exist)