The Bangkok go-go bar scene is more proactive at the start of 2011 with some special events and bar renovations.  Firstly, I will commence with the juicy bits.  There's a special treat for go-go bar fans…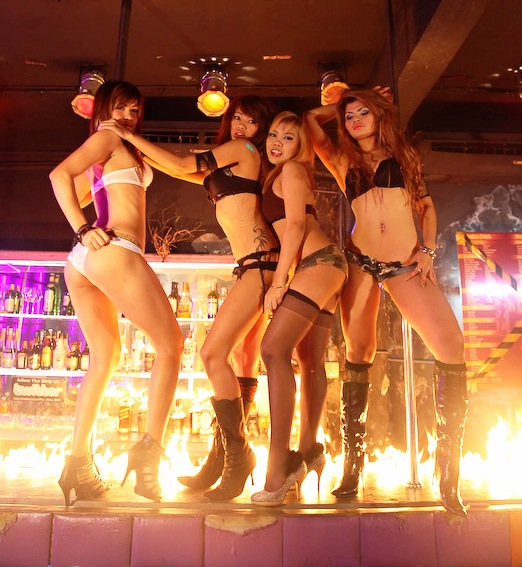 GO-GO DANCE CONTEST – Pretty Lady located on the ground level in Nana Plaza are hosting a 'dirty dancing' contest.  There is a cash prize for the lucky winner.  The 'Battle Of The Babes' will commence from 21:00 onwards on Friday, January 28th.  The generous owner of Pretty Lady is offering standard drinks at just 110 baht and free food during the evening.  I think its great to see the go-go bars in Nana Plaza making an effort to revive go-go dance contests.  If you can remember the Nana Pong dance contests, then you know how wild and entertaining these events are.  It's not too late for entrants if you know any Thai go-go girls who would like to participate.  Let's hope it is a success so there are more of them.
BANGKOK BEACH PARTY – This weekend from Thursday, January 27th until Sunday, January 30th, the beach is coming to Bangkok.  The Strip in Patpong 2 are hosting a Beach Party for some 'fun in the sun.'  For more info click here.

RAINBOW RENOVATIONS – Currently Rainbow 3 on the middle level in Nana Plaza have got the builders in.  If you are not aware the owners of Rainbow 3 also own Villa Bar right next door.  As Villa Bar was a waste of space, it makes sense to knock the wall down and expand Rainbow 3 into a larger go-go bar.  Work is well under way and when I looked inside I spotted that Rainbow 3 will have a longer go-go stage.  When the renovation of Rainbow 3 is completed Rainbow 1 will close for renovation work.  The go-go girls from Rainbow 1 will move to Rainbow 3 until the renovation work is completed in Rainbow 1.  Talk about a Rainbow roundabout!
HOLLYWOOD GO-GO BARS – The two go-go bars formerly known as Hollywood Carousel and Hollywood Strip are under new ownership.  Hollywood Carousel will reopen in February, with the new name Billboard.  The smaller go-go bar Hollywood Strip has more building work to be completed, so it will reopen at a later date.

QUICK CLICK – RETURN TO THE HOME PAGE