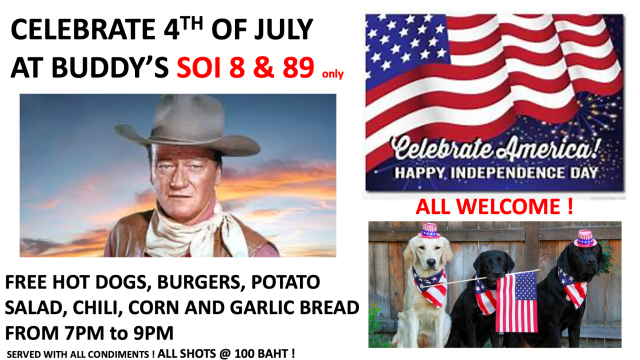 Buddy's Bar & Grill really knows how to throw a 4th of July party.
On American Independence Day, Tuesday, Buddy's is doing just that. Not just at one location, but at both the Soi 8 and Soi 89 venues. The Buddy's 4th of July party starts at 7:30 p.m., with Buddy's serving up a free feast.
Experience Buddy's Like Never Before
When it comes to providing a warm and welcoming atmosphere, Buddy's is unmatched. All five locations are known for their relaxed atmosphere, great staff and fantastic music, everything you need for an unforgettable day or night. But on the 4th of July, Buddy's is taking things to the next level.
An All-American Feast Awaits You
What's a Buddy's 4th of July party without a feast? Buddy's is putting together an all-American spread that will leave you wanting more. And the best part? It's all free. Yes, you heard that right.
From classic hot dogs and juicy burgers to mouth-watering chili and creamy potato salad – they've got it all. But it doesn't stop there. To complete the feast, Buddy's also is offering sweet corn and garlic bread, ensuring your taste buds are treated to a symphony of flavors.
Unforgettable Drink Offers
Buddy's believes that good food deserves to be accompanied by great drinks. And in the spirit of Independence Day, they're offering shots at just 100-baht. It's the perfect way to add a little sizzle to your Buddy's 4th of July celebration.
Celebrate Independence Day in Style
Mark your calendar and make your to the Buddy's 4th of July party. Whether you're a long-time patron or a first-time visitor, they're ready to offer you a night filled with delicious food, great drinks and amazing company.
So, come on down to either Soi 8 or Soi 89 from 7:30 p.m. Raise your glasses, dig into an all-American feast and celebrate Independence Day in true Buddy's style.