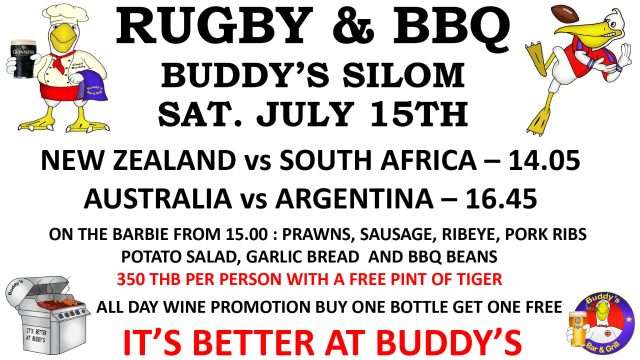 Mark your calendars for an epic Rugby BBQ Party at Buddy's Bar & Grill in Silom Saturday.
Buddy's is combining the electrifying action of the Rugby Championship with its own signature BBQ spread. The party will kick off at 2 p.m., promising an unforgettable day for all sports and food fans.
Experience Live Rugby Championship Matches at Buddy's Silom
For the avid rugby fans, the Rugby BBQ party at Buddy's Silom is more than just an afternoon of great food; it's an invitation to enjoy the second week of the thrilling Rugby Championship in the company of like-minded expats and tourists.
This week's line-up features two promising matches, pitting South Africa against New Zealand and Australia against Argentina.
The South Africa versus New Zealand game is particularly anticipated due to the long-standing rivalry between the two teams. As both teams are the crowd favorites and have delivered nail-biting matches in the past, this encounter is set to be a highlight of the championship.
On the other hand, Australia and Argentina are both looking to bounce back from their losses in the first week, promising an intense, high-stakes game. Patrons at Buddy's Silom will be able to catch all the live action and experience the thrilling atmosphere.
Savor Deliciousness at the Rugby BBQ Party at Buddy's Silom
The Rugby BBQ party at Buddy's Silom isn't just about the matches; it's also a culinary delight. Starting at 3 p.m., Buddy's will serve a mouthwatering BBQ menu guaranteed to satisfy all carnivorous cravings.
For just 350 baht, enjoy a buffet of prawns, sausage, ribeye roast and pork ribs, served with potato salad, garlic bread and BBQ beans. To wash it all down, the meal comes with a free pint of Tiger beer.
But that's not all; Buddy's is also offering a Buy-1, Get-1-Free promotion on select Italian wine bottles throughout the day, making it a perfect occasion for wine enthusiasts to explore their extensive collection.
Get the Best of Rugby Championship at Buddy's Silom
The first week of the Rugby Championship saw some unexpected turns and thrilling victories. South Africa and New Zealand emerged victorious, setting the stage for a nail-biting face-off in Week 2. Meanwhile, Australia's lineup was rocked by the injury to their fullback, Tom Banks, stirring up uncertainty about their performance in the upcoming matches.
The Rugby BBQ party at Buddy's Silom is an opportunity to dive into the unfolding drama of the Rugby Championship. With live games, passionate fans, and a savory BBQ spread, the party is sure to make your Saturday a memorable one.
Whether you're a die-hard Rugby fan, a BBQ lover, or both, Buddy's offers an unforgettable experience. Don't miss out on this unique party; mark your calendars and make sure you're at Buddy's on 07/15 for an exciting day of championship rugby and delicious food.