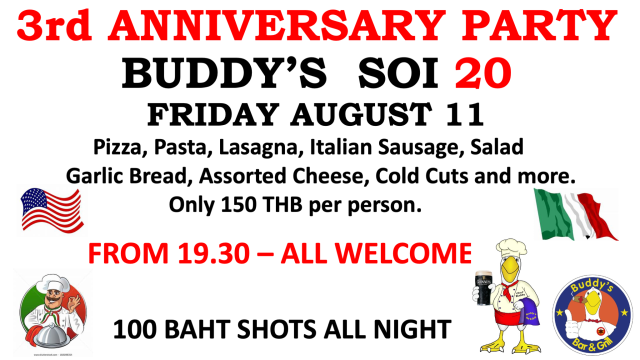 Indulge in an Italian feast for an insane 150 baht when Buddy's Soi 20 celebrates the third anniversary of its bar & grill location.
Always known for its tasty, homemade yet value buffets, Buddy's Soi 20 will put out pizza, pasta, lasagna, Italian sausage, salad, garlic bread, assorted cheeses, cold cuts and more from 7:30 p.m.
To give the party that festive feel, all shots will be just 100 baht all night.
People often scratch their head why Buddy's has two locations so close to each other, on Soi 20 and Soi 22. But each has its own personality and clientele.
Soi 22, located across the street from the Holiday Inn, draws large numbers of tourists. The bar is not enclosed and has a rail facing the street, to make it an ideal spot for people watching and, during April, Songkran mayhem.
Soi 20, meanwhile, is fully air-conditioned and has fans that include staffs from various embassies and local companies. It's not as close to the BTS, so it doesn't draw the same foot traffic, but the crew working there has been there for a while and even includes a mother-daughter combo among the service staff. "Friendly" is Buddy's middle name.
Buddy's Soi 20 Hot Dogs
While all Buddy's locations share most of the same menus, Soi 20 is the only place offering a "make your own" hot dog menu, with a choice of sausages and toppings.
Soi 20 has been humming for three years now and everyone is invited to indulge and imbibe Friday night at the big bash.