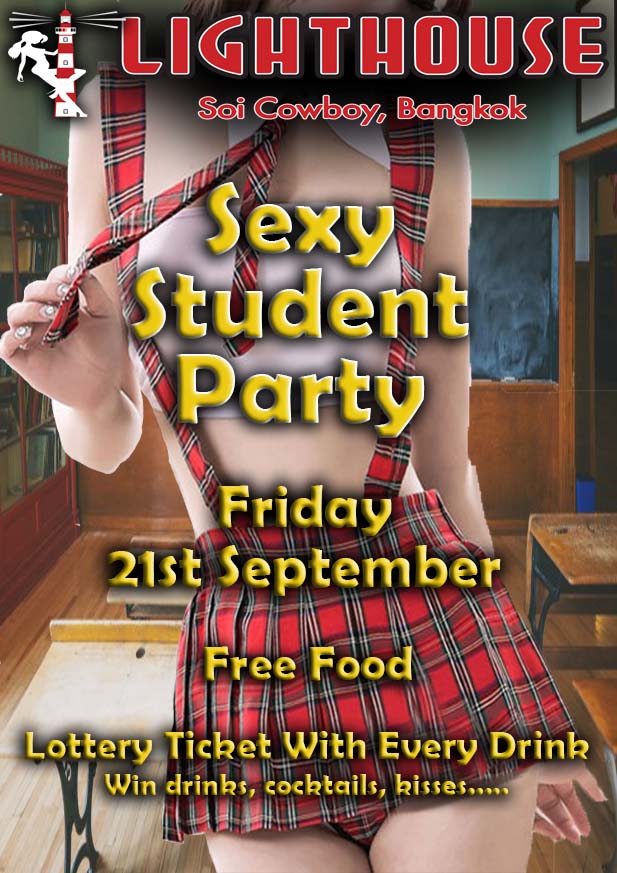 Soi Cowboy & Nana Plaza Parties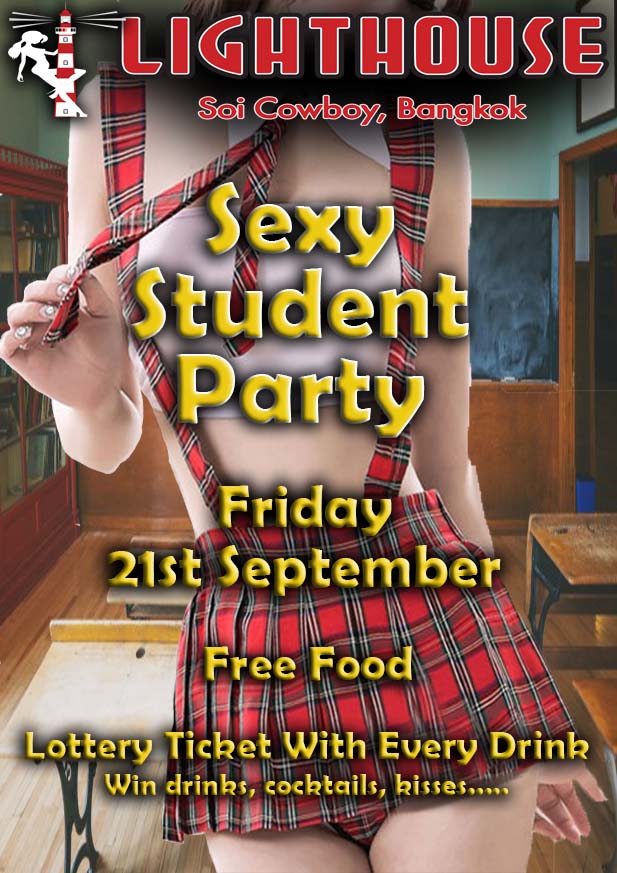 Welcome Weekend Warriors! This is the last call to all of you party animals. Tonight the action is situated at Little Las Vegas, otherwise known as Soi Cowboy.
Acting cool, some guys like to say, "Going to Cowboy?" I like to reply with, "Nope I'm looking for girls myself, but each to his own."
Okay, first on the agenda is the Sexy Student Party hosted by Lighthouse Go-Go Bar. The theme of the party is pretty much self-explanatory, but there are a few additional details to observe.
While plenty of fun and frolics is guaranteed, there is Free Food in the form of a bountiful buffet. Okay, it will not be gourmet cuisine, but what do you expect for free? Besides, who goes to a go-go bar to have dinner?    
The smarter bar bosses do not give an exact time they will unleash the Free Food. This is a strategic move to avoid the Balloon Chaser Brigade from attacking it like animals. It never ceases to amaze me that bar bosses (especially in Pattaya), have Party Police in the form of Buffet Bouncers. The mind boggles!  
However, there is an easy way around this issue. When a customer buys a drink, they are given a buffet voucher. But honestly, these extremes should not be a necessity in a so-called civilized society.   
In addition, lottery tickets are issued for every drink you buy. There is a chance to win drinks, cocktails and even kisses. Actually, this may sound strange, but I want to win a booby prize. And, here's to hoping the boobies are big!
Unless you have already made plans, go along to Lighthouse Bar tonight. You will meet those sexy students, who are so good at being so bad.  
Following the party at Lighthouse Go-Go Bar tonight, there is the Billboard Bonanza on Saturday night. Therefore, tomorrow the action switches to the Top Floor of Nana Plaza.
The American owners of Billboard Go-Go Bar are celebrating their Third Anniversary of taking the helm. To show their appreciation to you and to their staff, there will be Free Food, which includes Pizzas and Chicken Wings, among other complimentary nibbles.
In addition, when you buy your first drink you will receive a Souvenir Gift. The icing on the birthday cake is Buy One Get One Free on selected drinks. The Super Saver 2-4-1 Drinks Deal runs all night until closing time. There is absolutely no expense spared by these guys!
The decoration and entertainment come in the form of over 100 dancing dolls. My advice is simple; do not miss this Birthday Bash. The owners have certainly injected time, cash and effort to ensure this will most definitely be a night to remember.
Daves Raves – I think it is fantastic to see some Bangkok bar bosses making a real effort to throw a proper party. Cheers for the cheap beers!