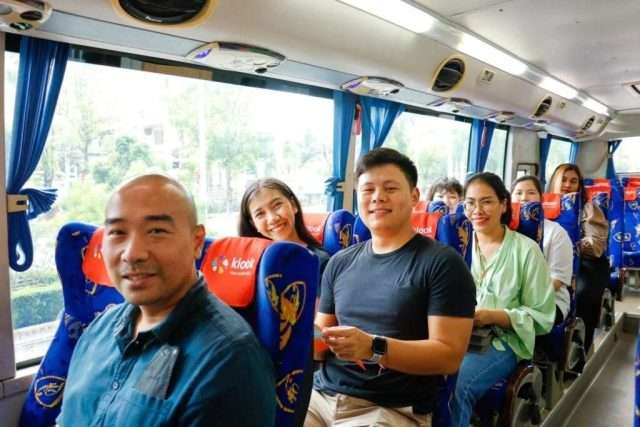 Thailand's largest mall operator is launching the Central Pattana bus route between Bangkok and Pattaya that will make you forget the public "sex tourist express".
Price at 190 baht – less than 100 baht more than the broken-down, often-late and uncomfortable Rung Ruang lines between Pattaya and Bangkok's Ekamai and Mor Chit bus stations – the new, air-conditioned coaches on the Central Pattana bus route connect three major shopping centers: Central World in Bangkok, Central Pattaya and Central Village in Samut Prakan.
When you consider that you wouldn't need to haggle with the price-gouging motorcycle-taxi and baht bus mafia at the Pattaya Bus Terminal, the price difference with the Central Pattana bus route disappears. Motorcycle taxis are now charging 100 baht from just North Road to the Central Pattaya mall.
The Central Pattana bus route aims to accommodate the growing number of international tourists, announced Nattakit Tangpoonsinthana, vice president of the marketing division for Central Pattana Plc. on April 28.
According to the Tourism Authority of Thailand, Thailand welcomed 6.4 million visitors in the first quarter of 2023, generating over 250 billion baht in revenue. The top five nationalities arriving in the country include Russians, Chinese, South Koreans, Malaysians, and Indians.
TAT forecasts that Chinese tourists, with a projected 5 million arrivals, will eventually claim the top spot.
Popular destinations among foreign visitors include Pattaya, Chiang Mai, Krabi, and Phuket, with Bangkok ranking second. Nattakit explained that the new bus route would effectively cater to tourists' needs, offering a seamless booking process, convenience, and safety.
Travelers can easily purchase tickets online through Klook or at a Klook booth, and reserve them for their travel day by confirming their reservation at least two hours before departure on the Central Pattana bus route.
By signing up for The1 Tourist card, visitors can also enjoy extra perks at participating malls, such as a 3,000-baht welcome package, a premium gift bag from Good Goods, and two hours of complimentary Wi-Fi.
Nattakit also mentioned that customers spending 1,500 baht at the participating malls will receive a free herbal drink.
The Central Pattana bus route and hours may be subject to change. More information is available at the information desk at participating Central malls.
Klook running Central Pattana bus route
Klook, which has partnered on the Central Pattana bus route, is a Hong Kong-based travel technology company that offers a platform for users to discover and book various travel activities, attractions, and services.
Founded in 2014, Klook provides travelers with an easy way to explore their destinations, offering a wide range of options, including sightseeing tours, adventure activities, local transportation, and food experiences. Users can access Klook through their website or mobile app to find, compare, and book activities at discounted prices.
The platform has grown significantly since its inception and now serves millions of travelers worldwide.