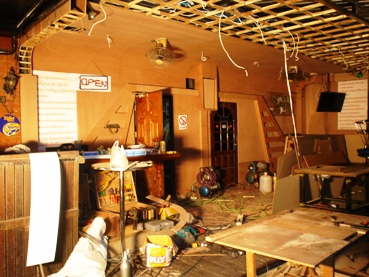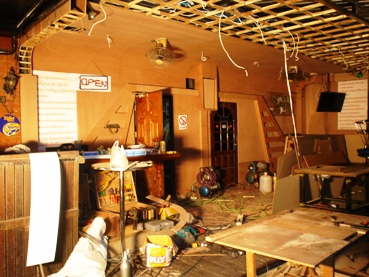 Friday, July 18th was Buddhist lent and therefore, Nana Plaza was closed. So, I decided to go out with Sanook Shaun to survey the nightlife scene in Bangkok. I soon discovered that most of the bars were indeed closed for Buddhist lent. I took a motorbike taxi from Ratchada to Soi Cowboy. The roads were very quiet for a Friday, so this gave me an indication of what to expect. I arrived outside Soi Cowboy in no time at all. There I was standing alone in the darkness, which was a strange feeling. But, the Go-Go Guru had no fear of the "pee lok" or Thai ghosts. Sanook Shaun was hoping to sit outside Tilac Bar, but the stools were sitting on top of the tables. Shaun had not arrived yet, so I thought I had better check what was open. I heard some noise, but alas it was only builders busily renovating a bar. The photo shows the only bright light in Soi Cowboy, amid the eerie darkness. The vast majority of Soi Cowboy looked like Little Las Vegas had suffered a blackout. Some bars had their doors open, but it was usually just a case of cleaners lurking in the shadows. A couple of bargirls invited me into Jungle Jim's, but I declined. I didn't fancy entering the jungle, because there was nothing going on inside this dark and dingy place.
I walked up towards The Old Dutch restuarant at the end of Soi Cowboy. The Old Dutch was open, but a sign clearly stated that they were not selling alcohol. Sanuk Shaun and I decided to look elsewhere. If this was a movie, it would be the "Beer Hunter." Emerging out along Soi 23 we discovered more light. I noticed across the road that the construction of the new Queen Victoria Pub is coming along well. It is a large pub and I've heard that a lot of money has been poured into the project. The Queen Victoria will be another excellent addition to the Soi 23 area. 
Although the Ship Inn was open, it was apparent that everybody had abandoned the Ship. We crossed over the road and headed for Down Under, the Aussie sports bistro. Inside it was very busy and lively. Finally, the "Beer Hunter" had found somewhere that was serving booze. Down Under have a good range of bottled beers, which include Heineken, Singha, San Mig Lite, San Miguel, and even the Japanese beer Asahi. Shaun and I tried an Asahi and I must say, it was a refreshing change. At only 95 baht it was a bargain too. We both decided to order the bangers and mash special. We both tucked into what was a very good meal. The hearty meal consisted of – seasoned sausages, gravy, onions, creamy mashed potato, a fried egg, toast, and cheese on top. Yummy! All this for 190 baht – not at all bad.
Our timing in reaching Down Under was perfect, because it absolutely pelted it down. The heavy rainfall continued for quite a while, but we were happy to remain in the confines of Down Under. After the rain had subsided, we decided to go to Sukhumvit Soi 33. We entered Soi 33 with optimism, but the bars were all in darkness. We told the taxi driver to head back to Soi Nana. Again, the bars in Soi Nana were closed. Nana Plaza was a sea of darkness. Further down Soi Nana, I think Hanrahans Irish Pub was about the only place open. We knew that Bully's Pub was open, but we finally decided upon going to Gulliver's Travellers Tavern inside Soi 5. Gulliver's is a large place, as many of you know. Surprisingly, this HUGE establishment was almost full. We had a good look around and then, we discovered an empty table. We sat at the far end of Gulliver's near the BIG TV screen. Immediately we noticed a lot of Africans, some of whom were doing an impression of dirty dancing. Shaun and I were smiling at each other, because a table of African women had backsides the size of elephants. I'm not kidding, they were absolutely enormous! By the look on Sanook Shaun's face, they didn't do anything to arouse him. Fair to say, it was time to leave Gulliver's. We said goodnight and went our separate ways.
Email Dave The Rave — [email protected]
Thanks for visiting.  Reporting live from the heart of Thailand…
Dave The Rave — Go-Go Guru