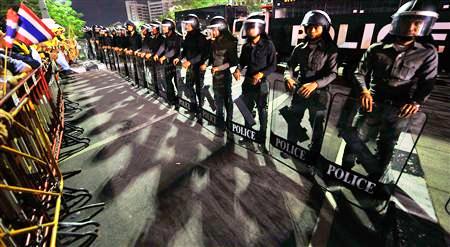 PROTESTERS MARCH ON GOVERNMENT HOUSE IN BANGKOK
Here we go again!  Thai protesters this afternoon have made a determined effort to march to Government House in Bangkok.  Although the Metropolitan Riot Police had (supposedly) set up a blockade, protesters easily outwitted the Thai authorities.
Meanwhile, the Stock Exchange of Thailand (SET) continues to fall amid fears of violence and speculation about another military coup.  Even though various Thai authorities state that there will not be another military coup, the political arena remains tense.  The crowds of protesters are mostly middle-class Bangkok residents, who are lead by the People's Alliance for Democracy (PAD). 
These links below contain the full news stories…
BBC NEWS – Protesters march in Thai capital
BANGKOK POST – On to Government House