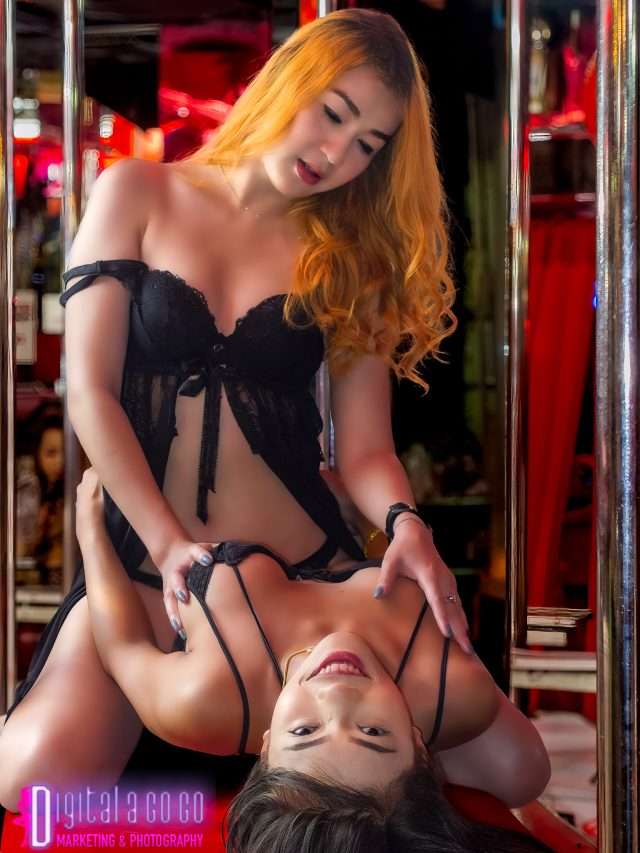 A 2023 edit of a July 2016 photo from Spanky's Nana Plaza features today's Dollies of the Day.
These lovely showgirls were among the first-ever Nana Plaza models for Digital-a-Go-Go. At the time, no one could have imagined that seven years later, Digital-a-Go-Go would be Bangkok's leading nightlife photography and marketing agency.
By Digital-a-Go-Go's own admission, the 2016 photos weren't great – although to my eyes, this sexy shot is terrific. The Olympus camera used was, relative to today's Sony technology, crap. The lens used was cheap (a few thousand baht compared to today's 76,000 baht) and the lighting rudimentary.
But what Digital-a-Go-Go has done better than all the competition was learn and improve, and learn some more. Some photographers never put in the effort, never take constructive criticism, never learn and never improve. Their photos are just as bad as they were back in 2017.
Both of these ladies have moved on from Spanky's, but those of you who remember these sexy showgirls can share your memories with me on social media. (See the bottom of the page.)
As for the photo, total dollies! Take the quality of the shot for what it is: The start of something terrific.
Dolly of the Day photos are shot by Digital-a-Go-Go, Bangkok's No. 1 photography and marketing agency for the nightlife industry. Follow them on Facebook, Twitter & Instagram.
And, remember, you can get photos of Dave's Dolly of the Day on Instagram. Just follow the image stream here.