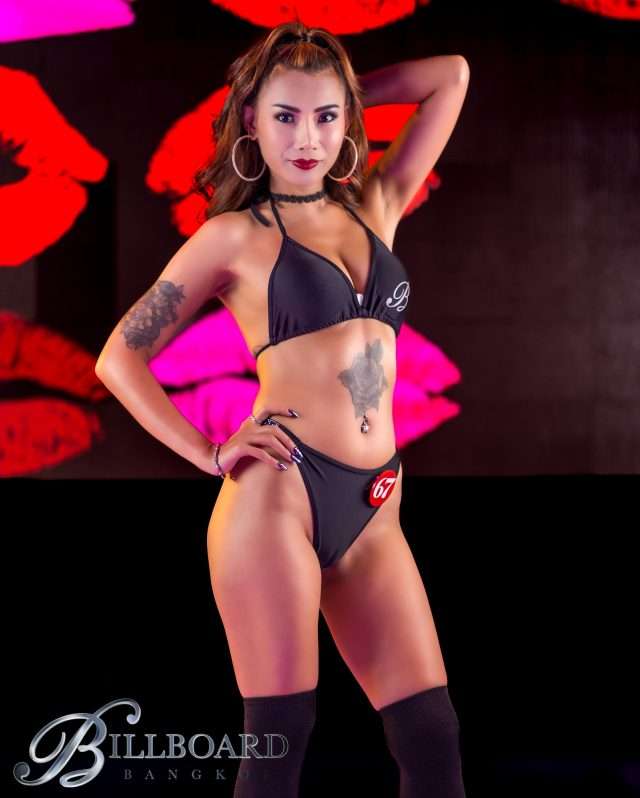 One of the things that sets Billboard Bangkok apart from the rest of the Thailand go-go bars is the enormous video screen and the habit of putting beautiful girls in front of it.
Billboard was first with humongous LED screens inside and outside of the bar and its custom-made screen – a meter high and six meters wide – is still the biggest in the industry years later.
Billboard's owner loves the screen and has an artist create lots of new backgrounds to play. Videos can be shown as well, but the main point is to complement, not distract from, the girls dancing on the Jacuzzi stage.
The American owner also is obsessed with bright colors and wants his social media (and in-house video screen) photos to be bright and colorufl. So for the past few photosshoots with Digital a-Go-Go he has put girls in front of the screen with captivating backgrounds. For this month's shoot, Billboard also had a new white stage with pink LED trim, replacing the old, ratty faux-wood platform that preceded it.
Billboard is not Lips Lounge, but Jaeng (#67) looks great in front of the giant lips on the screen. Give us kiss Jaeng!
Dolly of the Day photos are shot by Digital-a-Go-Go, Bangkok's No. 1 photography and marketing agency for the nightlife industry. Follow them on Facebook, Twitter & Instagram.
And, remember, you can get photos of Dave's Dolly of the Day on Instagram. Just follow the image stream here.