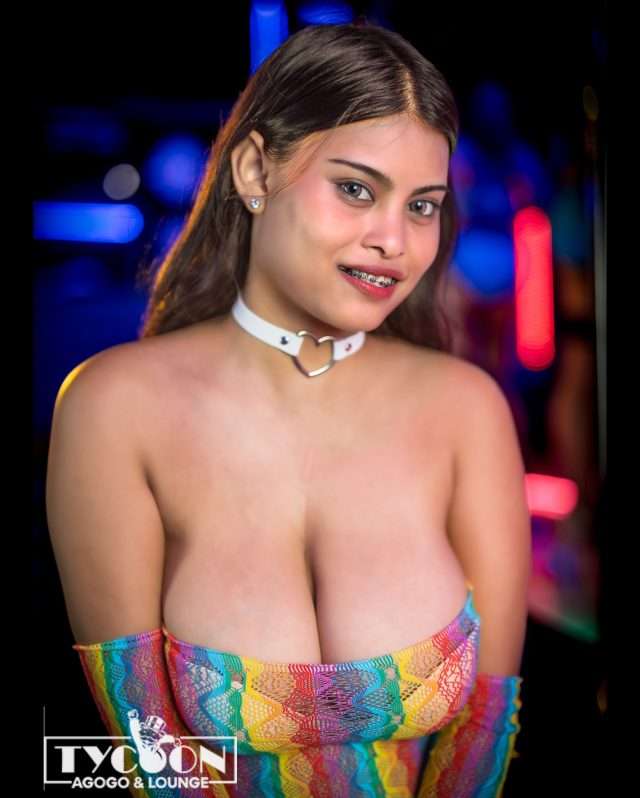 On social media, I often use the caption "Holy Hooters" for photos of girls with fabulous funbags. But never have I meant it more than with this lady from Tycoon aGoGo.
Photographed last night by Digital-a-Go-Go at the top-floor Nana Plaza go-go bar, this lass, who has a touch of Indian to go with her classic Thai looks, is naturally endowed in the most endowed of ways.
Now, huge hooters are pretty common these days, but they're almost always implants, silicone, saline or gel. Not this lassie, hers are all natural!
Now she's not a thin girl by any means, but she's not fat. She's just got a few more curves than you usually find. But if she wasn't curvaceous she wouldn't be bodacious!
Drop into Tycoon and have a gander for yourself. And then come back to me and tell me what color her eyes are!
Dolly of the Day photos like this of the Shark PR girls are shot by Digital-a-Go-Go, Bangkok's No. 1 photography and marketing agency for the nightlife industry. Follow them on Facebook, Twitter & Instagram.
And, remember, you can get photos of Dave's Dolly of the Day on Instagram. Just follow the image stream here.