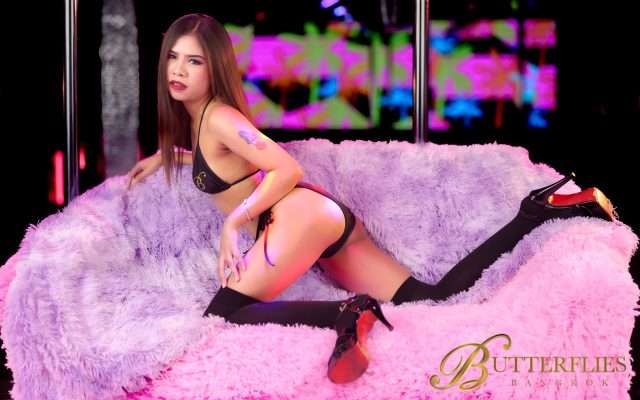 Because Thai names can be like 14 characters long and a mouthful, even in Thai, everyone adopts short nicknames. Most are common – Noi, Toy, Oy, Koi, etc. – but not all. Meet Pukan.
Pukan is a lovely dancer at Butterflies Bangkok in Nana Plaza. Want to meet her? Ask for No. 24. Digital-a-Go-Go took this great shot of Pukan on a pink-and-purple-covered Butterflies sofa last month, so she's there working if you want to say hello.
I asked ChatGPT-4 what "Pukan" meant and, to my surprise, the chatbot was stumped. ChatGPT said Pukan is not a common nickname, so "without more context" it wasn't possible to tell me what her name was all about. I guess you'll have to go ask her!
Dolly of the Day photos are shot by Digital-a-Go-Go, Bangkok's No. 1 photography and marketing agency for the nightlife industry. Follow them on Facebook, Twitter & Instagram.
And, remember, you can get photos of Dave's Dolly of the Day on Instagram. Just follow the image stream here.