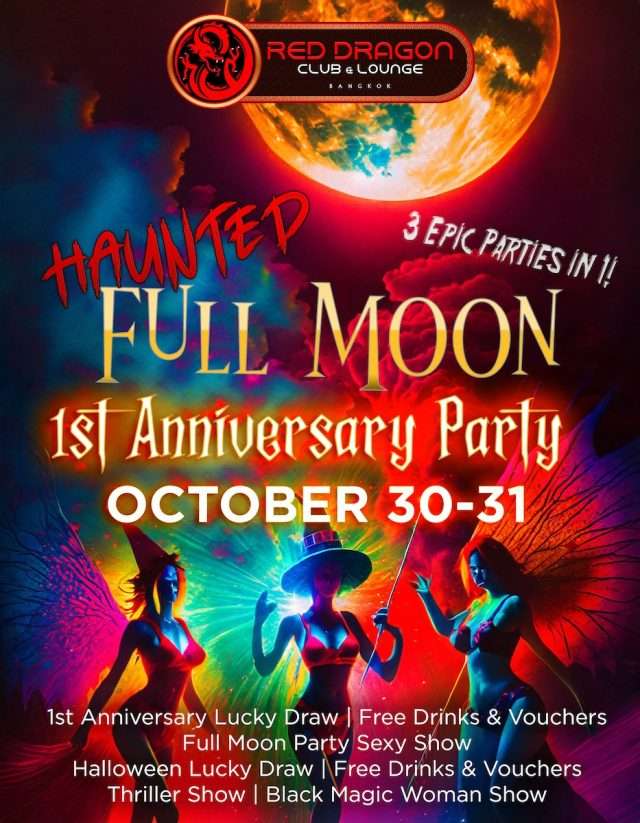 Hold onto your party hats, Bangkok: The Haunted Full Moon 1st Anniversary Party at Red Dragon is gearing up, and it's shaping up to be the event of the year.
Triple the Fun at Red Dragon
A year ago, Red Dragon blasted onto the Bangkok scene. Now, they're celebrating their first trip around the sun with anniversary kudos, Full Moon magic and a sprinkle of Halloween eeriness. Three iconic celebrations all wrapped up in one night of unparalleled revelry at the Haunted Full Moon 1st Anniversary!
Inside the Dragon's Den
Positioned as a jewel in Bangkok's Nana Plaza, Red Dragon boasts a prime spot on the middle floor. The ambiance? A fusion of red and gold aesthetics, punctuated by Chinese lanterns. The deep-red sofa nooks stand out, perfect for those group hangouts, especially under the unmissable glow of the Red Dragon watching from atop the bar.
Celebrating One Epic Year
Since its thunderous debut last October, Red Dragon has solidified its spot as a go-to venue. It's not hard to see why, with 75 of the city's sexiest dancers setting the stage alight night after night.
A Brief on Full Moon Parties
Originating from the serene shores of Koh Phangan, Thailand's Full Moon parties have become legendary worldwide. Picture this: thousands of party enthusiasts dancing under the moonlight, painted with neon, with the beach as their dance floor. Over the years, this beach party concept has spilled over to the mainland, with urban clubs like Red Dragon bringing that beach energy right into the heart of the city.
Unmasking Halloween
Halloween, though western in its roots, has found a fervent fan base in Bangkok. The city comes alive with costume-clad revelers, haunted house setups, and of course, the timeless tradition of spooky storytelling. It's a night where the barrier between the spirit world and ours is believed to be the thinnest.
Killer Drink Deals Await
Make an early appearance for their unbeatable Happy Hour: every drink's tagged at 95 baht until 9:30 p.m. Gin lovers, rejoice on Oct. 31 with Gordon's Gin going for 95 baht all night. Ricard fans, Oct. 30 has been earmarked just for you at the Haunted Full Moon 1st Anniversary Party.
Haunted Full Moon 1st Anniversary Party Highlights:
Anniversary Cheers: Red Dragon's meteoric rise in Bangkok's nightlife landscape deserves a colossal shoutout. Here's to the first of many anniversaries!
Halloween Thrills: Epic performances, including the "Thriller Show" and the "Black Magic Woman Show" are slated to steal the spotlight.
Full Moon Magic: Experience that signature Full Moon beach party vibe, minus the sand.
Lucky Draw Galore: Dive into the night with lucky draws peppering the event. From free drinks to gift vouchers, there's a lot up for grabs at the Haunted Full Moon 1st Anniversary Party.
The Final Scoop
Clear out your schedule for Oct. 30-31, starting 7:30 p.m. Red Dragon beckons with a tantalizing blend of anniversary toasts, Full Moon festivities, and Halloween haunts.
So, whether you're a dedicated Full Moon partygoer, a Halloween enthusiast, or just in for the anniversary buzz, Red Dragon's Haunted Full Moon 1st Anniversary Party promises an unforgettable night. Rally the crew, and see you at the epicenter of Bangkok's party scene!