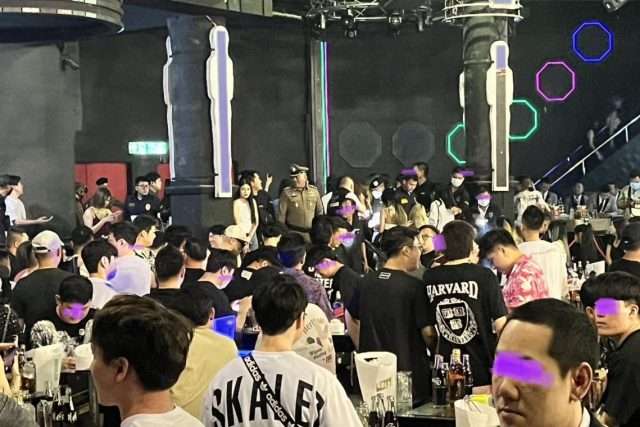 Police again spoiled the night of more tourists with another Pattaya nightclub raid, this time at the Hollywood disco popular with Asian visitors.
Pattaya police chief Pol. Col. Thanapong Photi led the April 23 operation with 50 city and immigration officers, all tasked with inspecting nightlife venues to look for visa overstayers and foreign fugitives.
More than 300 people, Thai and foreign, were enjoying their evening at Hollywood when police staged the Pattaya nightclub raid. They turned on the lights and detained everyone for identification checks and even random drug tests.
No one was found to have done anything illegal or have immigration problems. Drug tests were done on 41 employees, along with 81 Chinese tourists, 28 from Hong Kong, 27 from South Korea, three from Taiwan and two from Laos. All of them passed the test.
Another Pattaya Nightclub Raid
Remember when Pattaya was so dead that hotels were giving away free room, locals were hanging banners welcoming foreigners back and authorities were bending over backwards to make overseas guests feel welcome? Apparently Pattaya police have very short memories, as that was, relatively, like five minutes ago. So what's been happening with one Pattaya nightclub raid after another just leaves one scratching their heads.
Earlier in April, the Pattaya plod came down hard on Walking Street this week, shutting down nightclubs and detaining everyone inside, checking every foreigner's passport and visa, looking for overstayers and "international fugitives".
Those caught in the Pattaya nightclub raid who didn't have their passports on them, or a photo of the photo page and visa stamp, got themselves a ride to Pattaya Police Station until such documents could be found. Police defended their move, saying it "gave tourists confidence" before Songkran. Confidence? More like unnecessary and unwarranted aggravation.
No overstayers or fugitives were reported in any Pattaya nightclub raid. The cops said the raids were no big deal, as "anyone who has their papers were only held for a couple minutes". Tourists who had their buzz killed would argue otherwise.
But the fun didn't stop there: After dark on April 5 and 6, police hit Soi 6 looking for underage and trafficked women. On the 6th, bars emptied with all the women (and ladyboys) working in the bar ended up on the street showing their IDs to police.