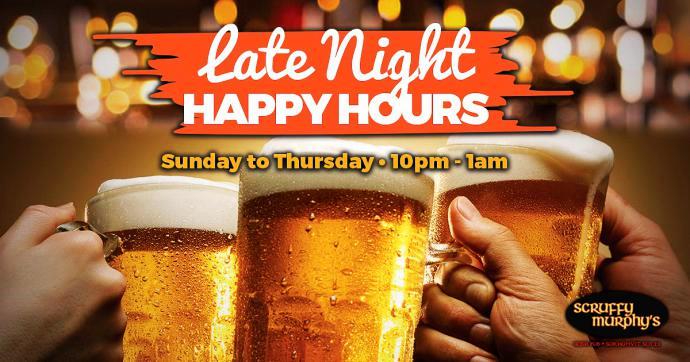 Here is a novel idea! I came across a pub promotion that is rather different. So often, we see 'Happy Hour' but the times are way too early for most guys, who are heading out for a night on the town.
Naturally, the bars are trying to attract an early crowd, so they implement a Happy Hour. Whether it is to build up afternoon trade or early evenings, most drinkers do not hit the pubs and clubs, until later in the evening.  
However, the smart guys at Scruffy Murphy's have introduced a Late Night Happy Hour. This will lure the guys to stay longer in the pub before they hit the go-go bars in Soi Cowboy.
This Late Night Drinks Deal is something that is quite rare in Bangkok. Take note that it runs from Sundays to Thursdays from 10:00 pm till 1:00 am. 
Scruffy Murphy's is located opposite Soi Cowboy on Sukhumvit Soi 23
The Happy Hours drinks and prices are listed below. Cheers!