Nana Plaza's newest bar, Lace Lounge, is quickly taking shape with plans that could see it open its doors this month.
A creation of the folks behind Tycoon aGoGo, Lace Lounge will not be a typical go-go bar. Yes, there will be a stage, but it will be small with space for only one or two dancers at a time. Lace Lounge is intended a place where you can take your favorite lady from Tycoon – or any other bar ­– for some drinks in a more intimate setting and where the music volume actually makes conversation possible.
Lace Lounge is located upstairs from Tycoon, on the main stairs at the top floor of Nana Plaza. Most recently the lobby for a now-closed short-time hotel, the space most recently was used as a bar by Erotica, when it was located where Tycoon is now, for the very short-lived Erotica Karaoke Club in the early part of last decade.
Workers have been in every day over the past six weeks getting LL ready for October. Of course, given Thai construction norms, the deadline was missed. Now the hope is that Lace Lounge will soft open at some point tis month with a grand opening Dec. 1.
Lace Lounge 'Stairway to Heaven'
Before that happens, work will need to be done on the stairs leading to the new bar. Right now, it's steep, narrow and rickety-feeling flight of steps that only those horny enough to rent a short-time room would bother with. The plan is to widen and stabilize the steps for a general public that might have had a few already.
There also is an internal staircase inside the bar, which is where many of the customers will come from: Inside Tycoon.
Once upstairs, the bar opens into a wide, open space unobstructed by pillars and poles. It feels larger than it actually is.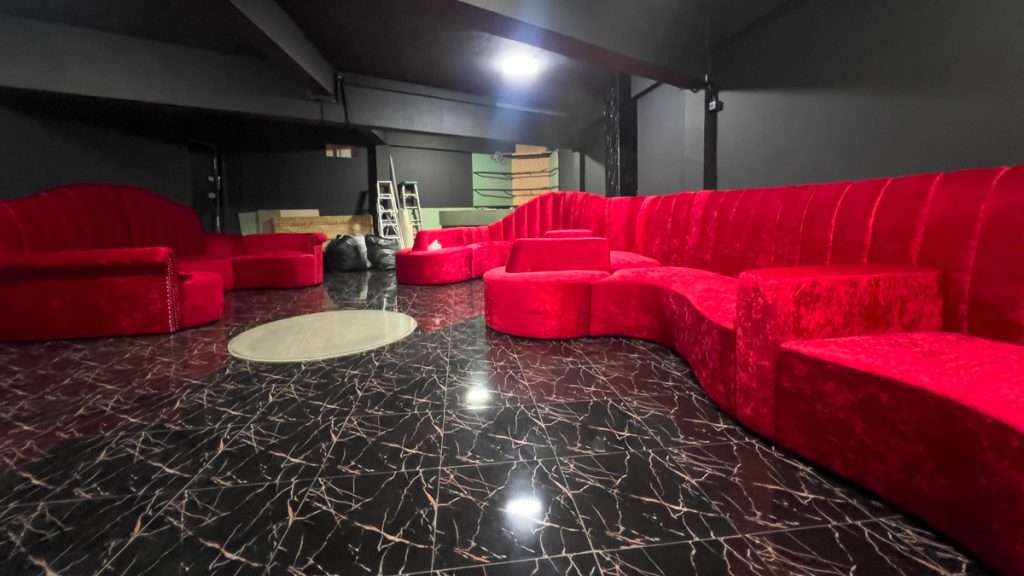 Brand new, plush, high-back sofas have been installed. They're very high-end looking and remind one of the quality, top-end sofas inside Red Dragon or mainstream clubs you'd find on Soi 11.
In the center of the sofas lining the walls will be the round stage, which will sit over the skylight in Tycoon. (Bet you didn't know Tycoon had a skylight!) The plan eventually is to have a sliding door in the floor and a pole that will allow girls to slide down from one bar to the other.
The stage, along with the bar and DJ station all still must be constructed, so there still is work to do. But those shouldn't take long.
Lace Lounge also will have something no Nana Plaza bar has had since the days of Cathouse nearly 15 years ago: A balcony overlooking Soi 4.
No smoking will be allowed in Lace Lounge. Instead smokers can go to the balcony which will be fitted with faux-leather sofas and a big pleather armchair to give the feel of an old-time cigar bar or speakeasy.
Lace Lounge's owners aren't stupid, though, and realize idiots and drunks might throw ice or other things out of the fourth-floor balcony window – or perhaps jump themselves – so the window will be screened in. There also will be cameras to prevent any funny business going on with guys and bargirls.
Lace Lounge looks like a great addition to Nana Plaza and someplace it needs, a chill venue where you can turn down the volume and get away from the ear-pounding beat of the go-go bar.