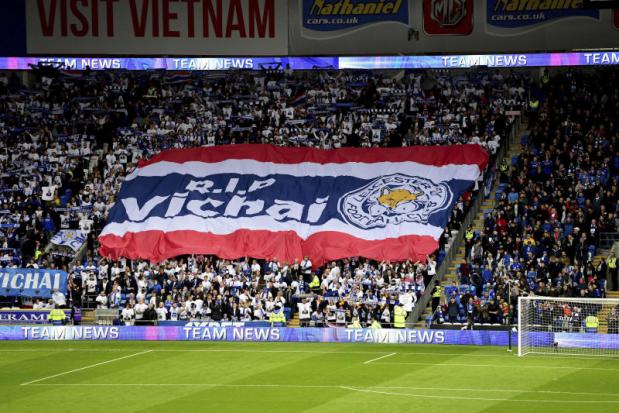 Leicester City Football Club paid tribute to their revered owner Khun Vichai  Srivaddhanaprabha, who tragically died recently in a helicopter crash outside King Power Stadium.
The scene was said to be very emotional, with Leicester City fans displaying a big banner, "RIP Vichai" for their greatly loved leader.
Everybody respects the fact that Leicester City Football Club, would never have amazed the football world, by winning the English Premier League without him. He was a living legend.    
Khun Vichai was a Thai billionaire entrepreneur, who will be sadly missed not only by Leicester City Football Club but also in Thailand, as the founder of the duty-free King Power empire. 
Many people across Thailand and England remain in a state of shock and disbelief. This truly incredible, yet humble man, showed such generosity to Leicester City Football Club and he liked giving gifts to the football fans, such as flags, scarves and clappers. 
On Khun Vichai's birthday, every fan was given a bottle of Singha Beer. In addition, the Leicester City fans were treated to hot dogs and doughnuts during away games.  
Khun Vichai made large charity donations in both Leicester and Bangkok cities respectively. It is a tremendously sad end to what was a fairytale.    
https://www.bangkokpost.com/news/sports/1569710/we-did-it-for-vichai-leicester-beat-cardiff