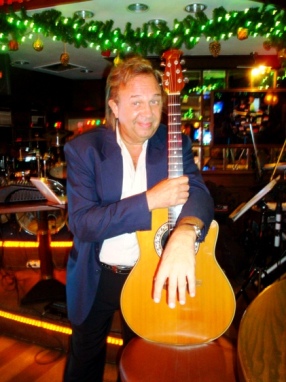 Conveniently situated just a few sois away from Soi Cowboy, you will find The Penalty Spot Pub. Located on Sukhumvit Soi 29, this sporty bar has ownership connections with Tilac Go-Go Bar in Soi Cowboy. Whether you are doing a Sukhumvit stroll from Soi 33 to Soi 23 or viceversa, Sukhumvit's latest sports pub is a suitable place for a pit stop. Pleasant enough decor is inviting, as it is rather different to the norm. After drinking in pubs for over 30 years, it is encouraging to see something a little bit different. Footy fans can 'catch the match' with English Premier League Football being the main live TV event.  The English Premiership football is really getting into gear, with Manchester United going top of the table. Come on you Red Devils!
Apart from several TV screens showing live sports, The Penalty Spot provides good live music entertainment on a nightly basis. Multi-talented singer and guitarist Richie Walker is the live music artist on Wednesdays, Thursdays, Fridays and Saturdays. Richie performs from 6:30pm until 9:00pm. Richie can sing a variety of songs ranging from the Bee Gees to The Beatles. Richie's rendition of 'Layla' by Eric Clapton is particularly good. The alternative live music artist is Johnny 'the one-man band' who is something of a human jukebox. Although not in Richie's league, Johnny has a vast repertoire of songs, all coming from a sound memory. Johnny performs on Sundays, Mondays and Tuesdays up until 9:00pm. A resident band play cover songs from around 9:00pm until late. Worth a visit if you are on a 'booze cruise' between Soi Cowboy and Soi 33. You don't have to be a footy fan to hit The Penalty Spot! 
Something else? The Soi Cowboy Reviews Page and the Nana Plaza Reviews Page have been updated this week. Cheers!