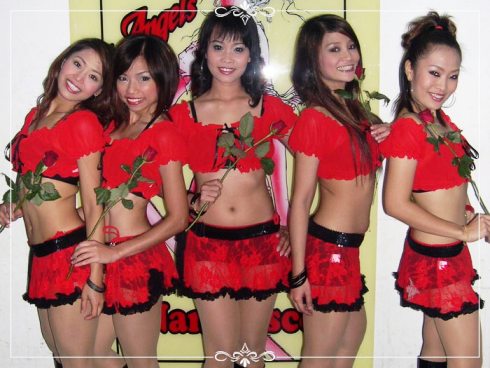 BANGKOK NIGHTLIFE – THE END OF AN ERA
They say that all good things come to an end.  And so, following a period of 13 years, Angels Disco situated in Nana Hotel, is hosting a fond farewell bash.  This is the end of an era in Bangkok's nightlife history.  For the sake of nostalgia, I have labelled it, "Nana Disco Grand Finale Party."  There will certainly be some surprises on the night.  The owner of Nana Disco namely Rick, is retiring from the nightclub business.  Rick started out in Nana Plaza, when he took over the ownership of Hollywood Stars (now Angelwitch Go-Go Bar) in the early 1990's.  After Rick opened Angels, or Nana Disco as it is more commonly known, it rapidly became an icon and therefore, popular from the very start.  Business has dropped off as other discos and nightclubs have emerged in recent years.  Also, the Thai authorities with their increasingly idiosyncratic ways have not helped matters at all.  Hey guys, think 'tea time' and you know what I'm saying here!
I have had some terrific times in Nana Disco, in which my frequent visits have spanned over a decade.  Let's just say, I have met some 'very interesting' Thai girls during that period.  Personally speaking, I recall many entertaining nights and fond memories will remain forever.  I would often finish a shift in Nana Plaza and hit Nana Disco on an almost nightly basis.  In the late 1990's and early part of the millennium, the late night hot spots were Nana Disco and Thermae Coffee Shop.  These venues were brimming with notorious 'ladies of the night,' but I was prepared to take my chances.  I can only describe this exciting era as 'the good old bad days.'  Long gone are those times, when it was 500 baht to 'love you short time' and 1,000 baht to 'love you long time.'  Nowadays, some Bangkok bar girls and freelancers are coming up with some scary figures.  Anyway guys, where were we?  Oh, about the party…
On Friday, July 31st, the Grand Finale Party, will offer FREE entrance and FREE drinks to everybody.  In case that completely stunned you I repeat; all the drinks are FREE until all the booze has gone.  Similar to a bar girl from Lolitas, the motto is 'drink 'em dry!'  Doors open at 10:00pm.  I would like to take this opportunity to wish Rick and Paul the best of luck for the future.  Rick visited me in Angelwitch Go-Go Bar to let me know the news.  Rick said, "I want you to be the first to know and that you heard it from the horse's mouth."  Regarding his plans, Rick said he enjoys travelling and will continue to be based in Southeast Asia. 
NOTE THE QUOTE – In the words of William Shakespeare, "Parting is such sweet sorrow." 
FOOD FOR THOUGHT – A final thought for us all to ponder.  Will anybody take over the ownership of Nana Disco?