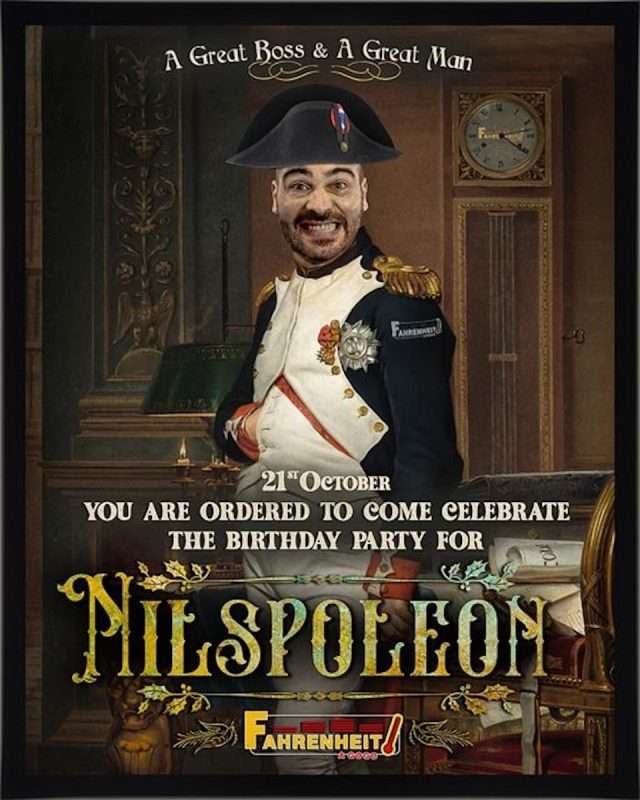 Imagine Napoleon trading battles for bars. Anything can happen in Pattaya and will Saturday as Fahrenheit Walking Street celebrates manager Nils' birthday with a "Nilspoleon" party.
For a night, Oct. 21, Nilspoleon Bonaparte trades his battlefield strategies for bar management. A bit wild, right?
No, Nils hasn't ridden through Europe on horseback or donned that iconic bicorne hat (at least not that I've seen), but Fahrenheit on Walking Street is blending his Italian-Swedish charm with the audacious spirit of the French emperor for his 34th birthday bash.
Welcome to the "Nilspoleon" Night!
Nilspoleon Shuns Conquests for Celebration
Before any rumors start, let's be clear: Nils isn't declaring himself the emperor of Pattaya. "Nilspoleon" is just a cheeky nod to the famous Napoleon, all in the name of some good Fahrenheit fun.
It's quirky, it's memorable and it's the kind of unexpected that makes for a legendary night out.
Marching Orders for the Night:
Dress Easy, Party Hard: Napoleon might've been particular about uniforms, but Fahrenheit is not. Slip into whatever feels right and get ready to celebrate.
Selfies with the 'Emperor': A hilarious mashup poster of Nils and Napoleon gives you an idea of the selfies you can take with the legend.
And let's not forget: Fahrenheit's dazzling dancers will be lighting up the stage, adding that extra sizzle to this historic night.
Campaign Details
So, are you in? Make some "history" in Pattaya Saturday and raise a glass to Nilspoleon! See you on the battlefield… err, Walking Street!