The Old English Bangkok turns five Tuesday with an epic party, a crowning achievement for pub that almost never made it to age 2.
Back in mid-2019, even before Covid-19, there was discussion whether the owners of what then was called The Old English Pub should throw in the towel. Flann O'Brien's had tanked in the same Thonglor neighborhood and The Old English Pub was located inconveniently a 10-minute walk from the Thong Lor BTS in a nondescript shopping mall. The downbeat premise was that it was too far from the BTS to attract a big foreign crowd and there weren't enough Thais to keep it afloat.
Then came the coronavirus, months of lockdowns and more months where restaurants could open, but without alcohol. The Old English's owners tried takeout draught beer pints, takeaway wine and crazy food discounts to scrape through the pandemic. But the doors stayed open.
Then a funny thing happened: The pandemic lifted and suddenly everyone discovered The Old English Pub. For no apparent reason, it became more popular than ever. About 80% of the guests became Thais, drawn by live music and a convenient (for them) location. Its breakfasts got great buzz from foreigners and a crazy new "Pint for a Pound" promotion for 40-45 baht pints of Leo every afternoon went viral.
The Old English 3-Year Overnight Success
The Old English Pub became a three-year overnight success. And then it lost its lease.
In spring 2021, the owners of the said nondescript shopping mall, anchored by Tops on Sukhumvit Soi 55, evicted The Old English Pub and neighboring Coffee Club, supposedly to offer the space to Starbucks. The now successful pub again faced another life-threatening challenge: Where to relocate.
A new location was found in a defunct Japanese restaurant on Sukhumvit Road in Thonglor, just 25 meters from Exit 3 of the Thong Lor BTS. The location was a dream come true for foreigners and transit users. Not so much for Thais and their cars. Unlike at the mall, now called Marche Thonglor, there was no parking. The new location also lacked the large outdoor patio that was its No. 1 attraction.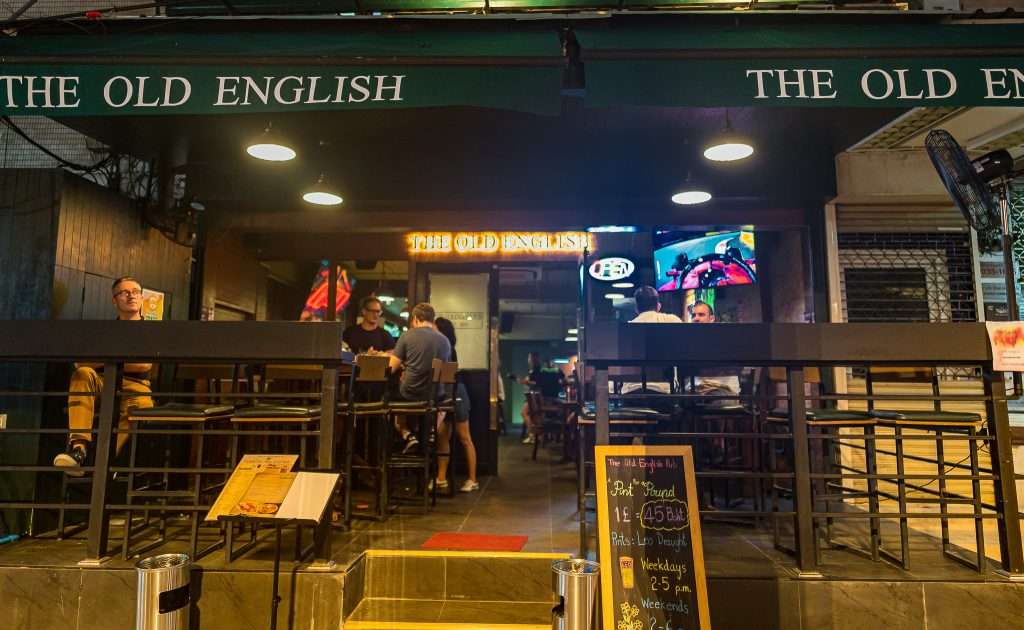 The old patio had space for 50 people. The new location has room for four tables.
All the worries proved unfounded, however, as the newly rebranded The Old English Bangkok proved an instant success. Regulars found their way to the new pub and it attracted entirely new segments of customers, some of whom just found it by walking by and others who came in mornings and lunchtime, laptops in hand, to work remotely.
The Old English Bangkok's place in British expat society became firmly cemented with the 2022 World Cup, four weeks of absolute madness and pandemonium at the relatively tiny pub, with people packed shoulder to shoulder inside, squeezed into the patio and spilled out onto the sidewalk night after night.
Before anyone realized it, The Old English is now five and looks to carry on for at least another five years.
The Old English Epic Party Details
The well-earned celebration Tuesday wil begin with with free afternoon bar snacks, including sandwiches, roast potatoes and sausages.
A special three-course menu is being prepared for the day that includes a choice of starters (including breaded brie), mains including Angus steak, ribs on mash and a lamb shank, and desserts including crème brule all for 999 baht or 1,999 for two dinners and a bottle of wine.
For entertainment, there will be music from Joe Delaney and the Porterbhoys from 8:30, board games (including chess?) and a tombola – or "lucky draw" for the non-British.
The Old English has created a special anniversary shirt, on sale now for 450 baht, and if you wear it to the party you get a free pint of Guinness.
And, speaking of the Black Stuff, it's on special all month at The Old English for 225 baht a pint. Owners also have put in Peroni on draft in time for the party.
The Old English 5th Annivesary Party is sure to be a sell-out, so get there early, and drink often!