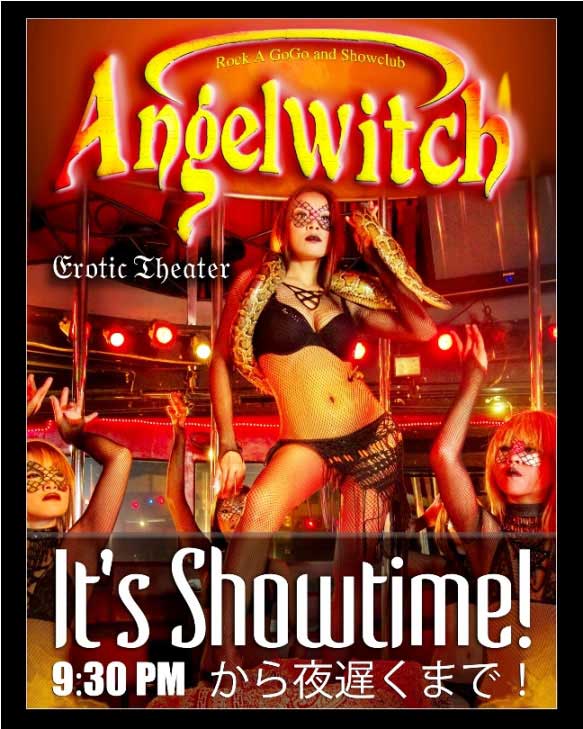 [wp-bannerize group="Bp" random="1″ limit="1″]
The Show Must Go On! Bangkok's premier show bar Angelwitch have revised their Showtime. This is good news if you want to see shows in a go-go bar, because  you will not be kept waiting long. Showtime in Angelwitch now starts at 9:30pm in Bangkok and 10:00pm in Pattaya. The professionally choreographed stage shows rotate in sets and alternate with go-go dancing. This formula has proved to be very effective for Angelwitch and the audience get the best of three worlds. Strings of professionally choreographed shows alternate with a stage packed with go-go dancers for the duration of five songs. Showtime now starts at 9:30pm sharp and continues until at least 1:30am. In addition to the mesmerizing stage shows and the Angelwitch Rock Dancers, the third dimension is the atmosphere, which is created mainly by classic rock music. In this respect Angelwitch is unique and has stood the test of time.
Which Witch? Some people get confused but Angelwitch located in Nana Plaza is where the original Angelwitch emerged over 13 years ago. The sister branch of Angelwitch is located on Walking Street Soi 15 and at 7 years old, it is the younger sibling. Now you know!
What's New To View! If you have not visited Angelwitch in several months, you can enjoy some new shows. One show that you may not have seen is an exotic erotic show theme performed to Still Got The Blues by Gary Moore. The latest addition to the show repertoire is Stripped by Rammstein, which is a dark and powerful rock song. This show has impressive choreography and innovative use of specially designed costumes and masks. It is one of those special shows that you have to view with your own eyes.