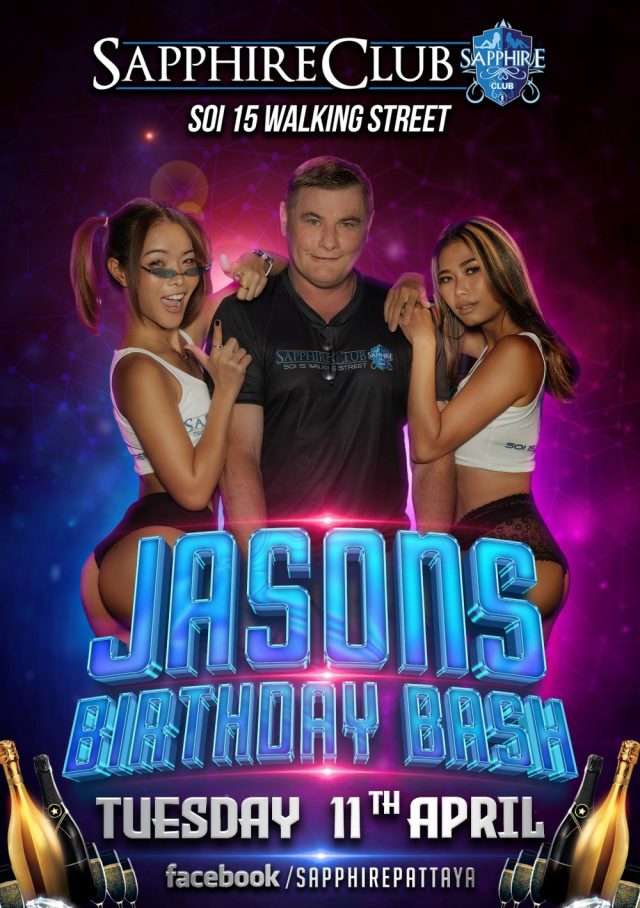 Sapphire Club Pattaya is having a birthday bash for Jason, who is on the management team. Join in the fun & frolics surrounded by the numerous Sapphire Sweeties. As it is Wild Child Jason's birthday party, I warn you this will be a crazy night. Don't get too close to Jason when they give him his birthday cake, or else you could be wearing it!
I always visited Sapphire Club during my weekend trips to Pattaya City to do photoshoots and see what was happening in Soho-On-Sea for my Thailand nightlife reports. I loved being a man with a plan similar, to Stickman Bangkok; not many Pattaya people knew who I was and why I was in Pattaya. In a boyish way, I saw myself as a secret agent collecting intel.
I still highly rate Sapphire Club Pattaya; you only have to glance at the super sexy Sapphire Sweeties! I was sad to see Angelwitch Rock Dancers (situated opposite Sapphire Club) close years ago. It was a fantastic design with Coluseaum-style seating circling the go-go stage; with chrome poles 10 meters high over two levels. Angelwitch Rock Dancers Bangkok and Pattaya branches were said by many to have the very best go-go stage shows in Thailand. In fact, both Angelwitch bars won several top awards. However, with Sapphire rising to be a very precious jewel, it has firmly established a place amid Pattaya's nightlife scene.
Go-Go Guru Guide – Sapphire Club Pattaya is located on the right-hand side of Soi 15 as you enter from Walking Street. Sapphire is well worth a visit, even if it's just for the eye candy. Happy Hunting!!