What do most people do on their days off? I suppose they relax, watch TV, surf the internet, spend quality time with their other half, go shopping, visit their favourite restaurant, pursue their favourite sports or hobbies, or go to see a movie. What does Dave The Rave do? He goes on a barman's holiday, (I don't drive buses) and visits the go-go bars in Soi Cowboy. Being the Go-Go Guru, old habits die hard, which is not surprising. And so, on a night off from my duties in Angelwitch, I decided to meet up with Sanook Shaun in Soi Cowboy. I know I'm fortunate to have this lifestyle, but I like to think my 'sacrifice' is for you guys!
 GO-GO GURU GUIDE TO NIGHTSEEING TOURS
I like to vary the time and the nights that I go on my Bangkok nightseeing tours. It's no good going out at 7:00-9:00pm and reporting that every go-go bar in Bangkok is quiet. You have to be realistic and spend as much time in as many go-go bars throughout the night. This way you can get a more accurate reflection. It's not rocket science, it's actually very simple.  The best time to visit any go-go bar is not too early and not too late. If you hit the go-go bars too early, most of the HOT dolly birds have not arrived yet and the atmosphere is nearly always low energy. Hit the go-go bars too late and it's a case of cash 'n' carry – the top dolly birds are long gone. Furthermore, close to closing time the go-go dancers are watching the clock. The pole performers are counting the minutes before they can get out of the bar. Thai go-go bars are no different to nightclubs in some respects. As the evening progresses, the go-go bars begin to fill up, when the masses arrive later in the evening. When did you last hit a nightclub at 7:00pm or 8:00pm? The answer is usually never, or not without a very special reason. For go-go bars that provide little more entertainment than the 'skytrain shuffle' a Happy Hour is essential. By the way, generous Happy Hours are something that the majority of bars in Soi Cowboy do very well.
Overall, being objective and reporting with attention to detail is what matters. An old rule in writing is 'show don't tell.' I endeavour to create a picture in order for you to decide for yourself what you like and dislike. After all, who has the right to tell anybody else what they should like? I find a lot of reports on the internet so self-opinionated and self-seeking that it is not worth reading. I hope you find my approach much more interesting.
DESTINATION: SOI COWBOY – MISSION: NIGHTSEEING TOUR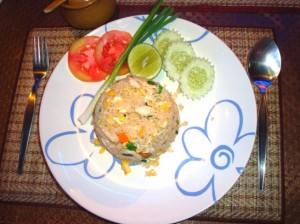 I wandered into Soi Cowboy and spotted Sanook Shaun sitting at a table outside Sams 2000 Bar & Restaurant. Shaun had kindly ordered two plates of 'kao pat gai' or chicken fried rice for us. I can't help but keep having a 'Dave Rave' about how good the food is in Sams 2000 Restuarant. It is clean, very tasty, presented very well, the service is efficient and the value-for-money is excellent. At just a mere 100 baht, the 'kao pat gai' in Sams 2000 certainly takes some beating. In fact, I don't know of a better meal deal in Bangkok, do you?
Chunky pieces of succulent chicken are delicately stir fried with sweetcorn, garden peas, carrots and some salad on the side. We like a bit on the side don't we lads! Also, Sams 2000 provide a takeaway service and you can order up until at least 1:00am. Another favourite of mine is 'pat preeo wan gai' or sweet and sour chicken. This dish comes with a truly succulent sweet and tangy sauce. The chicken with cashew nuts is also very delicious. And yes, don't worry, there is farang food for those that just can't kick the Farangland habit!
It was just after 11:00pm when we started to hit the go-go bars. Even though it was a Monday night, I was surprised how quiet Soi Cowboy was at this hour. The first three go-go bars we entered didn't even have 10 customers inside. We walked into Midnite Go-Go Bar, which was OK for a while. We had visited on the only night of the week that Midnite does not have any shows. Oh well, now we all know. Not many go-go girls and even fewer customers. I will say that on previous visits Midnite has been quite good. We were greeted in Midnite by the lovely Miss Pun (#33), who I thought was quite pretty and slender. We had a pleasant chat, but we wanted to get around to more go-go bars. You might need to be careful in Midnite Go-Go Bar, because they do have some 'katoeys' or lady-boys among the go-go dancers. Here is an update on the lady drink prices – lady cola = 150 baht, alcoholic lady drink = 170 baht and a coyote lady drink = 200 baht. It is not a simple pricing policy here, so be careful what you are getting yourself into. Watch out for the lady-boys (unless you are into that kinky stuff), and deal with the Thai staff with an air of caution. I was charged for an alcoholic drink, when our two soft drinks were in tall glasses with a straw in the glass. I would have thought the straw would have made it obvious. After some time my bill was changed to the correct amount.
I wanted to have a look inside Spice Girls Go-Go Bar, because the lovely coyote dolly birds are usually well worth a look. Yep, it was worth a visit, but again there were only a handful of customers. It is not about Soi Cowboy this, or Nana Plaza that, it is about Bangkok's go-go bar scene overall being quieter than before. This was between 11:00pm and midnight, which should be prime time for go-go bars. Hence my point, it is not just Patpong and Nana Plaza that are having a quiet January.
Inside Spice Girls, the coyote dancers were wearing revealing white blouses with skin-tight hot pants. The coyote dolly birds were all quite pretty with tidy figures. However, behind the smiles they were uninspired by the lack of customers. We briefly stepped into Our Place Go-Go Bar and this bar was quieter than both Midnite and Spice Girls. As we stepped inside, I knew we had walked right into a booby trap. All of the go-go girls were top heavy! If you are looking for busty babes, Our Place is the place
ELECTRICAL FIRE FORCES RAW HIDE GO-GO BAR TO CLOSE
If you were not aware, Raw Hide Go-Go Bar in Soi Cowboy suffered an electrical fire. Fortunately nobody was hurt. The fire started on the second level of Raw Hide, after the bar closed at around 2:30am. Following the fire, the owner Khun Min is currently renovating the popular show 'n' go-go bar. Most of the damage was caused by thick, black smoke and water damage from the Thai Fire Brigade. There was more good luck, because the renovations in Long Gun were almost completed. This means that at least one of Khun Min's go-go bars is operational. It is estimated that Raw Hide will not be able to open for at least one month. Some of the Raw Hide go-go dancers have gone home to visit their families. But, most of the Raw Hide go-go dancers are currently working  in Long Gun. This certainly makes Long Gun well worth visiting. With Long Gun being a small go-go bar by today's standards, you are likely to experience 'close encounters of the dolly bird kind.'
I peered inside Raw Hide and the smoke damage is very evident. I'm sad about the fire, because Raw Hide is one of my favourite go-go bars in Soi Cowboy. The good news is that Raw Hide are forced to renovate, which will be the first time in its entire history. Hooray! Let's hope that Raw Hide is back in action in no time. I will keep you updated about further developments in Soi Cowboy. Cheers!