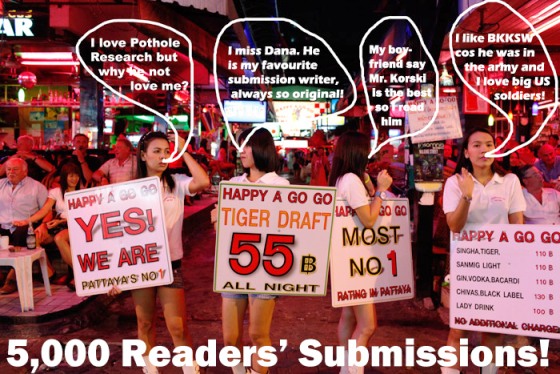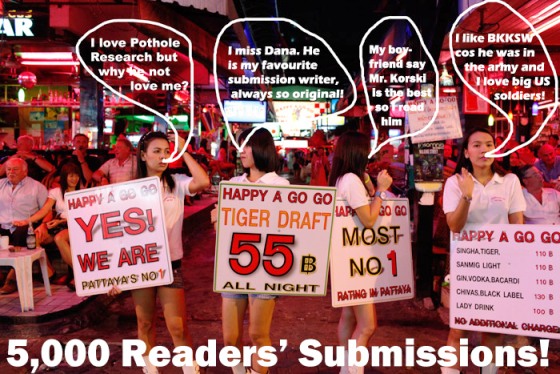 A massive cult following makes Stickman's Guide To Bangkok the most widely read website of its genre on the Internet. People may criticise Stickman's controversial style, but nobody can deny his success in terms of volume of visitors. Today we look at one aspect of Stickman's enigmatic, but highly popular website…
Back in 2001, the very first Stickman's Readers' Submission appeared. When Stickman published, "You Saved My Marriage," it was the start of a new section on Stickman's very popular website. Over the years, Stickman's Readers' Submissions has flourished into an extremely popular section. March sees this special section celebrate an incredible 5,000 articles. Unlike chat forums, these are articles written to a minimum length of 800 words. Some are thousands-upon-thousands of words long, which contributes a HUGE amount of content. So what's it all about? Well, it is an enormous repository of encounters and observations, many of which are about Western man and Thai woman relationships. The 'east-meets-west' stories range from highly hilarious, to terribly tragic, to downright disasters!
Thousands of contributors send their Thailand-related stories into Stickman every week and some individuals have submitted over 200 articles. Stickman commented, "To everyone who has contributed to the readers' submissions section over the years, many thanks for your support and for making this section so worthwhile."
GO-GO BAR UPDATES – The Nana Plaza Reviews Page was updated on March 15th, 2009. Happy babe hunting!