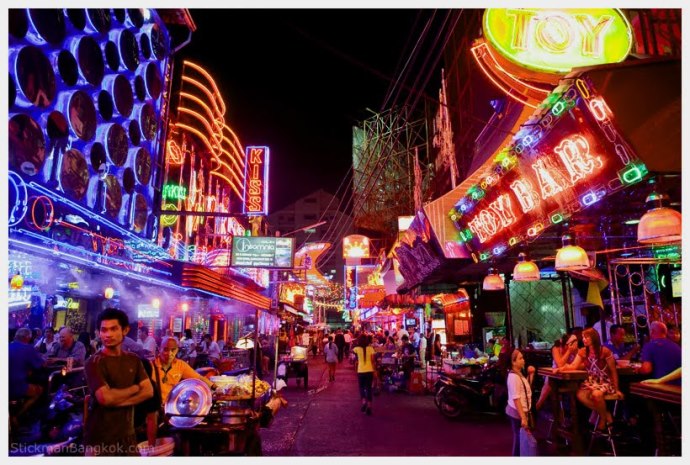 Written By Dave The Rave
Throughout the infinite realms of time and cyberspace there lurks an extremely powerful amorphous creature that is an almighty force to be reckoned with. This infinite amorphous creature that engulfs many of our lives is the limitless universe of the internet. Although no one person actually owns the internet, Bill Gates has given it a damned good try — bless him! Without any doubt whatsoever the internet has transformed and revolutionized how freely and effectively information is communicated today. Like a giant pouncing tiger the web world leapt into the millennium and multitudes of websites have emerged as a result. Therefore, this transformation has provided us with enormous information resources and that means massive amounts of information about Thailand. In the 1980's when I first visited Thailand, there was no such online information because of course it did not exist. We simply followed the recommendations of a friend and perhaps read the odd travel guide. How things change hey? Nowadays every budding blogger has jumped on the bandwagon — whether we really want to know about Bill's fanatical train-spotting, or Mary's bone-crushing rock cakes! Totally captivating weblogs, or not as the case may be, it is all out there on the internet.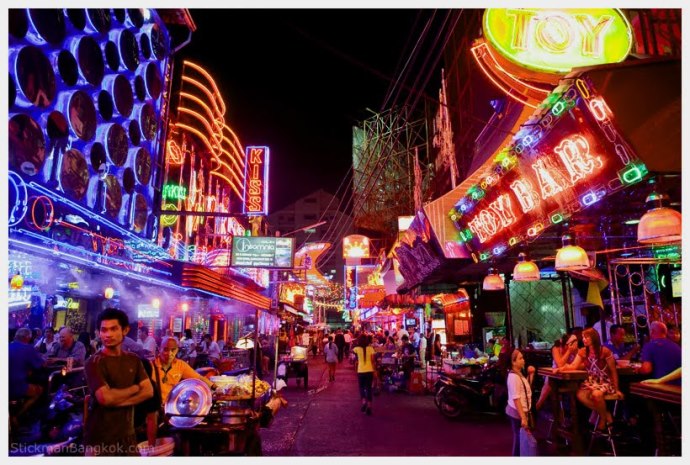 Whether you love or loathe webmaster columnists, there is one Thailand website that stands out predominantly. Crystal clearly Stickman's website is the most popular of its genre. For many Thailand readers it is an essential information and news source that has its own dedicated cult following. Ever since I first encountered "Stickman's Guide to Bangkok" I admit that I was hooked. I think that what makes this contagious creature tick is to do with the fact that the enigmatic Stickman is extremely engaging. Some guys have planned their entire Thailand trips and in some cases planned the BIG move from Farangland to Thailand, entirely from Stickman's website. Without noticing it at first, slowly but surely Stickman draws you into his realm. "Welcome to my lair", said the spider to the fly. It's a scary thought isn't it?
Personally, I for one remain both very pleased and so relieved to see the return of the main sections of Stickman's website. What I do know is that I speak with great confidence, when I state that I am most certainly not the only person who shares these sentiments. The mighty army of Stickman fans (and a few foes too) were on the edge of their computer seats for four long months, as they were forced to await the outcome of let us say Stickman's sojourn away from the cyber scene. Did Stickman's cyberspacecraft come crashing down? No, it did not but the disruption caused by a certain "Stickman Stalker" just goes to prove what a powerful tool or weapon the internet really can be. Time is a great healer though and here we all are again. Although not quite back where we started, nonetheless we continue on our exciting journey through various time zones, and through the infinite realms of cyberspace. We have lift off… "Warp Factor II Captain Stickman!"
If we take a trip back in time a lot of readers would tune in to read Nite Owl, which used to be the ramblings of Bernard Trink. The old Nite Owl penned his weekly column for decades until he was finally axed by the powers that be at the Bangkok Post. Nite Owl had some fans but most people read Trink's weekly solely in order to seek Thailand nightlife news. As a result of Nite Owl getting the chop there was a dark, void abyss, but then following that exit came the entrance of the modern day Thailand columnist — none other than Stickman. Incidentally, approaching six years ago saw the introduction of the enormously popular "Stickman Weekly" and this new weekly column took off like a cyberspace rocket.
OK, now fast forward to April 2007 and the "cyberspace chameleon" returns, but under another guise — Stick Mark II. Who is this mysterious Stick Mark II? Much speculation surrounds the identity of Stick Mark II, but you can be assured that Stickman will be watching like a hawk. Whether Stickman is editing it, writing it, or not writing it, he has returned and to me that is the main thing.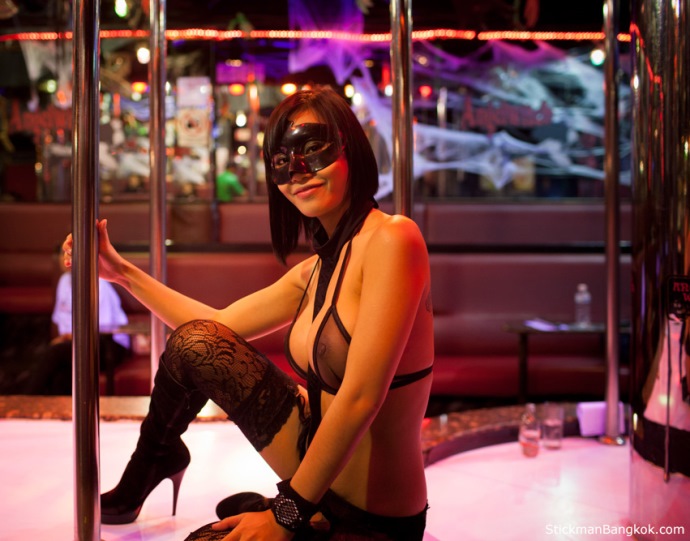 I will let you into a little secret that I persuaded Stickman that the Photo Gallery should be updated. The eagle-eyed among you Stickman fans will notice that a NEW Photo Gallery called "Thailand Characters Photo Gallery 2" has been added. In addition to this latest gallery full of terrific images, the entire Stickman Weekly archived columns for 2006 have returned. This means that avid readers can take a trip back in time to Stickmanland. It would appear that in observing my counterpart, I notice that Stick Mark II (whoever he/she is) has integrated images in with the text in his new weekly column. Stick Mark II's very first column contained a lovely little travelogue about a sojourn to Isaan, that was complimented by some truly picturesque images. This gives a visual impression of an online magazine — may I say very well done!
On a personal note, as an ambitious newcomer to the web world I want everybody to know that Stickman has been very helpful, offering sound advice. My own website DaveTheRaveBangkok.com was launched in November 2006 and Stickman has been completely unselfish in offering me invaluable advice. Us online columnists/webmasters slave away to update our websites and I can tell you that it takes a HUGE amount of time and effort. As friends of mine have pointed out, we just hope that the masses appreciate this free information service. Take what free information, knowledge, and/or entertainment you can and if you are not satisfied then simply change channel. At times there can be some extremely offensive things written about webmasters, but mostly these "keyboard warriors" are invisible. Who are these people? Of course we like to receive constructive criticism, but "babble from the padded cell" is never useful to anybody whatsoever. It is so easy to "talk the talk" but few dare to "walk the walk" and show us how they think it is supposed to be done. Sometimes there is so much pent up venom in the emails that we cannot possibly comprehend what they are trying to say at all. That is clearly their problem. By all means readers should write constructive criticism to webmasters, but please be clear and specific in the message you are trying to convey.
Running a website about Thailand can often be a mixture of pleasure and pain. However, for the most part we enjoy what we do, because we know that the majority appreciate and welcome our online service. I firmly believe that for all the websites out there, you will not find many very good Thailand websites. In terms of accurate, up-to-date and informative Thailand websites, they remain very few and far between. We should therefore appreciate the likes of Stickman who has diligently churned out a weekly column year after year. Believe somebody in the know, when I say that it is no easy task. This is why I have the utmost respect for Stickman's dedication and hard work over all these years. Stickman can at times be a controversial columnist, but speaking from experience, as a person Stickman is a real gentleman. As for Stickman's success, the growth of his readership can only be termed as remarkable. Long live Stickmania!
Stickman's Thoughts:
Gosh Dave, you have me positively blushing.
But you're right, maintaining a website is a lot of effort, to say nothing of all of the other parts of our sites. You meet some great people along the journey, and a few ratbags as well. But that is all part of the ride!
For The Latest News Posts — Click Here
Feel Free To Leave Your Comments Below