Thailand's former massage parlor king turned politician and anti-corruption crusader stands unrepentant in a new book about the 2003 Sukhumvit Square demoltion and his subsequent prison stint.
In a new book called "Prison Square", Chuwit documents his 14 months in prison in 2016-17, from the first day until the last. The 199-page diary depicts the prison environment and the inmates' backgrounds and the experiences that stay with them throughout their lives.
In January 2016, Chuwit and the 65 others were sentenced to five years in prison for the illegal Sukhumvit Square demolition. He was released in February 2018.
In his book, Chuwit said his journey to imprisonment began when he bought the six-rai plot of land at Sukhumvit Soi 10, a spot later turned into the Chuwit Garden park and, now, being developed into the Tenth Avenue multiuse project. At the time of purchase, it was an area with numerous beer bars and Chuwit was frustrated in his attempts to evict the bar operators and redevelop the property.
Even though negotiations and warnings were made, and numerous letters were sent, the owners of these beer bars, which numbered over 100, ignored them for months.
Finally, Chuwit hired 400 paramilitary types who on Jan. 26, 2003, launched the predawn Sukhumvit Square demoltion using heavy construction equipment quickly clearing the entertainment area and adjacent public sidewalks and destroying all structures, property and personal effects within the complex.
Chuwit writes in "Prison Square" that, afterward, he stood looking at the ruins of the Sukhumvit Square demolition with satisfaction. He had negotiated many times with owners, warned them multiple times, but they didn't listen and had influential gangsters protecting them.
No shopowner was willing to move out of the land. The Sukhumvit Square demolition case became famous. Then-prime minister Thaksin Shinawatra personally visited the crime scene and ordered the police to find and punish the culprits.
Chuwit claimed the order over the Sukhumvit Square demolition led to police officers who he had previously bribed for his massage business to turn against him, resulting in Chuwit being arrested and denied bail, leading to his first imprisonment, which lasted for months while the case was being considered in court.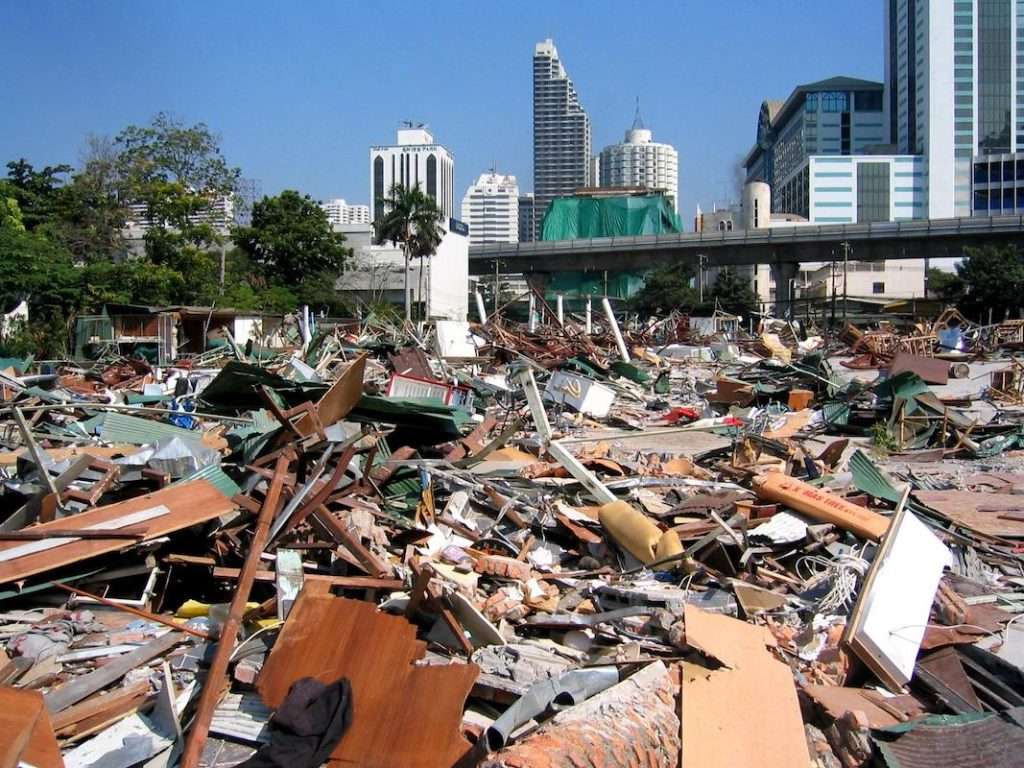 Prison Term After Sukhumvit Square Demolition
In Thailand, only a few prisoners write books about their experiences and encounters in prison. Most feel embarrassed to tell their own stories of being incarcerated. Some use pen names or do not fully disclose their identities.
However, Chuwit is an exception. He openly narrates his story, believing the experiences following the Sukhumvit Square demolition allowed him to see the true nature of "being human," both in its positive and negative aspects.
"I have been to jail three times. It was an experience that taught me a great deal about the true nature of humanity, which is quite different from being a successful business owner in the massage parlor industry, where I owned six establishments. It made me realize the true essence of 'being human' in both the customers and the service providers."
In prison for the Sukhumvit Square demoliton, Chuwit writes, he witnessed the true nature of people's perceptions, both the inmates and the authorities. Everyone focused on themselves. He saw how inmates exploited and competed against each other and the hardships within the prison community.
The daily activities, the division and fights among the inmates, the differences between male and female inmates, and the deviant behaviors among male inmates, which led to same-sex relationships and even marriages within the male inmate community.
He also experienced the care of fellow inmates, with some helping their fellow inmates. Some inmates spent so much time in prison that when they were released, they had no friends, no relatives, and no money, leading them to resort to suicide as a last resort. However, some turned to the path of righteousness, becoming ordained as Buddhist monks.
For Chuwit, however, it was the corruption of guards and wardens that stood out and he made it his mission to expose them.
He wrote that his first encounter with the corruption during his jail term for the Sukhumvit Square demolition was when he was charged 5,000 baht by a guard for a plate of fried rice.
"I had to buy it because I was hungry and had to ask my wife to withdraw money from the bank to pay for that meal while waiting for the verdict," Chuwit wrote.
Chuwit's fiery personality led him to confrontational situations. As a result, many officials from the Department of Corrections, who were involved in those incidents, faced disciplinary actions, and two of them were dismissed.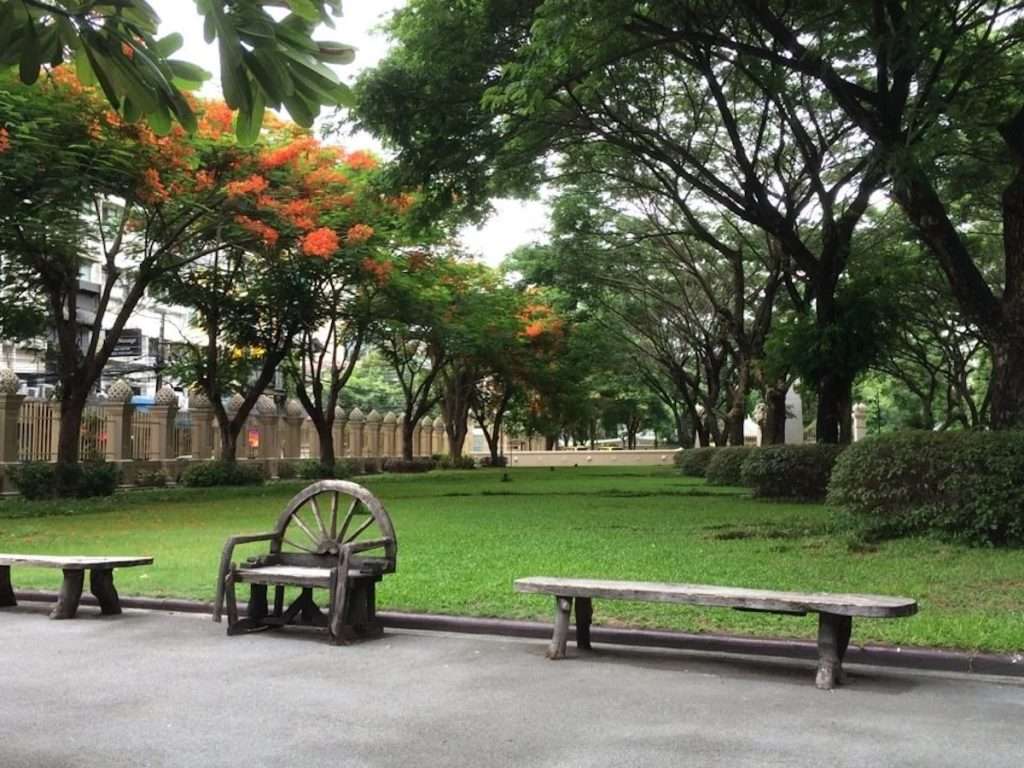 Only the Beginning of the Corruption
However, this was only the beginning of the Sukhumvit Square demolition story. When Chuwit was imprisoned for the second time, many of these officials were still there, and some had risen to higher positions. After 13 years following the Sukhumvit Square demolition, things had become even more difficult for Chuwit. Anything that should have been his right was denied, causing him distress as a result of his own battles, he wrote.
During his first imprisonment in Bangkok's Special Remand Prison for the Sukhumvit Square demolition, Chuwit had to pay a large sum of money to sleep on a bed, have a private bathroom, and have extended visiting hours for his relatives.
At the same time, he was in prison with many other famous individuals, including former MPs, military officers, bankers and doctors. Chuwit said they were given special treatment.
They had good food, slept on bunk beds, had private bathrooms, and slept in air-conditioned rooms. They had personal televisions and were separated from the general inmates.
After Chuwit saw it, the prison superintendent called him and said, "These people have influential individuals calling to take care of them, and I hope you won't disclose anything anywhere." He knew what kind of person Chuwit was.
Chuwit claims, however, he was treated the same as regular prisoners, without any privileges. This led him to expose the misconduct of the prison authorities, resulting in the removal of the superintendent.
"Don't think that Thai prisons are like what you've seen in movies, with double-decker beds and only two people per room. I apologize, but the images you imagine or have seen in movies," Chuwit said in a recent Thai-language interview with ThaiPublica about "Prison Square" and the Sukhumvit Square demolition.