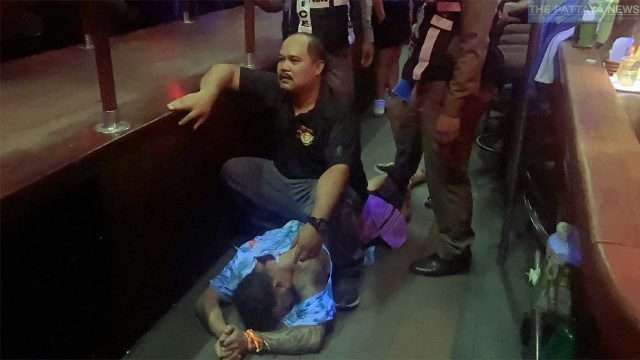 A violent attack occurred at Pattaya's Tahitian Queen go-go bar on May 2, leaving an Australian patron hospitalized after being bludgeoned by a beer bottle by an unidentified, drunk, and naked British man.
The incident took place around 10:30 p.m. and was witnessed by bar customers who managed to detain the assailant.
According to witnesses, the suspect entered the go-go bar almost naked and heavily drunk, despite having been fully clothed the previous night when he visited the establishment. The suspect allegedly grabbed a beer bottle and struck Josef Slezak, 77, in the head without apparent provocation.
Bar patrons and paramedics assisted Slezak with his head wounds before taking him to a nearby hospital. Pattaya Police later detained the suspect, who had no identification documents on him, at a police station for further investigation.
The suspect was described as highly uncooperative and threatening towards law enforcement and others alike.
The motive for the assault remains unclear, but it is believed to be related to the suspect's behavior in the bar the previous night. The Tahitian Queen go-go bar, Pattaya's oldest, having opened in 1978, was the target of this violent attack.
Tahitian Queen has seen its share of fights since 1978
Tahitian Queen is a popular go-go bar located on Beach Road in Pattaya, Thailand. The bar has been in operation since 1978 and is one of the oldest establishments of its kind in the city.
Tahitian Queen is known for its lively atmosphere, with music and entertainment provided by dancers and performers. The bar offers a range of drinks, including cocktails and beers, and has a reputation for being a great place to party.
While the go-go bar scene in Pattaya is sometimes associated with unsavory activities, the Tahitian Queen is generally considered to be a safe and fun place to visit. The bar has a loyal following among both tourists and expats living in Pattaya.