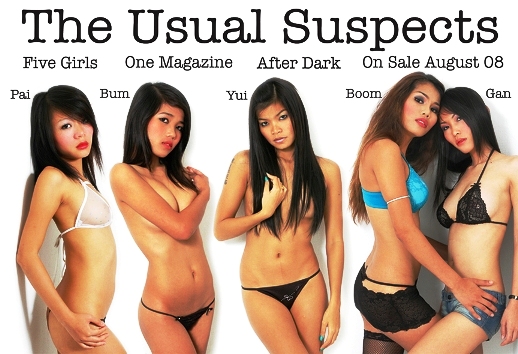 SOI COWBOY — LITTLE LAS VEGAS
There is no doubt that Soi Cowboy has emerged as an extremely exciting go-go bar area. In terms of Bangkok's red-light areas, Soi Cowboy has become the preferred choice for many farang residents. Furthermore, the inexpensive Happy Hours are certainly not the only reason why expats tend to visit Soi Cowboy more often these days. There always seems to be something new happening. Soi Cowboy never appears stagnant like it used to several years ago. More and more neon signs are being erected. Also, the majority of bars have been renovated to some degree. OK, most of these improvements are superficial, but Soi Cowboy's overall image just keeps getting better.
Take it from the Go-Go Guru; you would be surprised how fussy customers have become. This especially applies to Westerner's who are much more demanding nowadays. This is partly due to being pampered so much, because of the fear factor in the Land Of Lawsuits. You know what country I'm talking about. Say no more!
I know some customers can be over demanding, but I find that the majority of people are reasonable. It should not be too much to ask for a comfortable seat in a clean and tidy environment that provides satisfactory customer service. Although you are visiting the third world, the bars in South East Asia should not provide fourth world customer service! Overall, this is where I think Soi Cowboy has got it right. The moral of this story is – never underestimate the expectations of the customer. 
BRIGHT LIGHTS IN THE BIG CITY
Hey guys, have you seen the neon lights in Soi Cowboy lately? This is why I feel Little Las Vegas is an appropriate nickname for Soi Cowboy. The vivid display of neon signs has become a photographers dream. Just think how many people have taken videos and photos of the impressive array of neon lights. I sometimes pause for a moment at the entrance to Little Las Vegas. As I look up, the kaleidoscope of bright colours explodes into life. It creates a warm glow both outside and inside. I think it would impress even the most jaded visitor. 
SHARK ATTACK!
I still to this day don't understand the reason behind the name Shark Bar. In my opinion, it's anything but a shark tank. Recently I walked into Shark Go-Go Bar and the stage was full of dancing dolls. Shark Bar not only has an impressive line-up of very attractive dolly birds, but the number of go-go dancers has increased. However, even though the amount of go-go dancers has increased, the drink prices have not. The Cheap Charlie Clan will be pleased to hear that news!
BACCARA GO-GO BAR
Although Baccara Bar is a popular pleasure palace, I can't understand one regulation that they insist on enforcing. Baccara Go-Go Bar continues to stubbornly enforce the regulation that two lady drinks must be purchased, before any girl can leave with a customer. I don't know about you, but this seems very mercenary to me. I'm sure you will agree it is much more preferable to be able to offer a bargirl a drink. This lady drink ultimatum kills the experience!
This week, a friend confirmed that Baccara Bar's lady drink rule continues to be enforced. My friend had paid the barfine for a go-go dancer and she went to get changed. The young lady returned and the mamasan demanded that my friend order two lady drinks. This seems very unprofessional to me. Why didn't the mamasan inform my friend before he paid the barfine? He left Baccara with the girl and at least one of the two lady drinks sat untouched. Some of you guys may well complain about other go-go bars, but nowhere else places this draconian demand upon its customers. Do we need a reminder that Baccara is a blatant Jap Trap? The Japanese customers never seem to complain whatever demands are made. Rather than blame the bargirls, or the go-go bars, I think we should blame the Japs for creating the monster.
To end on a positive note about Baccara, it is a very popular go-go bar with a High Q Factor. High Q is not IQ it actually means "a quantity of quality." The Baccara babes are said to be among the highest level of eye candy in Bangkok. (Although in saying that, there is no accounting for taste). But, what I do know is when seeking the hottest dolly birds; you should venture up the stairs. The go-go stage is brimming with dancers downstairs. But, there is barely any comparison to the hotties upstairs. Another important aspect is that the dolly birds upstairs shed their attire, but not the bikini-clad dancers downstairs. I think they never got the air conditioning serviced upstairs, so that's probably why the students keep stripping off.
In addition, Baccara plays nightclub dance music that is a change from the norm. Check it out, but remember the points I have made. Forewarned is forearmed!
A farang came up to me and said, "Why do so many go-go girls in Soi Cowboy prefer it doggy style?" I looked somewhat surprised and said, "Why do you ask?" He replied, "Because my mate said many bargirls like it at the back of 'er." I smiled and said, "No you plonker, your friend is saying they like it at Baccara!"
NANA PLAZA — RUMBLE IN THE NEON JUNGLE!
Yet again, Soi Nana suffers from early closing, which will mean most of the surrounding area as well. With bar trade already sluggish this July, shutting the bars before 2:00am is another heavy blow. As far as I can gather, the problem is due to police politics in the Lumpini district. So far, Soi Cowboy has been temporarily affected on the odd occasion. Combined with intermittent heavy rainfall and the oil crisis, Soi Nana is having a rough ride. Nana Plaza is currently closing at 1:00-1:30am on a nightly basis. You guys need to be aware of this and adjust your nightseeing tours accordingly. I will inform you of any changes, as quick as a Rainbow 2 Go-Go dancer does a short time with a Jap!
VOODOO GO-GO BAR GETS A SERIOUS MAKEOVER
On the ground level in Nana Plaza, Voodoo Go-Go Bar has received a serious renovation job. In fact, it's so serious that a new theme has been introduced. The word on the go-go street is that Voodoo Go-Go Bar will introduce, wait for it… mud wrestling. I can envisage my friend Crazy Horse leaping into the mud wrestling pit, accompanied by a Tarzan yell, and a huge splash! The newly installed pit has been built underneath a pole that runs across the length of it. Apparently, Voodoo's pit is filled with a combination of water and a load of balloons. The other day Peter Stud spotted boxing gloves and head guards. It would appear we are in for a spot of foxy boxing. Personally, I'm not into two ding-dong bargirls knocking the crap out of each other. Even though I was the manager, I never liked the Muay Thai Show at Hollywood Carousel either. In my opinion, go-go bars should feature go-go/coyote dancers and sexotic shows. Furthermore, go-go bars are not the place for shows like bargirl boxing, animal magic shows, or any other kind of freak show. Keep it real guys! 
Now in saying that, it's good to see go-go bars trying to attract customers. If it does happen, I think the mud wrestling could become quite popular. After all, women's mud and oil wrestling was popular in parts of America at one time. Unfortunately, the bargirl boxing has long since had its day. With Long Gun in Soi Cowboy doing genital gymnastic shows and Voodoo resurrecting bargirl boxing, I fear that we are going around in circles. It's been and gone guys, it should be laid to rest.
GO-GO BAR QUESTION
You visit a restaurant for the food, so why do you visit a go-go bar?
(No prizes for guessing the answer. It's a reminder!)
NOTE THE QUOTE — PAY-FOR-PLAY
The big difference between sex for money and sex for free is that sex for money usually costs less. (Brendan Francis) Isn't that the truth!
Email Dave The Rave — [email protected]
WEBSITE UPDATES
The Nana Plaza and Soi Cowboy Review Pages have recently been updated.
Thanks for visiting. Reporting live from the heart of Thailand…
Dave The Rave — Go-Go Guru